芝加哥EMC2酒店正式开业,艺术和科学完美结合!
David Rockwell and his team at New York-based Rockwell Group have designed a new 195-room hotel in Chicago that merges science and art in a new 21-storey building designed by Koo & Associates. Part of the Autograph Collection, Hotel EMC2 is named after Einstein's famous equation establishing the theory of relativity.
David Rockwell和他纽约的Rockwell Group设计团队最近完成了芝加哥的一个拥有195间客房的精品酒店—EMC2,位于由Koo & Associates设计的21层建筑里,酒店的设计特色结合了科学和艺术的元素。EMC2酒店的名字来源于爱因斯坦相对论中非常有名的公式:E=mc²。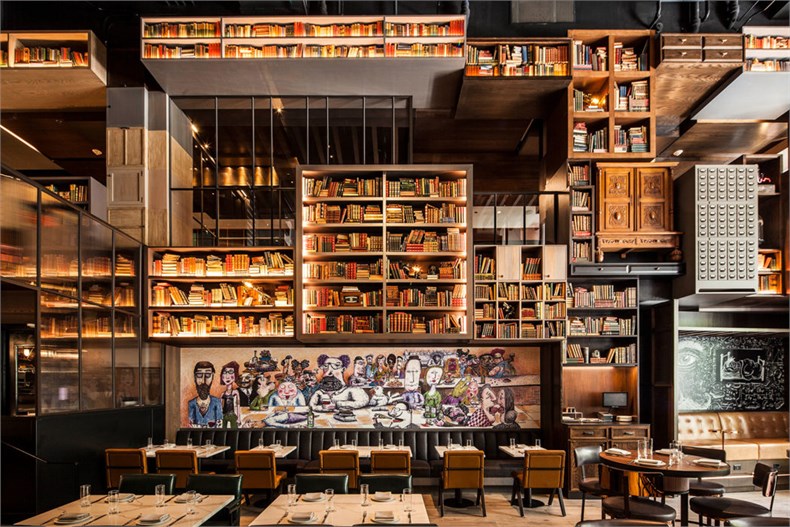 DESIGN CONCEPT /设计概念
Rockwell Group Partner and Studio Leader on the Hotel EMC2 project, Greg Keffer says: "Through Hotel EMC2, Rockwell Group wanted to capture a moment produced by the intersecting worlds of art and science. The design concept we have created celebrates and brings to life their sense of discovery, creativity, and innovation and invites visitors to explore."
Rockwell Group合伙人及项目总监Greg Keffer说,"通过EMC2酒店,Rockwell Group希望能够捕获'艺术'和'科学'相互交织产生的一种状态。我们创造的设计概念注重对'发现'、'创造'和'创意'的理性认识,并把他们焕发出生命的活力。"
Exterior and Lobby/室外和大厅
Working in collaboration with David Rockwell and his team, Koo & Associates created the dramatic façade for the hotel which is located close to Northwestern University and the city's main tech hub.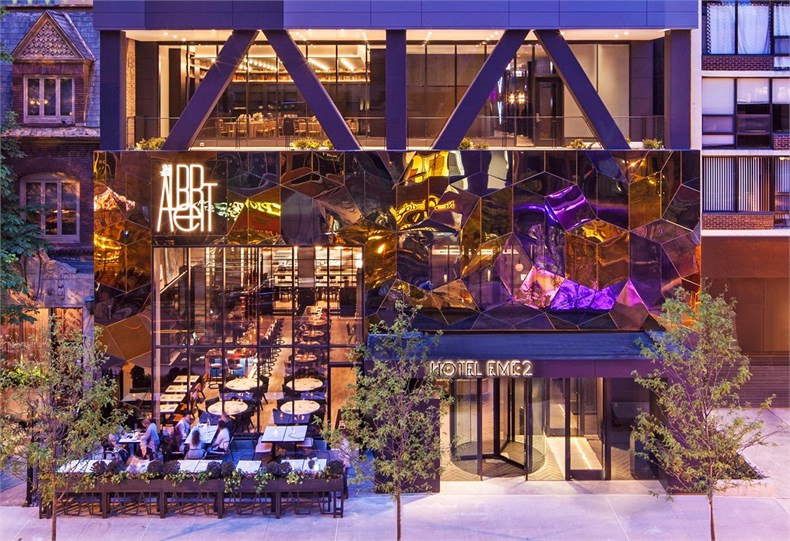 On entering the hotel, visitors are met with a two-story volume centerpiece, a freestanding assemblage of bookcases piled on top of each other which creates a first place of exploration for the guest. Inspired by Einstein's interest in collecting, it conveys a sense of discovery and wonder, like an unexplored attic or a modern day cabinet of curiosities.
进入酒店,迎面而来的是一个两层的中心装饰品,由若干个书架相互堆叠而成的艺术装置,成为客户开始探索酒店的第一个地方。
The design details lead guests into the hotel inviting them to explore and to discover, while a bookcase wall extends further into the lobby, enveloping the reception area and creating a series curious nooks and crannies.
A curated collection of original artwork by local and international artists is featured throughout the hotel's public areas adding personality to the lobby and restaurant.
由当地的和国际的艺术家完成的艺术作品在酒店的公共区域成为一大特色,赋予大厅和餐厅个性化。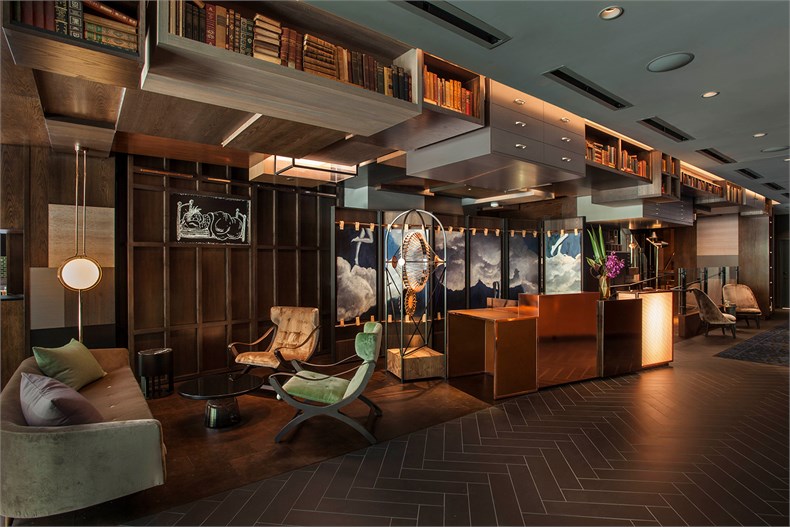 Guests can explore the area, sit within the smaller spaces, and immerse themselves in the quirky jumble of art, objects and books surrounding them.
Small groupings of eclectic furniture and overdyed rugs create a series of small lounge areas or snugs where guests can relax; this adds to the lobby's residential feel.
折衷的家具和套染的地毯布置在小的休息厅区域或客人可以休息的沙发区域,同时让大厅有种住宅的感觉。
A folding fabric screen depicting a dream state of cloud formations serves as a backdrop for the reception desk, a custom design by Rockwell Group in a bright polished rose gold and glass.
折叠的织物屏风描绘云的梦境状态,用作接待台的背景墙,由Rockwell Group通过抛光玫瑰金和黄铜定制设计。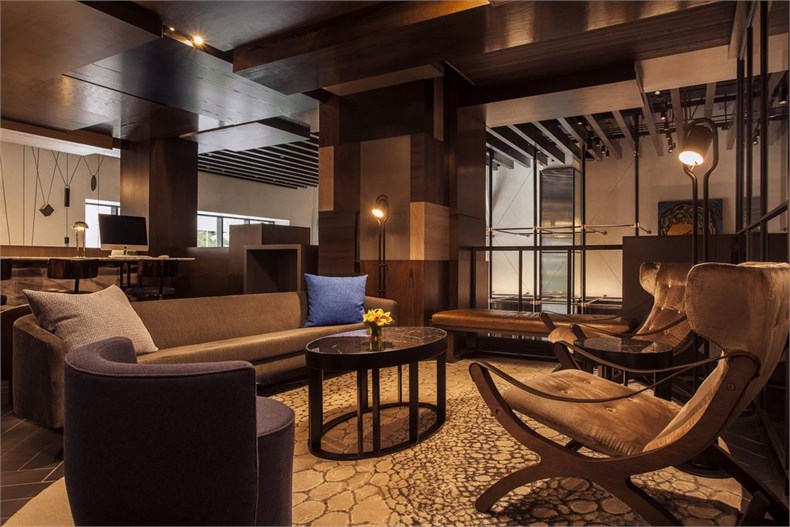 The elevator lobby holds further surprising elements, with two-way mirrors above and inside the elevators with concealed video screens. These create a seamless digital art installation of ink dropping from above, into the elevators as the doors open.
Archive lounge and conference room休息厅和会议室
An interior staircase in the bookcase leads guests to the second-floor Archive Lounge and event space. The lounge is a comfortable, playful space with plush seating and modern furnishings in rich hues of rose gold and shades of brown, and green.
位于书架处饿楼梯指引客人来到二楼的休息厅和会议活动空间。褐色和绿色衬底的玫瑰金表面的豪华座椅和现代家具让休息厅倍感舒适和惬意。
A custom oversized vintage steamer trunk opens to reveal a breakfast nook in the morning and a cocktail bar at night. Off to the side, a glass-walled multi-purpose room overlooks the restaurant's communal kitchen below. Designed to be a flexible space, the room can serve as a private dining room, while the lounge can be reconfigured as a VIP area or pre-function space for business meetings and events
The Albert Restaurant/艾伯特餐厅
Next to the lobby, an airy double-height 120-seat restaurant serves globally-inspired cuisine and handcrafted cocktails.
艾伯特餐厅靠近大厅,这个中空的双层楼高的餐厅可以容纳120个座位,在这里可以品尝到来自全世界的美食和手工摇制的鸡尾酒。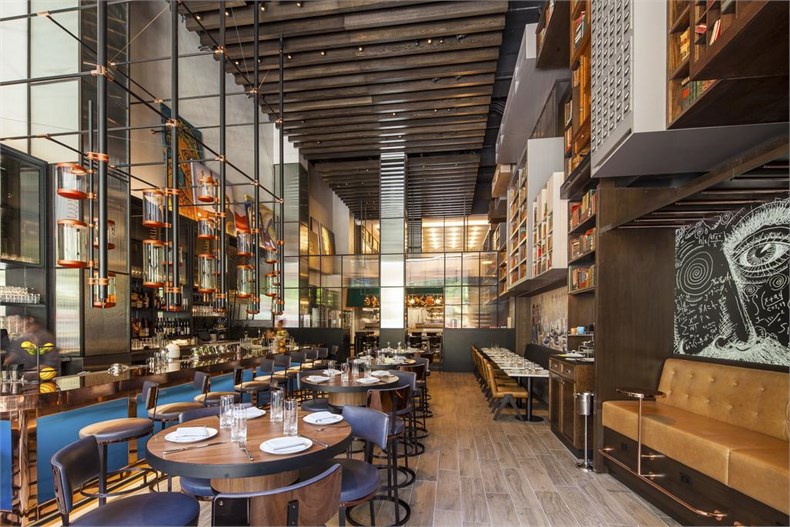 Designed to create a lively casual neighbourhood atmosphere, Albert also has cosy grouped seating to enable smaller and more intimate-scale dining experiences within the restaurant.
Chef's tables inside a large expo kitchen are partially concealed from the dining area by ribbed glass panels, offering diners a theatrical culinary experience.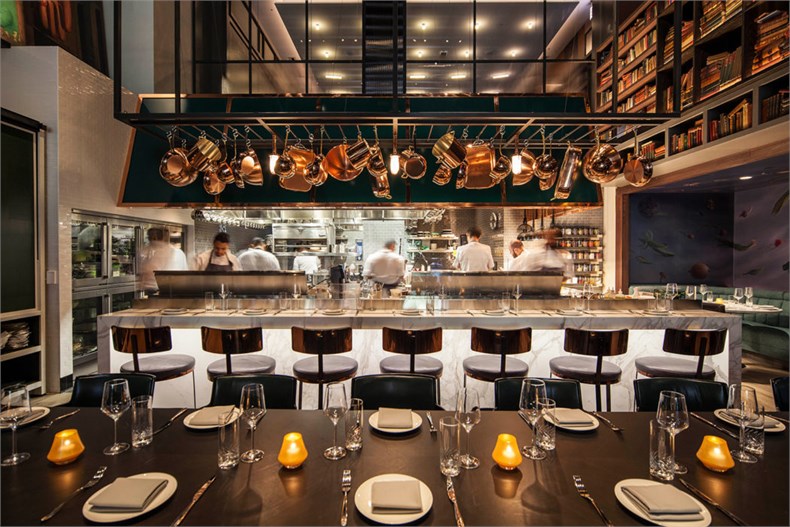 A bottle-green glass tile wall, wood and bronze dining tables, and a chandelier of copper pots add warmth and whimsy to the clean white space.
In the morning, the expo kitchen will be closed off to serve as a breakfast room for hotel guests who can enter the space through a 'secret' entrance via the bookcase wall. Just outside the expo kitchen, a long curved banquette set in front of a surrealist mural by local cartoon Artist, Jonathan Plotkin creates another unique seating option for diners.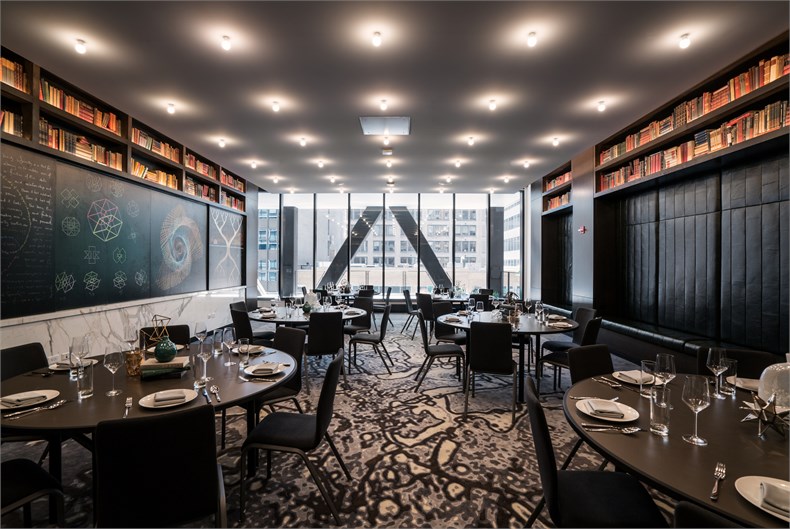 The Bar/酒吧
Continuing an exploration of the cross-pollination of science and art, a custom chandelier comprised of glass cylinders filled with house-made infused liquors is suspended over a copper and enamel-clad bar, while artwork in different stages – sketches, watercolors, and oil paintings in an ombre finish, line the back wall.
充满酒水的玻璃圆筒定制吊灯悬挂在铜和搪瓷覆盖着的酒吧顶部,而酒吧的艺术品呈现出不同的状态—素描、水彩、深浅条纹油画,整齐的排列在酒吧的后墙面。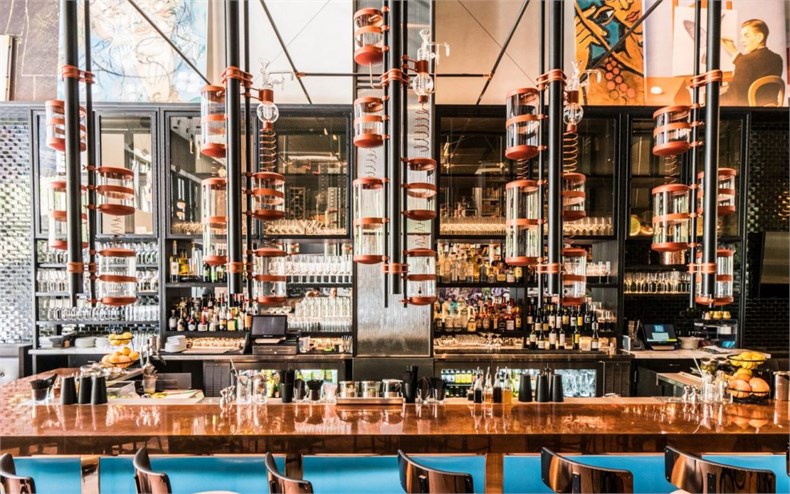 Guestrooms/客房
Located on floors 4-21, the 195 guestrooms celebrate Einstein's interests in discovery, invention, and creativity. The corridors leading to the rooms feature custom carpet inspired by images of molecules magnified under a microscope, which create vibrant, abstracted patterns. Room numbers next to each door are revealed through an illuminated looking glass.
客房位于4-21层,195间客房延续爱因斯坦在"探索"、"发明"和"创造"方面的元素。通往客房走廊的定制地毯设计灵感来自放大镜下放大的物质分子,创造出充满生机和被抽离的图案。靠近房门的门牌号通过发光的窥镜进行标示。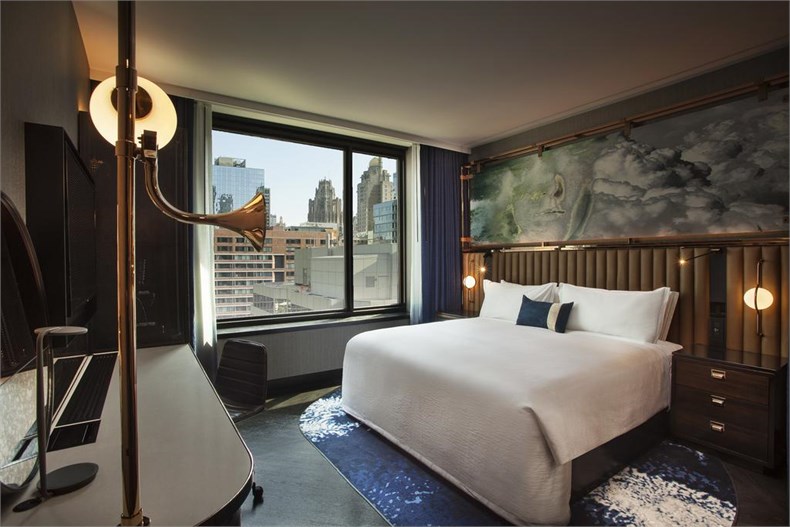 Custom video art installations revealing the processes of painting and drawing are projected onto a canvas panel in a metal frame hung directly across from the elevator banks on each of the guestroom floors.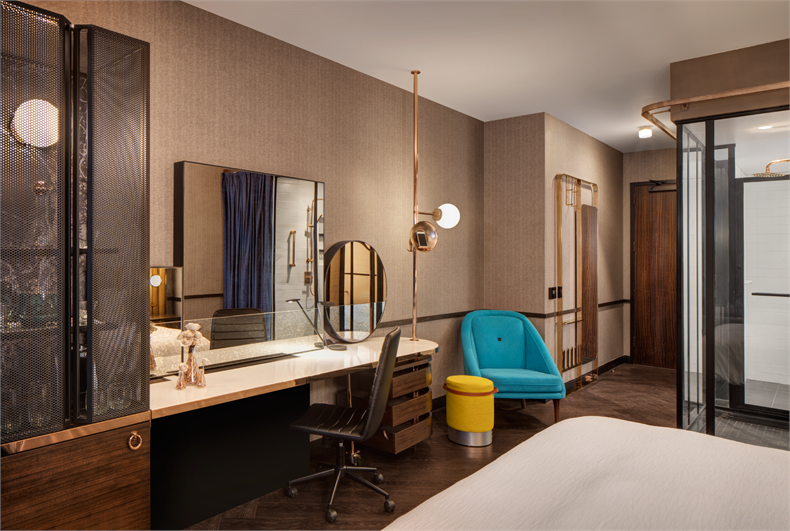 The simple yet refined residential aesthetic of the rooms is balanced with imaginative, custom touches. An oversized channel-tufted leather headboard frames the bed and a copper frame sits above to display artwork on a canvas stretched across the frame with leather straps. An over-scale perforated metal lantern set atop a wooden base cleverly conceals a minibar and casts a luminous glow from within.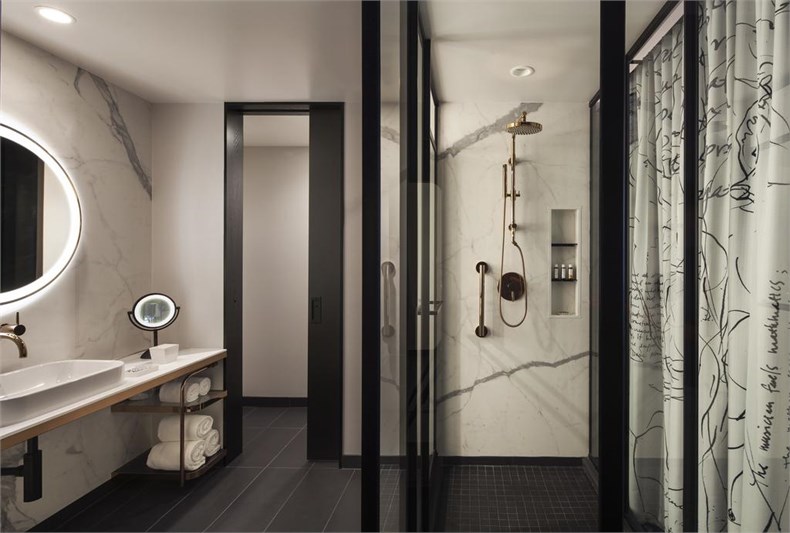 关于Rockwell Group:
Based in New York with offices in Madrid and Shanghai, Rockwell Group is an interdisciplinary architecture and design firm that emphasizes innovation and thought leadership in every project. The firm merges architecture, theatre, craftsmanship, and technology to create unique narratives for their work, including hospitality, cultural institutions, offices, transportation, residential, set design, products, exhibitions and festivals.
酒店地址:228 E Ontario St, Chicago, IL 60611, USA
摄影师:Images by Michael Kleinberg
Edit by Designwire