Rockwell group新作:多伦多1 HOTEL室内设计
纽约领先的建筑和设计工作室Rockwell group公布了多伦多1 HOTEL的室内设计,这是加拿大第一家以使命为导向的酒店,旨在颂扬多伦多自然环境的美丽,并在市中心提供城市绿洲和努力将这座城市引入可持续奢华体验的新标准。
Rockwell Group, the leading New York architecture and design studio, has unveiled the interiors of the new 1 Hotel in Toronto, Canada's first mission-driven hotel that celebrates the beauty of Toronto's natural environment and offers an urban oasis in the heart of the city and endeavouring to introduce the city to a new standard of a sustainable luxury experience.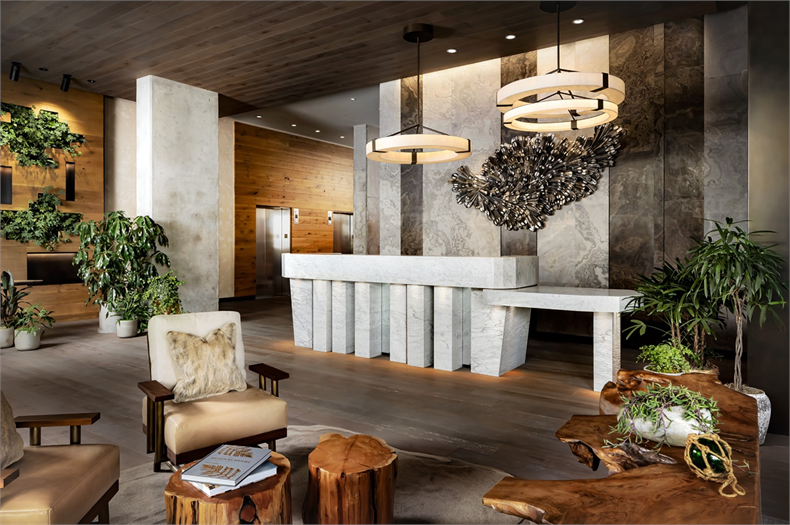 ©️ Brandon Barre
Rockwell Group为多伦多1 Hotel Toronto设计的概念重塑了这座城市,将其城市化彻底颠覆,回答了"如果豪华酒店是通往自然世界的迷人门户,而不是逃离自然世界会怎样?"的问题。
Rockwell Group's design concept for 1 Hotel Toronto reframes the city, turning its urbanism inside out, responding to the question "What if a luxury hotel was an inviting portal to the natural world, instead of a flight from it?".
酒店的材料调色板从安大略湖的柔和色彩和流逝季节的对比色调中汲取灵感,采用再生木材、本地植物、板状混凝土和当地大理石。
The material palette for the hotel takes inspiration from the muted colours of Lake Ontario and the contrasting tones of the passing seasons and features reclaimed timber, native plants, board-formed concrete, and local marble.
©️ Brandon Barre
酒店大堂欢迎客人来到一个温馨的巢状空间,四周环绕着落地玻璃窗,在夜间营造出一个灯箱,以及室内外无缝衔接的感觉。 酒店的入口由花岗岩和石灰石巨石、枫树、当地植物、温暖的木材和拖曳的绿色树冠构成,所有这些都让人联想到加拿大的自然景观。
The hotel's lobby welcomes guests to a warm and nest-like space surrounded by floor-to-ceiling glass windows, which create a light box at night, as well as a feeling of seamlessness between indoors and out. The entrance to the hotel is framed with a mix of granite and limestone boulders, maple trees, local plants, warm wood, and a trailing green canopy, all reminiscent of Canada's natural landscape.
大堂设有 4.5 米高的天花板、再生榆木地板和来自安大略省一个拆除谷仓的搁架。 其他可持续设计细节包括活生生的绿墙、发现的物品、当地的石头和由榆木和柚木根等材料制成的回收家具。
The lobby features 4.5 metre-high ceilings, reclaimed Elm wood flooring and shelving sourced from a dismantled barn in Ontario. Additional sustainable design details include a living green wall, found objects, local stone and reclaimed furnishings from materials such as elm wood and teak root.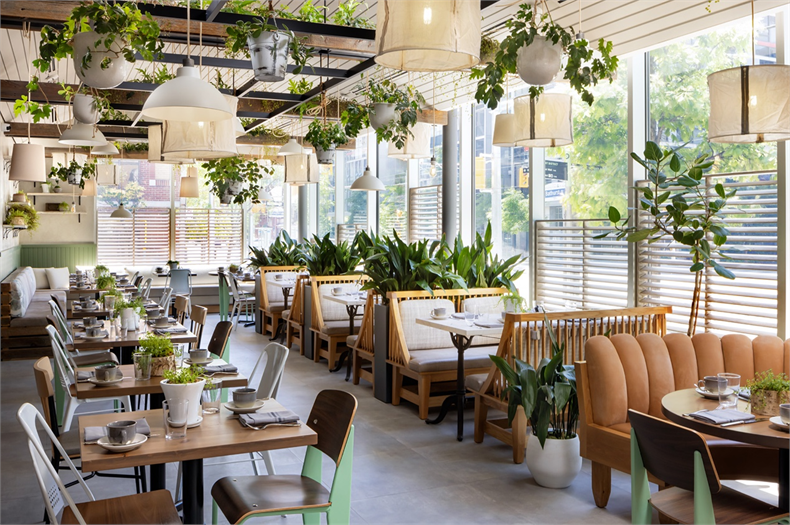 ©️ Brandon Barre
一堵带有木纹的石墙——由埃拉莫萨河沿岸的冰川活动雕刻而成——作为背景,由多伦多艺术家 Moss & Lam 在检查台后面设计的艺术装置。
A stone wall with wood-like striations – carved out of glacial activity along the Eramosa River – serves as the backdrop to an art installation designed by Toronto-based artists Moss & Lam behind the checking desk.
1 Hotel 提供全方位的餐饮体验,遍布酒店各处的两间餐厅和两间酒吧可供选择。
1 Hotel offers an all-round dining and drinking experience, with a selection of two restaurants and two bars spread throughout the hotel.
现代 1 Kitchen 拥有复古氛围,位于玻璃墙温室般的空间内,拱形木天花板和弯曲的桁架上挂着绿色植物。 1 Kitchen 从 50 公里范围内采购所有食品原料,是一个欢迎酒店客人和当地人的社区目的地。
The modern 1 Kitchen has a vintage vibe and is located in a glass-walled conservatory-like space with a vaulted wood ceiling and curved trusses hung with greenery. Sourcing all food ingredients from within a 50 km radius, 1 Kitchen is a neighborhood destination that welcomes both hotel guests and locals alike.
©️ Brandon Barre
Madera -一家有机墨西哥餐厅遵循酒店的设计线索,使用喷砂纹理木材,绿色植物,由Benchmark制作的木制餐椅,再生木质桌面,艺术手工器皿和现代、充满活力的照明。
Madera – an organic Mexican restaurant follows the design cues of the hotel, with sand-blasted textured wood, greenery, wooden dining chairs crafted by Benchmark, reclaimed live edge wood tabletops, artistic handmade vessels, and modern, vibrant lighting.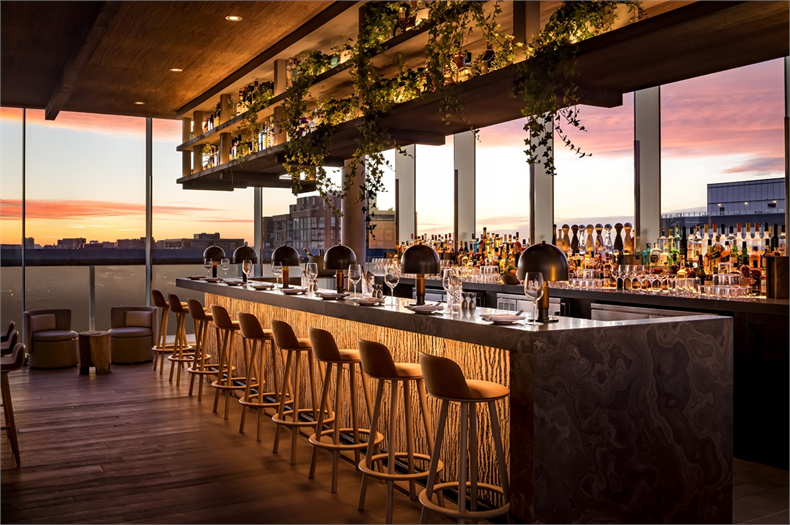 ©️ Brandon Barre
Harriet's 是该市最新的屋顶热点,设有带滑动玻璃墙和可伸缩屋顶的开放式寿司吧,让您尽情欣赏令人叹为观止的城市和湖景。 设计细节让人想起多伦多的动植物,编织绳天花板散布在木梁、再生榆木地板以及皮革和小羊皮之间。
Harriet's is the city's newest rooftop hotspot featuring an open concept sushi bar with sliding glass walls and a retractable roof, to get the best out of the breathtaking city and lake views. The design details recall Toronto's flora and fauna, with a woven rope ceiling interspersed between wood beams, reclaimed Elm wood flooring and leather and lambskin accents.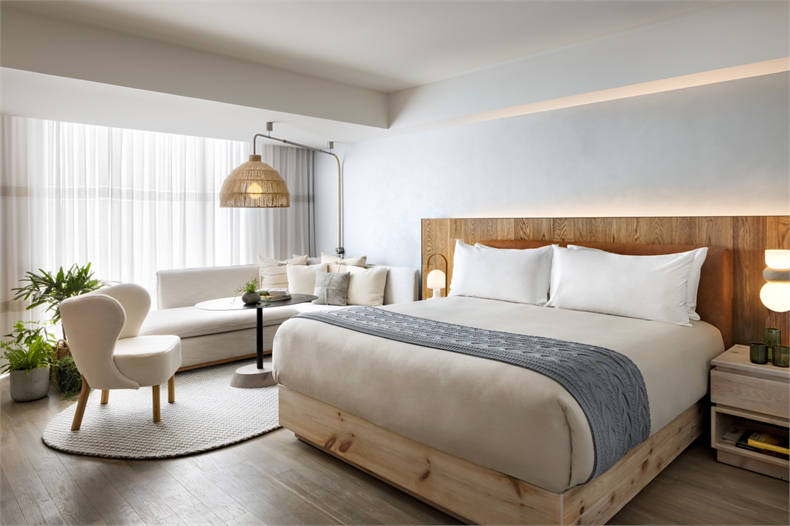 ©️ Brandon Barre
1 Hotel Toronto 酒店明亮通风的客房设有分隔卧室和浴室的谷仓木滑动门。 Rockwell Group通过将山核桃木环绕在梳妆台上,为卡拉拉大理石浴室增添了温暖。 床后添加了天然木质装饰墙,并配有皮革床头板。 由当地木材工作室采购的由倒下的树木碎片组成的艺术品完成了设计。
The light and airy guestrooms at 1 Hotel Toronto feature sliding barn wood doors dividing the bedroom and bathroom. Rockwell Group added warmth to the Carrara marble bathrooms by utilizing Hickory wood surrounds for the vanities. A natural wood accent wall is added behind the bed, with a leather headboard. An art piece comprised of a fallen tree fragment, sourced by a local wood studio, completes the design.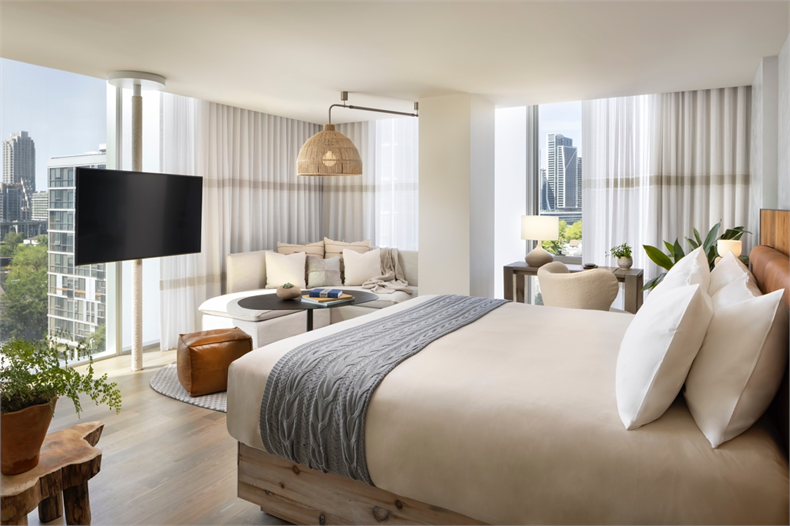 ©️ Brandon Barre
关于与 1 Hotel 的合作,Rockwell Group 的创始人 David Rockwell 说:"我们长期以来一直钦佩 1 Hotels 的可持续和环保精神,我们很高兴有机会设计具有亲生物性的新多伦多 1 Hotel。 我们对酒店的愿景邀请客人通过物质性和当地制作的艺术品来庆祝多伦多的生态。"
On the collaboration with 1 Hotel, Rockwell Group's Founder David Rockwell says "We have long admired 1 Hotels' sustainable and eco-friendly ethos, and we are thrilled to have been given the opportunity to design the new 1 Hotel Toronto with a biophilic emphasis. Our vision for the hotel invites guests to celebrate Toronto's ecology through materiality and locally-made artwork."
©️ Brandon Barre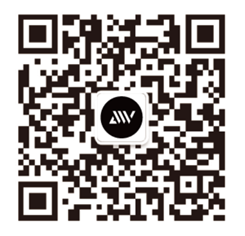 设计腕儿官方微信
010-88600030