树与房子是甘蓝咖啡连锁的符号,这个符号最容易被大众理解接受的,但是也是使用最多的,所以如果这些符号以一个富有巧妙功能与独特形态呈现成为重点。
Tree and house are the symbols of the Kale Café chains, which are most acceptable and popular to the public. For this reason, how to make present these symbols with a clear function and unique shape becomes the key of the whole design.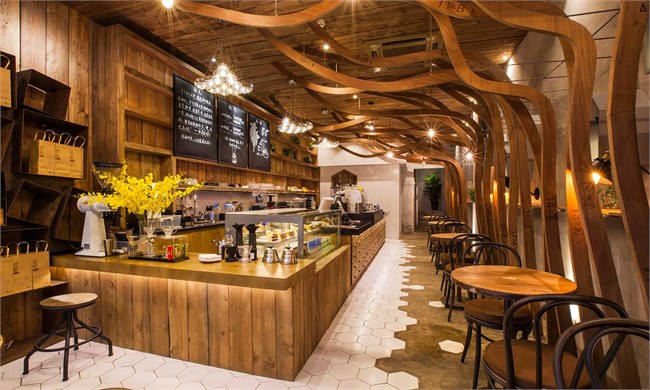 该空间位于杭州闹市区,面积130m²,两层楼,整个空间为长条状,落地窗与入口在空间的一端,另一段为楼梯间,楼梯间没有任何窗户。为了将空间不利因素转化为优点,我们用一种沿纵深方向排列的空间图形元素表达品牌。一楼为不同形态的弯曲木条沿纵深方向排列,当从空间的一端看的时候,木条的重叠组成富有动感"树"。弯曲木条不仅仅是一个装饰,其本身的固定结构也是置物隔板,能够为外卖产品,软装提供展示空间。
This space is a 130 m², 2-story building, that located in downtown Hangzhou. The space is long strip-like – French Windows and the entrance are at one end of the space, while staircase at the other end without any window. In order to transform the space disadvantages into advantages, we use special graphic element arranged along the depth direction for the brand expression. On the first floor are different forms of bending wood arranged along the depth direction, which would perform a dynamic "tree" when seen from one end of the space. Bending wood is not just a decoration; its fixed structure is also a rack to show some product, soft mount provides exhibition space.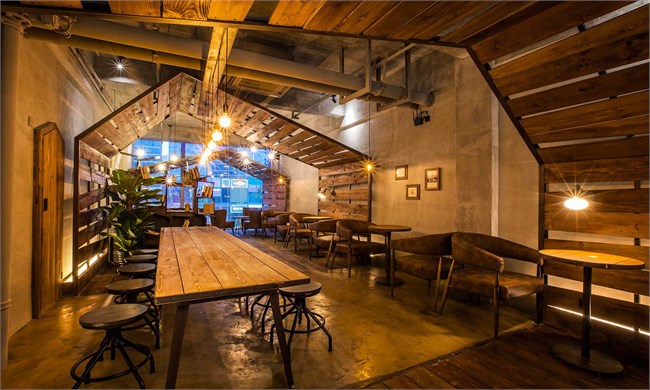 二楼为不同形态的小木屋沿纵深方向排列,黑色的金属边框强调了其轮廓,让人们无论是站在店外,还是置身于空间中,都能最直接强烈的感受到不同形态木屋组成的韵律美。木屋的形态偏于原始,与店中家具一并营造出一种"反城市"的氛围。

On the second floor are different forms of cabins arranged along the depth direction. Their black metal frames emphasize their contour, letting people feel the strong rhythm beauty of various forms of cabins, whether standing in or outside of the space. The form of the cabins is partial original, along with furniture, creating a sense of "anti-urban".
楼梯间里将树的元素改变形态与材料,让其在垂直方向上扩展。伴随顾客上楼,这课树视觉也在发生变化。工业材料的运用一方面考虑成本,一方面也希望楼梯作为一个过渡空间与一楼二楼使用材料的略有不同。楼梯间在灯光上设计了多种照明形式,通过光线的趣味性来减弱空间的封闭感。
It changes the form and material of tree element in the staircase, making it expand in the vertical direction. The visual of this tree changes as the customer moves up the stairs. The reason for using the industrial materials on one hand is for cost consideration, on the other hand, it hopes to create a transition space between first floor and second floor by using different materials. Various lighting design are used in the staircase, wishing to weaken the sense of space closure by the interestingness of the light.