"This is an island over the city, abandoned and peaceful environment with special aesthetics. Just like us. We love it so much."

"Loft住宅是这个城市中的一个岛屿,与世隔绝、安静祥和的环境带来了一种独特的艺术美学。就像我们,是如此的爱它(这个家)。"
The architect and production designer Attila F. Kovács and his wife art director and stylist Zsuzsa Megyesi found this unusual giant space and movie set like environment ideal for making their home.
建筑师兼美工设计师 Attila F. Kovács和他的妻子艺术指导兼造型师Zsuzsa Megyesi在一处旧的军工厂发现了一车间发现了这一间大的不同寻常的空间,像电影里的环境,最理想的打造属于他们自己家的选择。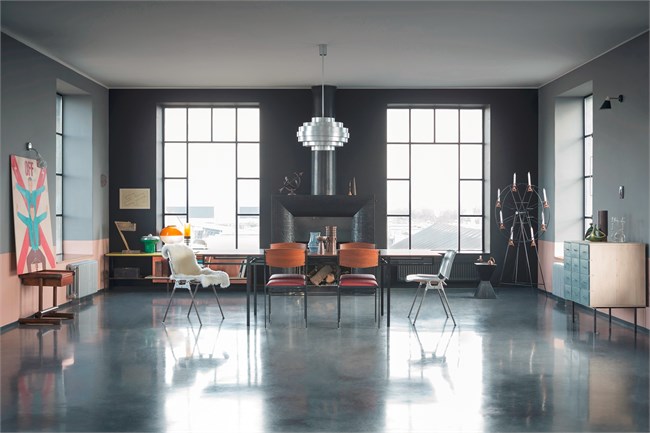 The HFF kniting factory complex is located in the southern part of the capital of Hungary, Budapest and dates as early as from 1913-1915. It was originally built as a weapon factory designed by Árpád Gut and Jenő Gergely. The F. Kovács/ Megyesi residence, Loft 19, this tower like four-story -building and the huge factory complex are protected industrial monuments just like the giant hall overlooking the loft structure. The architect and production designer Attila F. Kovács and his wife art director and stylist Zsuzsa Megyesi found this unusual giant space and movie set like environment ideal for making their home. No matter that living there is a bit like plunged into the world of the Sin City or the science fiction movie Metropolis of Fritz Lang.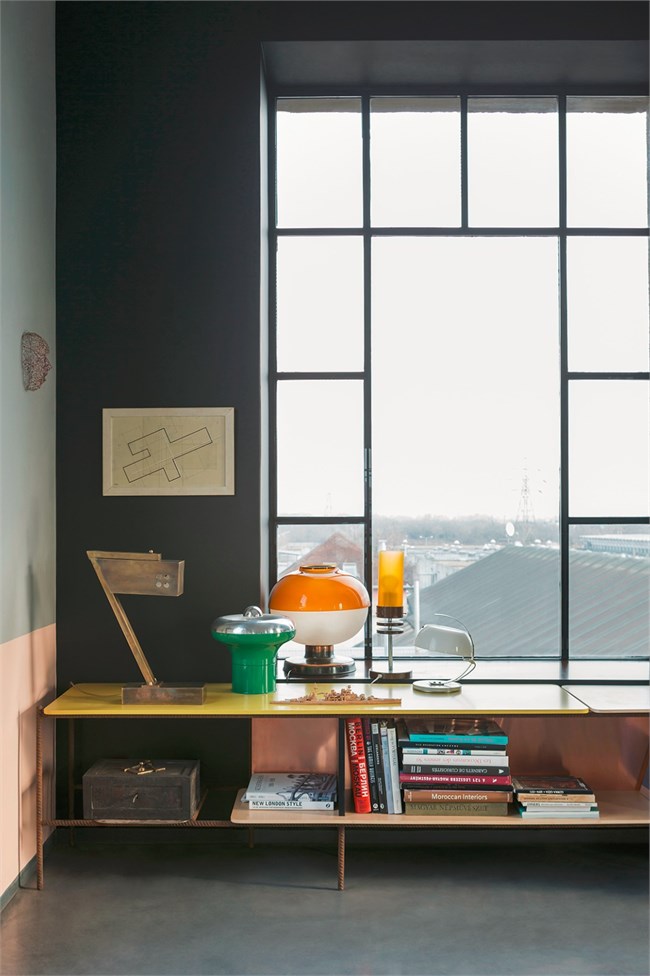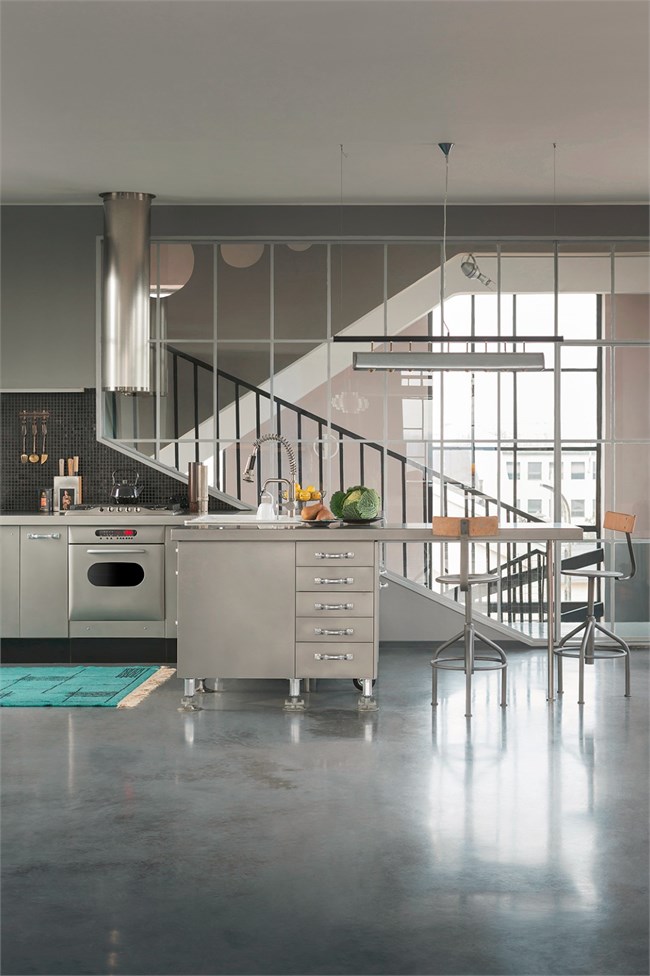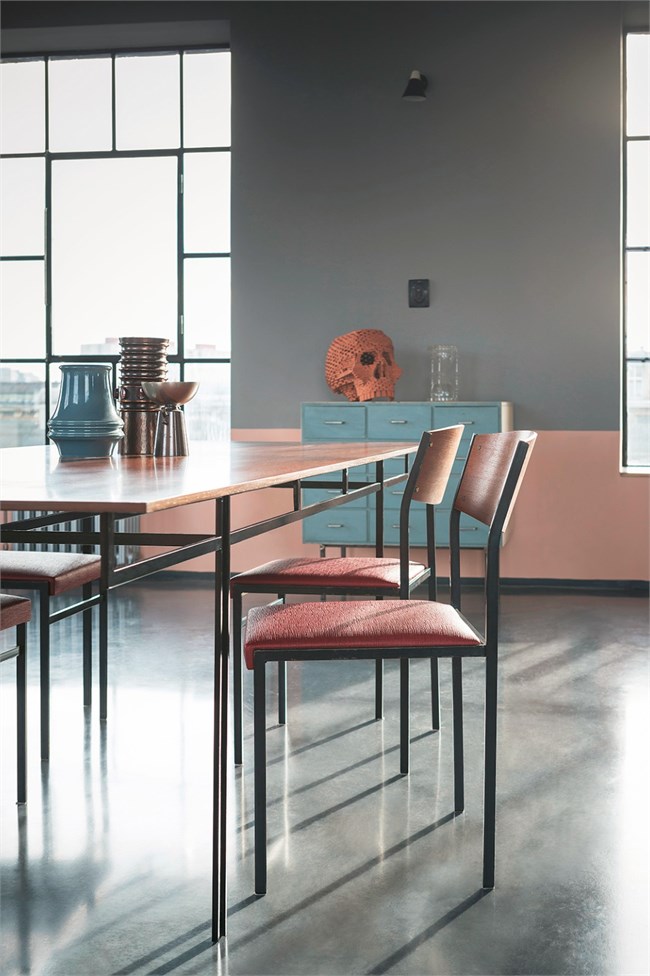 "I've have always wished for a giant hall size studio, a huge empty space where I can l lay a hundred books and magazines open on the floor at the same time and where you may just as well play table tennis or even badminton ." The 600m2 four level building gives enough space for all of this and much more. A concrete fire water tank was found in the attic which was turned into a swimming pool with artificial current. While swimming in the water there's a great view through the glass walls to the huge daybed built on bookshelves legs in the library room. The design of the space is a laid back, personal mix of different styles and eras. It is full of special pieces, collected one by one during decades in flea markets, auctions and antique shops or created by the designers themselves. Let the huge windows, light, the unusual size rooms , the old structural elements and materials play the main role in the studio, the kitchen and living room and the library-fitness in the attic. Old iron doors were kept, original beams reused for book shelves. The bedroom level on the contrary was designed to be bold and private with a mid century "boudoir like" atmosphere to it. . Space and design is equal to the owners vocation.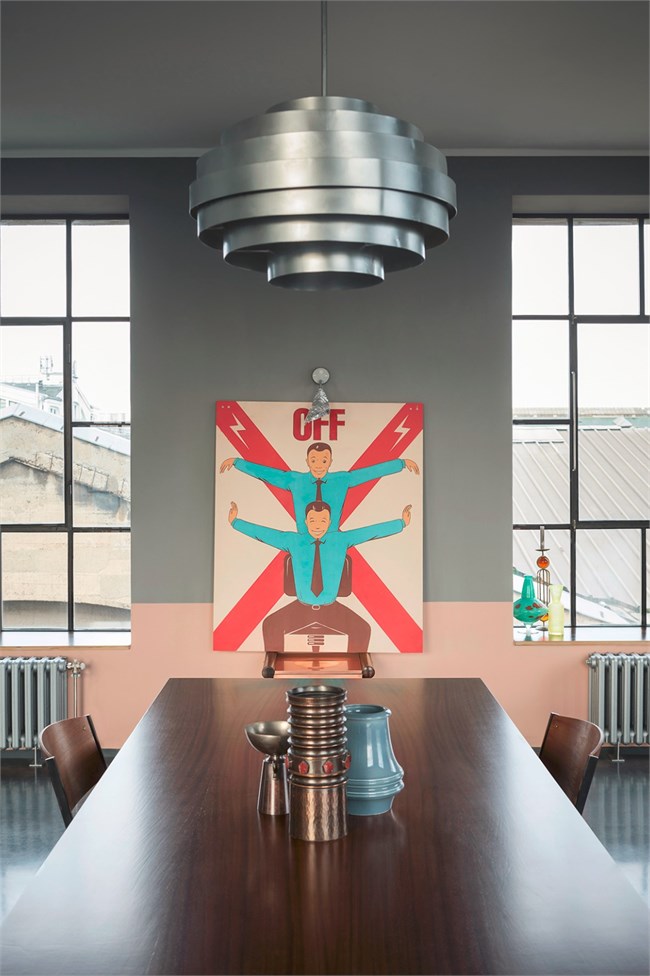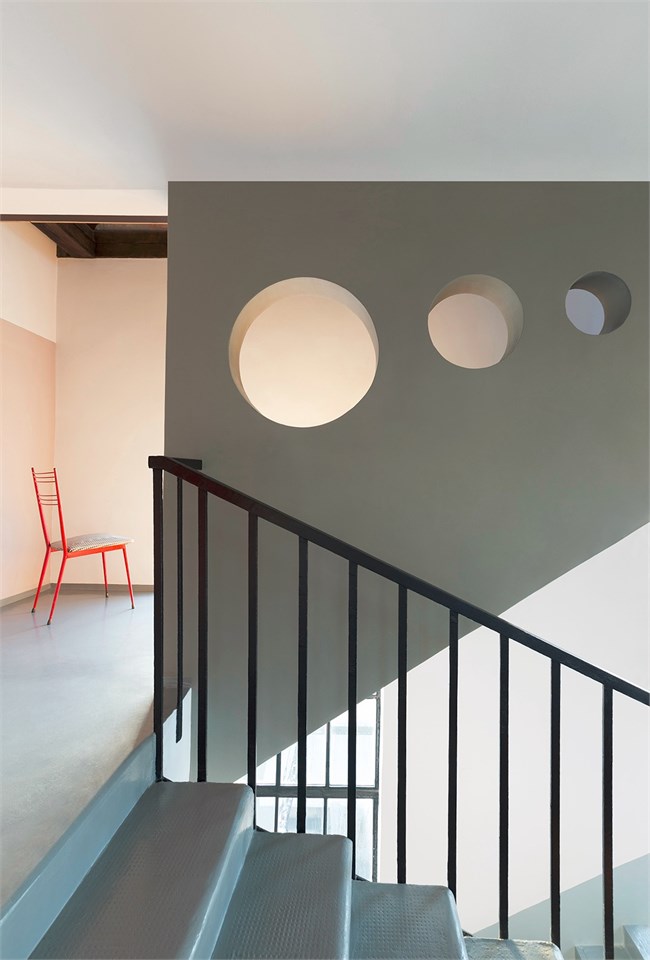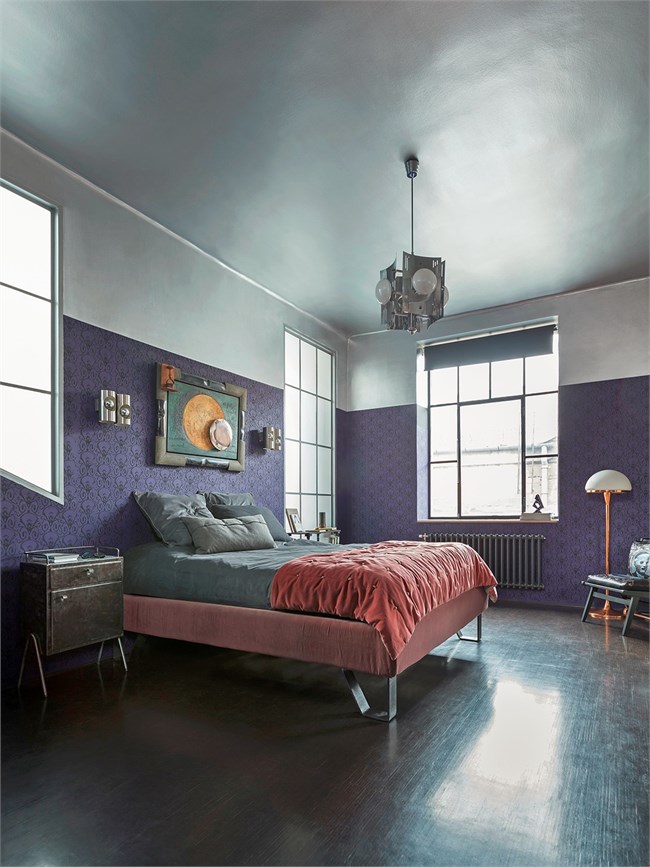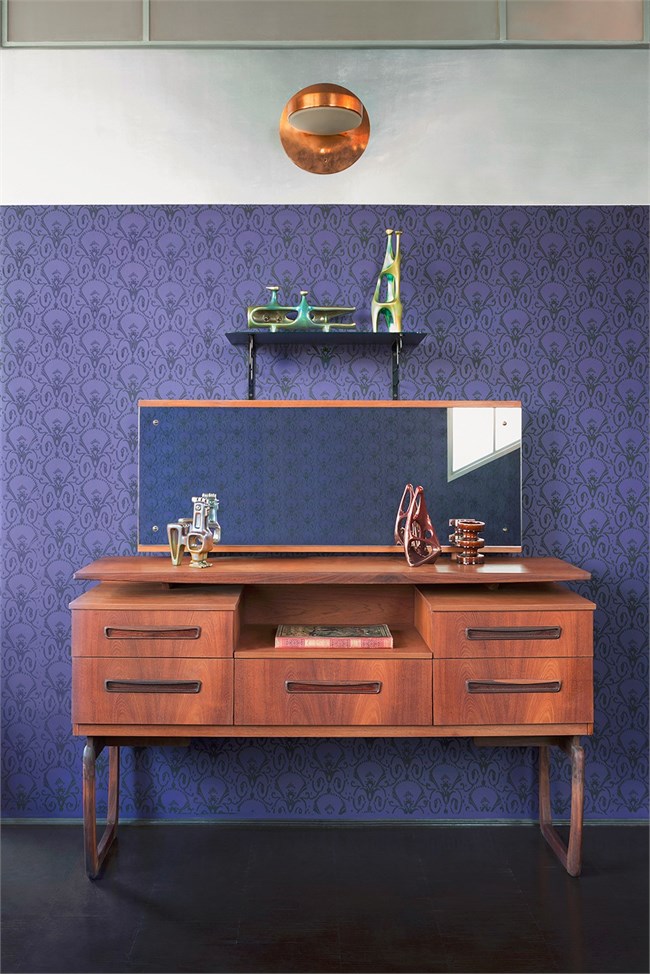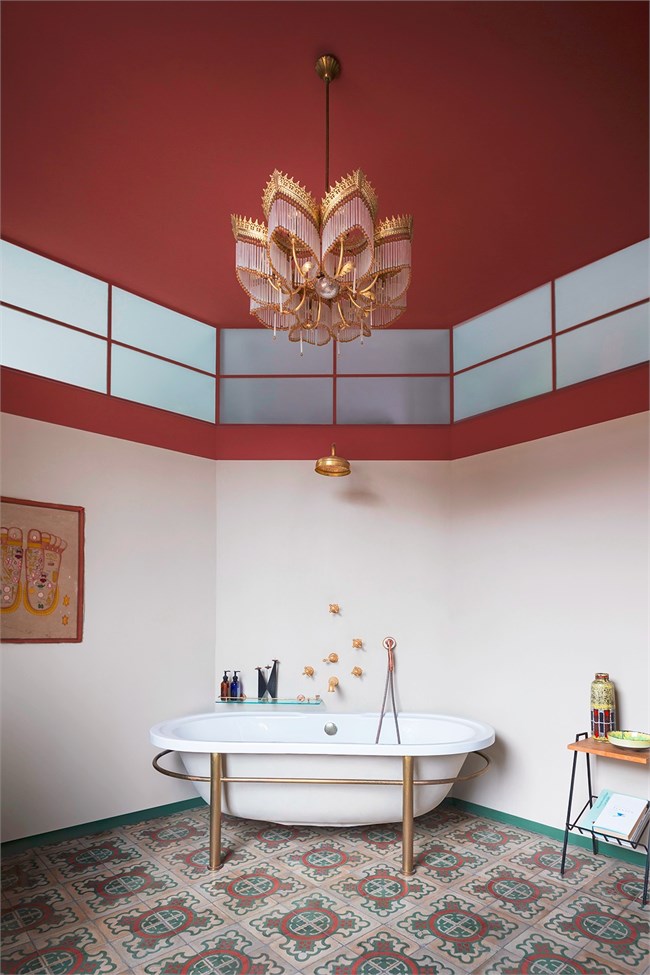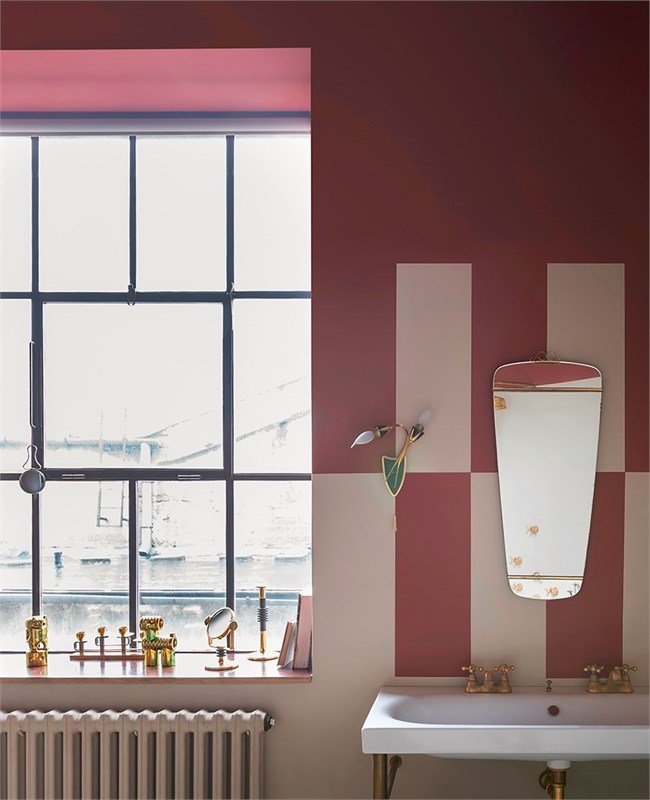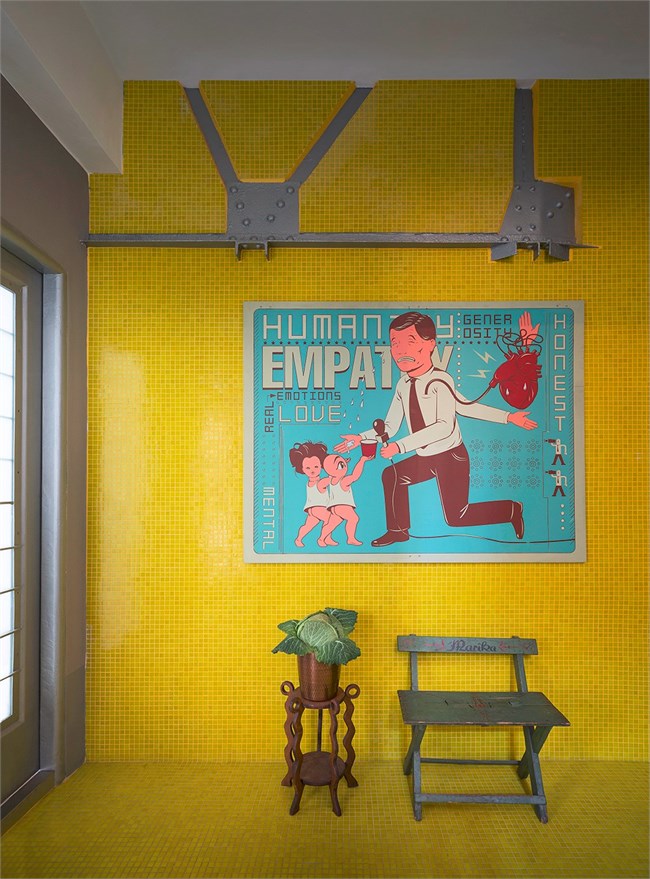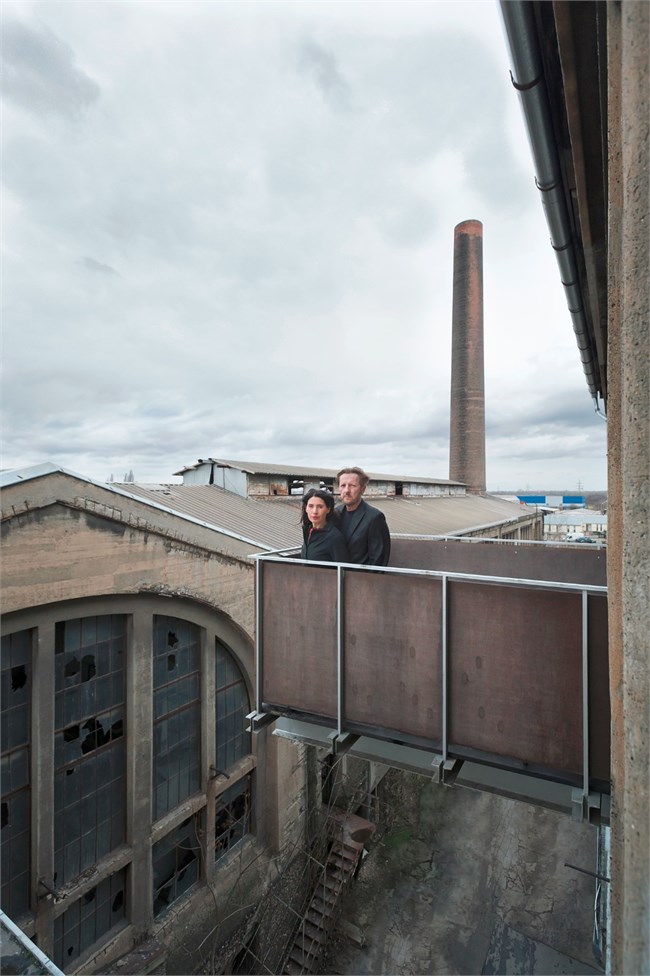 项目采访内容: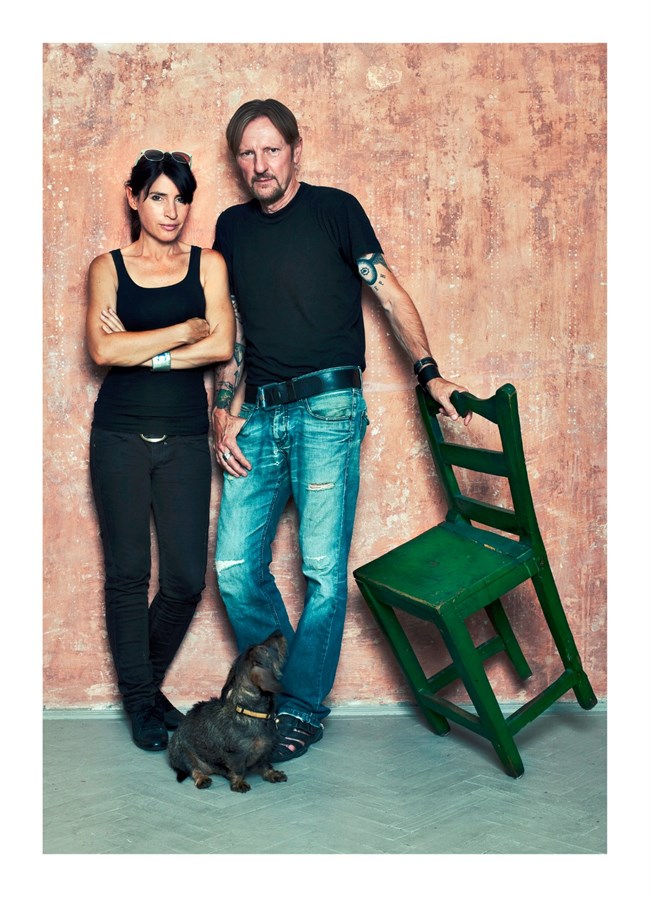 - What year did you move into the former weapons factory?
FIRST WE MOVED IN 2005 FOR A YEAR, LATER WE MOVED BACK TO THE CITY CENTER, AND MOVED BACK AGAIN WHEN OUR DAUGHTER WENT TO THE UNIVERSITY TO BRIGHTON UK IN 2010.
- Was it also a former knitting factory?
ORIGINALLY WAS BUILT AS WEAPON FACTORY, OUR BUILDING WAS A WATER TOWER THAT'S WHY WE HAVE A POOL UNDER THE ROOF WHICH WAS A WATER TANK BECAUSE OF FIRE HAZARD ACTIVITY IN THE BUILDING,
AFTER THE FIRST WORLD WAR HUNGARY HAD TO REDUCE THE WEAPON PRODUCING , SO THEY CONVERT THESE BUILDING TO KNITING FACTORY,
- What attracted you to the space? Why did you want to live here?
WE LOVE THIS ABANDONED ATMOSPHERE, THE SILENCE, AND LESS PEOPLE AROUND US,
WE WANTED TO HAVE LARGE SPACES WHAT YOU NEVER WILL FIND IN THE CITY CENTER,
- Where did you live before? Somewhere else in Budapest?
WE LIVED IN THE CITY CENTER BEFORE, FIRST IN THE XIII. DISTRICT WHICH IS THE BAUHAUS DISTRICT , WAS BUILT IN THE 30'S,
LATER IN THE V. DISTRICT WHICH IS LOOK LIKE SOME DISTRICT IN PARIS, THIS DISTRICT IS OFTEN A LOCATION FOR MOVIES,
THEY SHOOT PARIS IN HERE LIKE SPIELBERG IN HIS FILM TITLED : MUNICH
- What was it like when you bought it? What state was it in?
IT WAS LIKE A RUIN, WITH DESTROYED WINDOWS AND DOORS, NO WATER, NO ELECTRICITY, NO GAS, NOTHING…
- You have described it as being like a movie set - in what way?
BECAUSE THE WHOLE ESTATE IS LIKE A CITY, OUR BUILDING IS IN THE MIDDLE, IF YOU LOOK AROUND, YOU SEE SIMILAR BUILDINGS AROUND YOU DESIGNED IN THE SAME TIME AND STYLE , SO IT IS LOOK LIKE A MOVIE SET, IN FERRO CONCRETE
- What was the first thing you did to it when you moved in? How have you made it your own?
WE HAD TWO YEARS RESTORATION TIME TO RECONSTRUCT THE BUILDING, WE DID THE NECESSARY CHANGES DURING THE RECONSTRUCTION,
SO IT IS A TAILOR MADE HOUSE FOR OUR SELF,
- What district do you live in and what's the area like?
THIS IS THE "DISTRICT 9", AND THIS IS NOT A JOKE THIS IS REALLY THE IX. DISTRICT( IF YOU KNOW THE MOVIE : DISTRICT 9 ) BUT THERE IS NOTHING TO DO WITH THE ACTUAL DISTRICT BECAUSE IT WORKS AS AN ISLAND OR AS A SMALL CITY IN THE DISTRICT WITH OWN FENCE AND OWN PATROL DAY AND NIGHT,
- The building has four levels. Can you please tell me which rooms are on which levels?
FIRST FLOOR IS THE LARGE STUDIO AND SHOWROOM LEVEL WITH A GUEST UNIT,
SECOND FLOOR WITH BED ROOMS AND BATHROOMS AND WALKING CLOSETES,
THIRD FLOOR IS THE LIVING AND DINING AREA WITH THE OPEN KITCHEN,
FOURTH FLOOR WITH THE POOL, SAUNA, GYM, DAYBED WITH LIBRARY, ROOF TERRACE, ALSO THE LAUNDRY TAKES PLACE HERE,
- How do you spend time in the space? Do you work here? Have parties here? Relax?
WE LIVED IN THE WHOLE HOUSE, WE USE EACH PART EVERY DAY, WE WORK IN THE STUDIO,
OF COURSE WE DO PARTIES IN LARGE, WE SET UP TABLE TENNIS IN THE STUDIO,
THE BIGGEST CROWD IS IN THE KITTCHEN OF COURSE AND ON THE TERRACE,
- What's favourite room and why?
MY STUDIO, I ENJOY THE SPACE, AND A CHANCE THE CREATE SOMETHING ON MY DESK WHICH IS NEVER EXIST BEFORE
- How would you decribe the interior design style? What look were you trying to achieve?
IT IS A MIXTURE OF MY CHILDHOOD ( 50'S- 60'S ) AND CONTEMPORARY DESIGN
- Where are your favourite pieces of furniture from and why are they your favrouite?
MY FAVOURITE PIECES ARE IN THE LIVING ROOM AND IN THE BED ROOM,
I LOVE GIO PONTI'S LAMP, PERCIVAL LAFFER'S SOFA, AND CERAMIC WORKS OF A HUNGARIAN ARTIST JÁNOS TÖRÖK , BECAUSE OF THEIR UNIQUE FORM AND SPECIAL MATERIAL,
- Do you work together all the time or have your own projects too?
WE WORK TOGETHER AND ALSO SEPARATELY, FIRST WE SHARED THE LARGE STUDIO, BUT LATER WE COVERT THE GUEST UNIT TO A STUDIO FOR ZSUZSA, SO RIGHT NOW WE HAVE SPARATE STUDIOS,
My City - we also have a 'box of special questions based around Budapest. They are:
- What's your favourite district of Budapest and why? What do you do there?
MY FAVOURITE DISTRICT IS THE V. DISTRICT THE HEART OF BUDAPEST, BECAUSE OF THE ARCHITECTURE, RIVER DANUBE, RESTAURANTS AND COFEE HOUSES, I OFTEN HAVE MEETINGS THERE WITH CLIENTS WHO ARE NOT SO "BRAVE" TO LEAVE THE CITY CENTER,
- If you didn't live in Budapest and just visited where would you stay? What hotel?
FOUR SEASONS HOTEL, THIS IS A BEAUTIFUL SECCESION BUILDING FROM THE TURN OF THE CENTURY, DECORATED WITH AMAZING CERAMICS FROM THE ZSOLNAY FACTORY, FACING TO THE FAMOUS CHAIN BRIDGE,
- What do you love most about Budapest?
YOU STILL FIND FRIENDLY HONEST PEOPLE HERE, RELAX AND HECTIC ATMOSPHERE IN THE SAME TIME,
- What's the view out of your window?
FROM MY STUDIO I SEE AN ABANDONED FACTORY HALL NEXT TO US WITH BROKEN WINDOWS,
- What is your favourite local shop or market and why?
IN THE V. DISTRICT YOU CAN FIND NICE MARKET HALLS, CAST IRON BUILDING FROM THE XIX. CENTURY , THEY HAVE AMAZING SELECTION OF FOOD AND WINE,
AND ALSO THERE ARE VERY GOOD SMALL SHOP FOR WINE : "BORTÁRSASÁG " AND "KULINARIS " FOR FOOD,
- What is your favourite local restaurant/ cafe?
IGUANA - MEXICAN RESTAURANT, FARGER CAFE, KISKAKUK - TRADITIONAL HUNGARIAN RESTAURANT, MŰVÉSZ- PARISIAN LOOK CAFE HOUSE,
- What sights do you recommend visiting in Budapest?
GELLÉRT BATH-ZSOLNAY POOL, HOUSE OF TERROR MUSEUM ( DESIGNED BY ME )
- When you want to escape the city where do you go?
IN HUNGARY WE GO TO THE COUNTRY SIDE : NORTH OF THE LAKE BALATON, TO SASKA IT IS A SMALL VILLAGE WHERE WE HAVE GOT A TWO HUNDRED YEAR OLD SHEPHARD HOUSE ( RESTORED AND REDESIGNED BY US ) IN THE GREEN LANDSCAPE
IN THE WORLD : ISLAND, BALI, BANGKOK, LANZAROTE ( WHERE WE HAVE GOT A HOUSE ON THE SIDE OF A VOLCANO IN THE BLACK LANDSCAPE)
\ A+Z Design Studio
\ 创始人/设计总监