Meier Partners住宅设计:One United Nations Park
One United Nations Park楼高 43 层,位于东河之上,提供 148 套优雅的公寓住宅,享有东河和曼哈顿天际线的一览无余,是 Meier Partners 在纽约市最高的住宅楼。该建筑是一个分层的黑色玻璃视觉,位于中城海滨,由普利兹克奖获奖建筑设计公司进行整体设计。
Rising 43 stories above the East River, One United Nations Park offers a collection of 148 gracious condominium residences boasting sweeping views of the East River and Manhattan skyline and is Meier Partners' tallest residential tower in New York City. The building is a layered black glass vision across from the Midtown waterfront designed inside and out by the Pritzker-prize winning architectural design firm.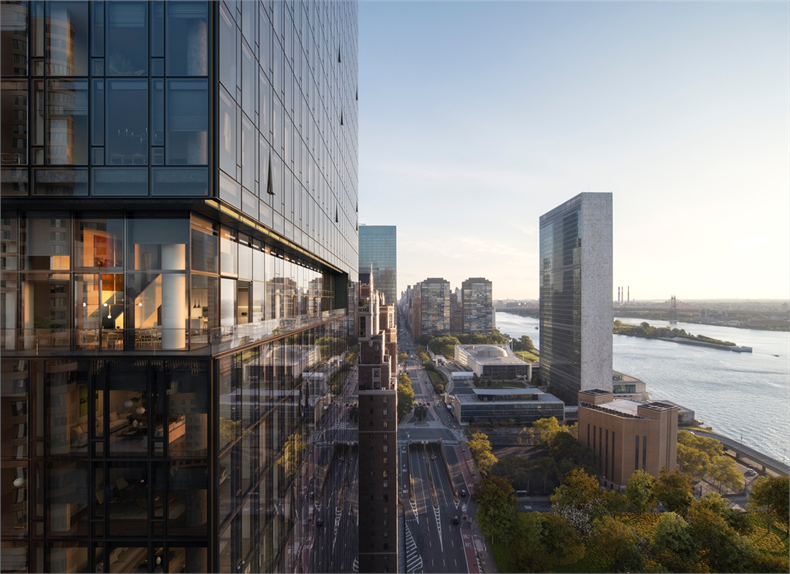 © One United Nations Park
迷人的立面是黑与光前所未有的相互作用,创造了一种平衡,反映了建筑大胆的外观和明亮的内部。在内部,三层高的大堂采用威尼斯灰泥和石灰华板,由精致的玻璃框架入口抵消。住户可以通过优雅的门廊和地下运动场进入私人地下停车场。
The captivating façade is an unprecedented interplay of black and light, creating a balance that reflects the architecture's bold exterior and luminous interiors. While inside, the triple-height grand lobby is appointed with Venetian plaster and travertine slabs, offset by an elaborate glass frame entrance. Residents can access a private underground parking garage through a gracious porte-cochère and underground motor court.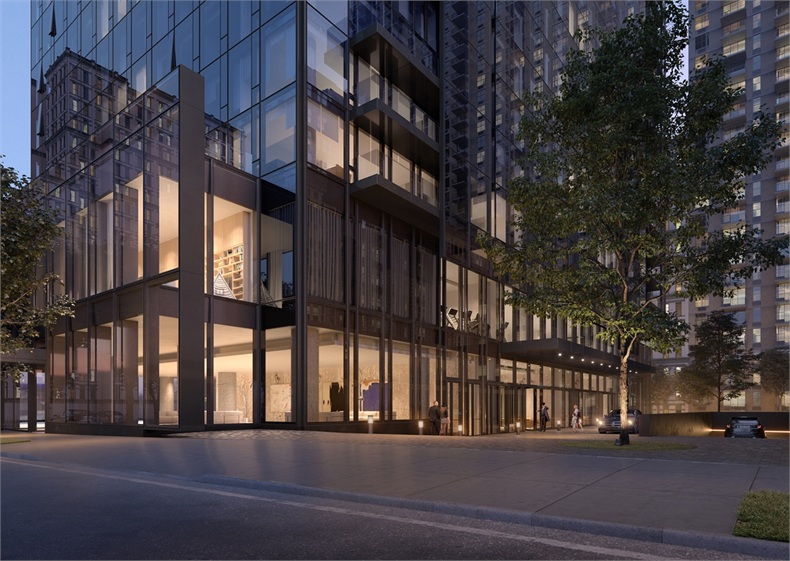 © One United Nations Park
玻璃从内部提供了清晰的城市景观,丰富的自然光线进入每个住宅,同时保持一致的外观。居民占据光线充足的空间,许多住宅提供了通畅的视野。玻璃的来源是仔细的,以提供最脆,最清晰的效果。
The glass provides a clear view of the city from the interior, with abundant natural light streaming into each residence, while maintaining a consistent exterior. Residents occupy light-filled spaces, with many residences offering unobstructed views. The glass was carefully sourced to provide the crispest, clearest effect.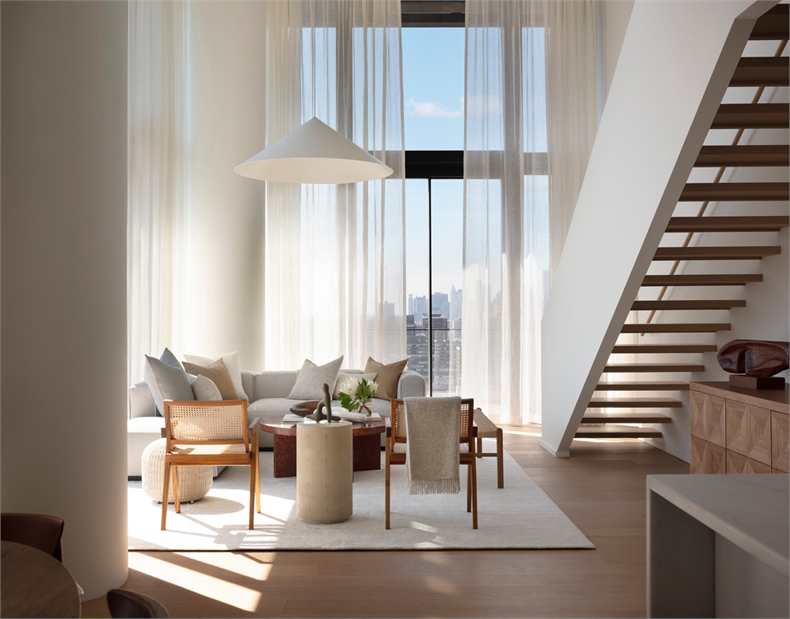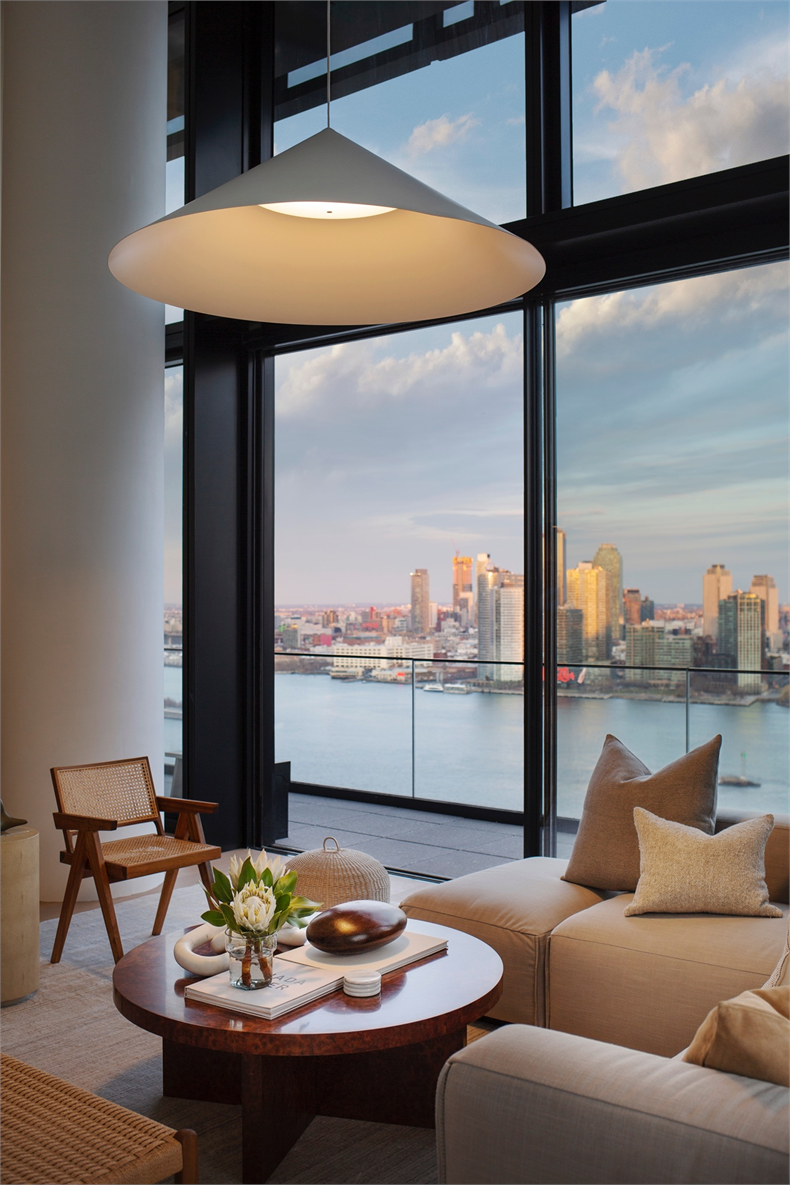 © One United Nations Park
这座以玻璃为主的建筑在形式上极简,对物质性、亮度、透明度和秩序给予了极大的考虑。 "立面即表皮"的理念是,用模块化细分切割的绷紧幕墙与阳台、檐篷和角落形式的选择性金属面板元素相结合。一个显着的特点是在 27 层和 28 层的建筑剪裁,从东河对岸可以看到,划定了程序细分,并与邻近的环境建筑对话。
Minimalistic in form, great consideration is given to the materiality, lightness, transparency and order of this predominantly glass building. The idea of 'façade as skin,' a taut curtain wall incised with modular subdivisions is articulated with selective metal panel elements in the form of balconies, canopies and corners. A distinguishing feature is an architectural cut-out at the 27th and 28th floors, visible from across the East River delineating the program subdivision and in dialogue with the neighboring context buildings.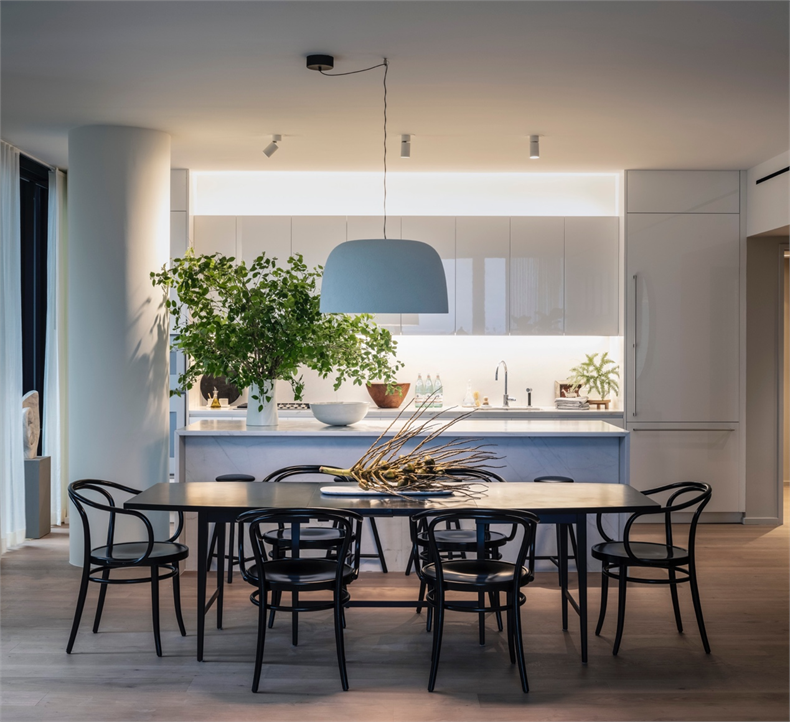 © One United Nations Park
Meier Partners精心设计了148套从28层上升到43层的一到四居室公寓住宅。 客房采用白色、浅灰色和大地色调的经典组合,并辅以精致的木材、石材和玻璃表面。宽敞、通风的布局设有宽阔的白橡木地板和实心木内门。
Meier Partners meticulously designed 148 one-to-four bedroom condominium residences that ascend from the 28th to 43rd floors. Rooms are found in classic combination of white, pale gray and earth tones that are complemented by refined surfaces of wood, stone and glass. Generous, airy layouts feature wide plank floors of white oak and solid core wood interior doors.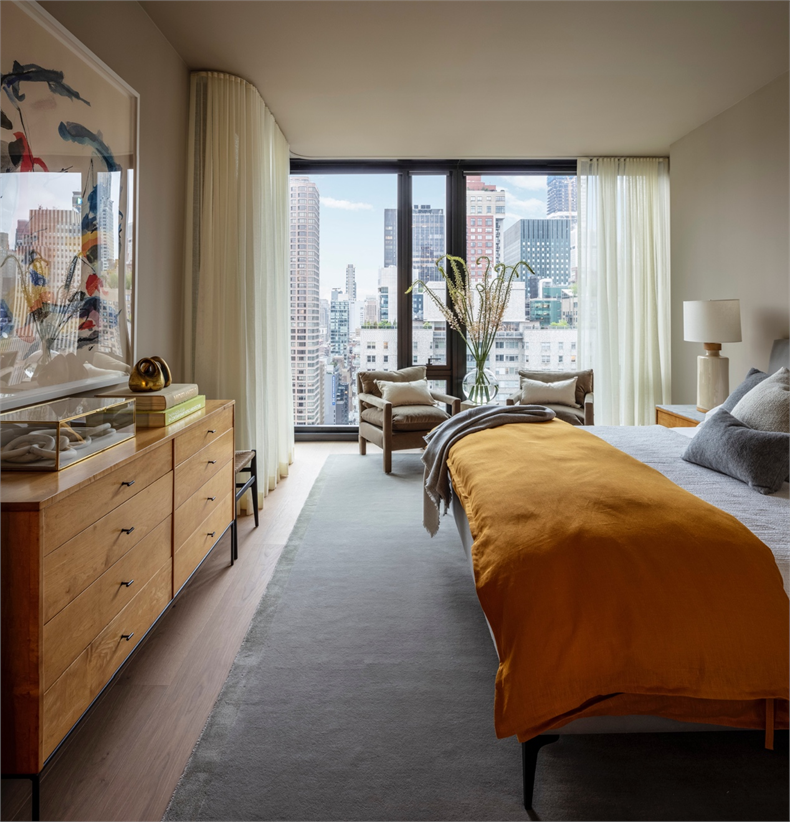 © One United Nations Park
这些住宅提供令人印象深刻的不夜城动态轮廓景观。客厅和卧室的配置可以最大限度地欣赏美景。 从日出、全天到日落,不断变化的城市景观为日常生活提供了引人注目的背景。
The residences offer impressive views of the dynamic contours of the city that never sleeps. Living rooms and bedrooms are configured to maximize the outstanding views. From sunrise, throughout the day and as the sun sets, the changing urban landscape provides a striking backdrop to daily life.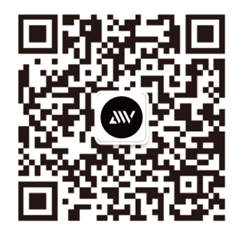 设计腕儿官方微信
010-88600030