Adjaye Associates :阿联酋沙迦的非洲研究学院

Africa Institute, Sharjah, United Arab Emirates © Adjaye Associates. Context view from Government House Square.
位于阿拉伯联合酋长国沙迦的非洲学院是首个致力于非洲和非洲侨民高等研究、研究和文献记录的中心,该学院委托Adjaye Associates设计其位于沙迦市中心的新校区。
The Africa Institute in Sharjah, United Arab Emirates—the first center of its kind dedicated to the advanced study, research, and documentation of Africa and the African diaspora located in the Arab world—has commissioned Adjaye Associates to design its new campus in downtown Sharjah.
自2018年成立以来,非洲学院先后组织了国际研讨会、艺术展览和艺术家委托、电影和表演系列以及公共项目。从2023年开始,该研究所将欢迎非洲人和非洲散居侨民研究领域的首批硕士生和博士生,并推出非洲语言证书课程,帮助培养该领域的下一代领导人。经过两年的合作,确保建筑推进学院的多面使命,David adjaye爵士设计的新校园将使学院在所有这些领域显著扩展其项目。
Since its establishment in 2018, The Africa Institute has organized international symposia and conferences, art exhibitions and artist commissions, film and performance series, and public programs. Beginning in 2023, the Institute will welcome its inaugural class of M.A. and Ph.D. students in the field of African and African diaspora studies and also launch certificate programs in African languages, helping shape the next generation of leaders in the field. Resulting from a two-year collaboration to ensure the architecture advances the Institute's multifaceted mission, the new Sir David Adjaye-designed campus will allow the Institute to significantly expand its programming in all of these areas.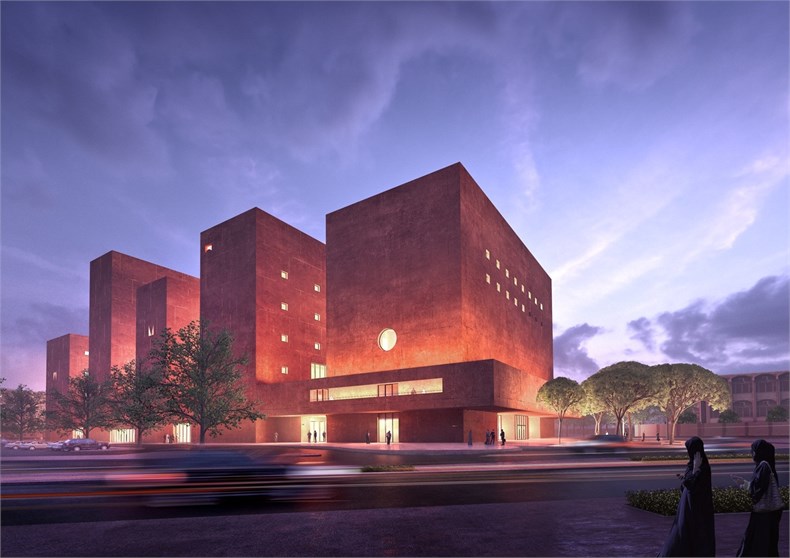 © Adjaye Associates
该建筑由David Adjaye设计,创建了一个封闭的校园,有四个侧翼,每个侧翼在四层到七层之间。由一系列露天室内庭院连接,并被巨大的悬挑物打断,产生遮阳和缓解太阳的热量,低碳混凝土结构增强了沙漠类型,需要敏感和环境的响应。露天庭院横跨一层和一层,水景和原生植物点缀其间,促进空气流通并提供自然冷却。
Designed by David Adjaye, the architecture creates an enclosed campus with four wings between four and seven stories each. Connected by a series of open-air interior courtyards and punctuated by large overhangs which produce shade and relief from solar heat, the low carbon concrete structure enhances the desert typology which requires a sensitive and contextual response. The open-air courtyards span the first and ground floors are punctuated by water features and native planters which improve air circulation and provide natural cooling.
31882平方米(343,175平方英尺)的校园将包括不同性质和规模的空间,用于课堂和研讨会,以及一个研究图书馆和气候档案室,灵活的礼堂和表演空间,一个餐厅和café,以及一个书店。四个façades的入口通道将欢迎公众,并将非洲研究所与周围的机构和公共人行道连接起来。非洲研究所还委托艺术家在其新建筑的公共空间中创作特定地点的装置,这将在稍后公布。校园建筑计划于2023年完工。
The 31,882-square-meter (343,175-square-foot) campus will include spaces of differing character and scale for classes and seminars as well as a research library and climatized archive facility, flexible auditorium and performance space, a restaurant and café, and a bookstore. Entryways on each of its four façades will welcome the public and connect The Africa Institute with surrounding institutions and public walkways. The Africa Institute is also commissioning artists to create site-specific installations throughout the public spaces of its new building, which will be announced at a later date. The campus building is scheduled for completion in 2023.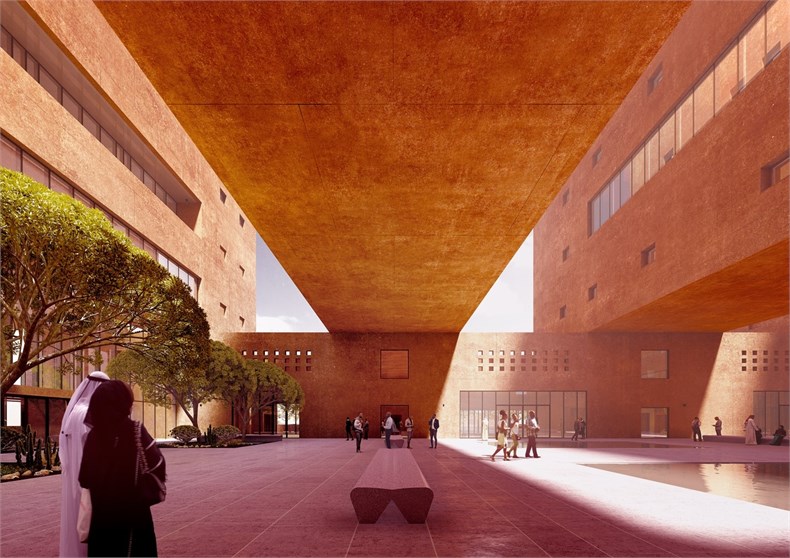 © Adjaye Associates
非洲研究所所长Salah M. Hassan说:"非洲研究所在阐明非洲与海湾国家的关系以及扩大对非洲和非洲侨民研究的理解方面具有独特的地位。""我们的使命是产生和注入新的思想到现有的学术机构,主要设想海湾和非洲是独立的实体。在此过程中,研究所将阐明影响过去和影响当前事件的重要但被忽视的历史联系,包括强迫和自愿移民模式、基于市场的经济波动以及地方和全球政治变化"。
"The Africa Institute is uniquely positioned to illuminate African and Gulf ties and to expand understanding of African and African diaspora studies as a global enterprise," stated The Africa Institute Director Salah M. Hassan. "Our mission is to generate and infuse fresh thinking into an existing body of scholarship that largely conceives of the Gulf and Africa as separate entities. In doing so, the Institute will shed light on important yet overlooked historical linkages that shaped the past and influence present events, including forced and voluntary migratory patterns, market-based economic fluctuations, and local and global political changes."
Adjaye Associates创始人兼首席执行官David Adjaye表示:"能够有机会设计Sharjah的非洲学院,我深感荣幸。该项目将一种全新的思维方式和使命引入全球学术舞台。""我把新校园想象成一个跳板,让非洲、非洲侨民和阿拉伯世界的不可思议的历史具体化。"
"I am deeply humbled for the opportunity to design The Africa Institute in Sharjah, a project which introduces an entirely new type of thinking and mission into the global academic arena," said Adjaye Associates Founder and Principal David Adjaye. "I envision the new campus as a springboard for the concretization of the incredible history of Africa, the African diaspora, and the Arab world."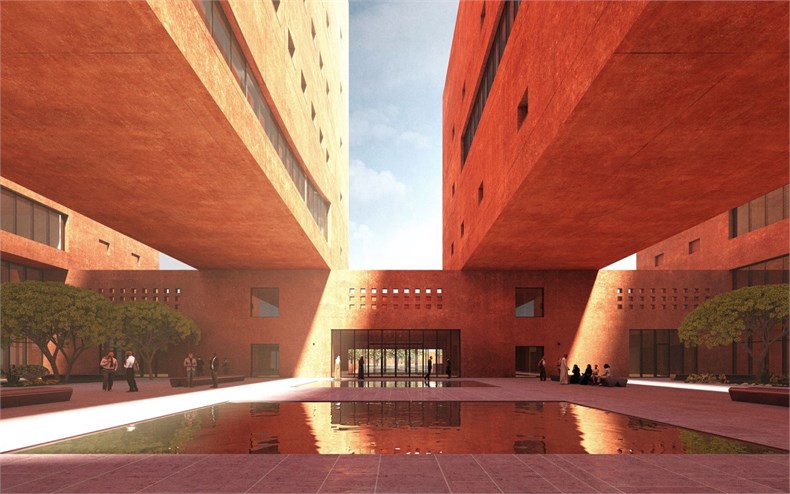 © Adjaye Associates
非洲研究所位于沙迦市中心政府大楼广场的主要十字路口,毗邻沙迦建筑三年总部。它加入了沙迦的其他教育、文化和研究机构,包括Sultan Al-Qasimi博士海湾研究中心、沙迦研究院、沙迦表演艺术学院、沙迦艺术博物馆、沙迦伊斯兰文明博物馆、沙迦艺术基金会、沙迦大学和沙迦美国大学,等等。
The Africa Institute is located in downtown Sharjah at the major crossroads of Government House Square, adjacent to the Sharjah Architecture Triennial headquarters. It joins other educational, cultural, and research institutions in Sharjah, including the Dr. Sultan Al-Qasimi Centre for Gulf Studies, Sharjah Research Academy, Sharjah Performing Arts Academy, Sharjah Art Museum, Sharjah Museum of Islamic Civilization, Sharjah Art Foundation, University of Sharjah, and the American University of Sharjah, among others.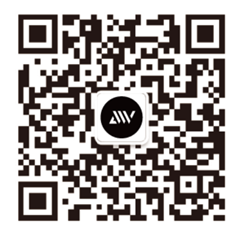 设计腕儿官方微信
010-88600030