Nimi&Tim:伦敦"黄色"公寓设计
Yellow House,London
The young professional clients approached nimtim architects wanting to renovate and reconfigure their one bedroom garden flat in Herne Hill, South London. They wanted to create an additional bedroom that could be rented temporarily to help pay off the cost of the project and might later be used by them as a guest/ spare/ baby/ living room depending on circumstances.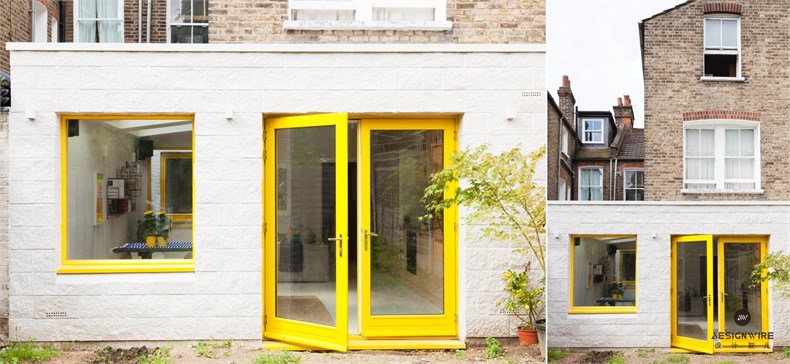 年轻的专业客户找到nimtim设计事务所想要在伦敦南部赫恩山(Herne Hill)翻新和重构一个卧室单间带花园的公寓。他们想要打造一个可以临时租用的附加卧室,以支付该项目的翻新费用,并可能随后根据情况作为客房/备用间/婴儿间/客厅。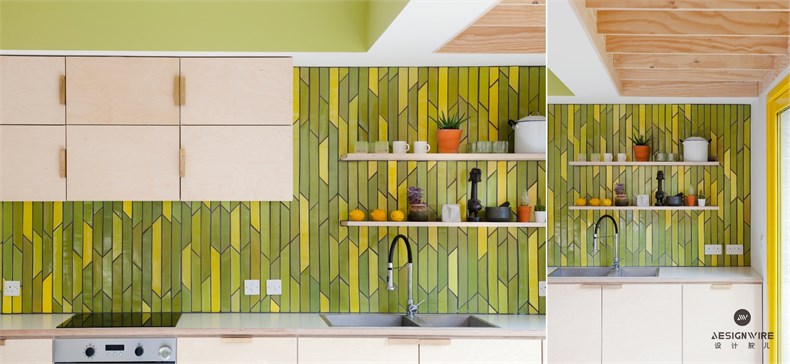 Nimtim architects proposed a bold and simple addition to the Victorian property. Identifying that the proposals needed to accommodate several alternative future scenarios, the key move was to propose a large flexible space at the rear that could be equally used as the communal room as part of a flat-share or as a space for a couple or small family. With this in mind, a large, simple, square space was created at the rear with a new side addition. The kitchen was moved along one wall allowing the rest of the space to be as flexible as possible - able to accommodate living area, dining table, play area, study zone as required.
Nimtim设计公司为这个维多尼亚式的公寓提出了一个大胆而又简约的增添,确定了设计方案需要适应未来几种可能需要的情况,关键的一步是在公寓后方建设一个大的灵活空间,可以作为公共空间同时用作共享公寓的一部分,或作为一对夫妇或小家庭的生活空间。考虑到这一点,设计师在房子的后面设计了一个大而简单的方形空间,增添了泉新的一面。 厨房沿着一墙壁移动,这样可以让其余的空间尽可能地灵活使用—能够根据需要适应生活区、餐厅区、休闲区和学习区的需求。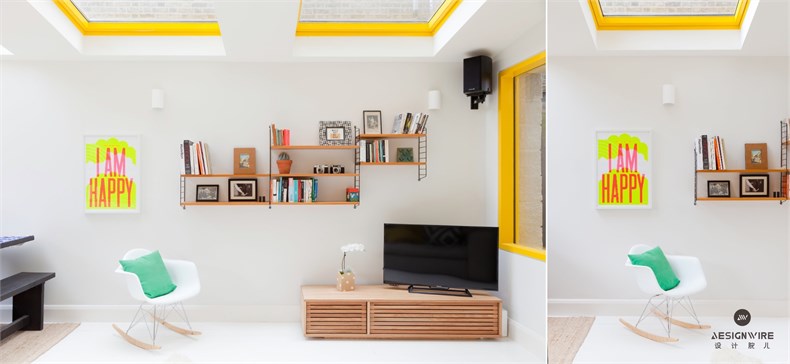 'A limited budget meant a focus on creating large, flexible spaces using simple but characterful materials' explained practice co-founders Nimi Attanayake and Tim O'Callaghan.
'We chose a simple and playful colour palette to add a new modern layer to the traditional architecture of the property. The colour also distinguishes the new structure, architectural modifications and additions from the original layout' said Nimi Attanayake.
Nimi Attanayake说,"我们选择了一个简单而又显得有些俏皮的色调,为公寓的传统建筑添加了一个新的现代风格样貌,这种颜色也区别了基于原始布局图的新建筑、建筑修改和延伸部分。"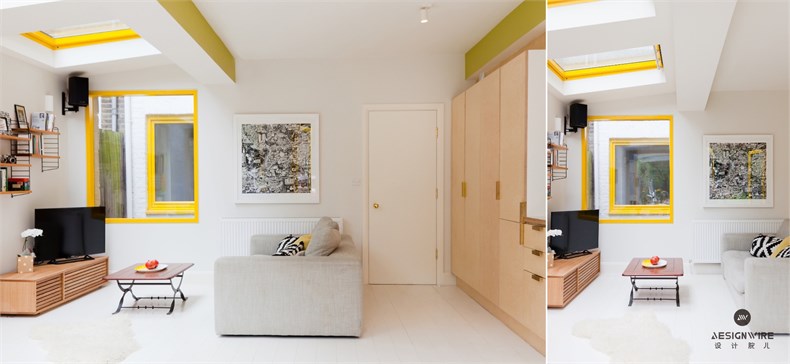 Nimtim created a series of large, simple openings within the new elements to allow a visual connection from the rear bedroom through a small courtyard and the living space to the garden beyond. The rear space is also lit by large roof lights above increasing natural light into the north-facing rear elevation.
Materially, the palette was driven by a very tight budget but also a brief to be bold and playful. For the exterior the architects selected a split-faced concrete block with white-marble chippings - an extremely cost-effective material. The blocks highlight the new addition yet still reference the existing property's masonry characteristics and the variety of texture in the original London Stock brickwork. The rear elevation is simple and confident with a large picture window in line with the rooflights above the side addition. The picture window and double doors are recessed into the blockwork - giving depth to the rear facade. Special cill blocks were cut to give a torn edge to the bottom of the windows on the rear elevation and internal courtyard.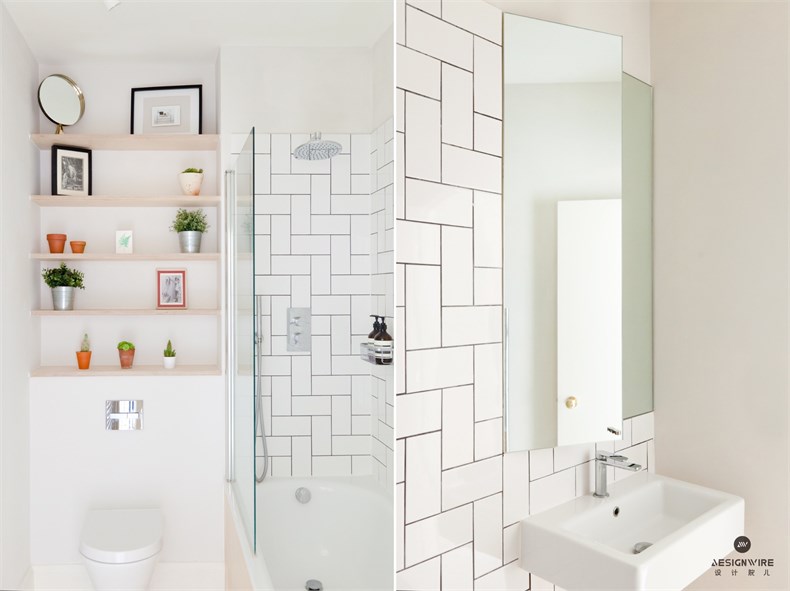 Internally, new and existing pine floorboards were painted white, bespoke cabinetry was made in treated birch plywood enlivened by brass ironmongery. The new kitchen splash back was designed and made by the client and their close friend, a ceramic designer. The kitchen splash back tiles were hand made, hand cut and numbered to the specific pattern in the ceramist's back garden during the summer.
设计公司:nimtim architects ltd
结构工程师:Blue Engineering
总承包商/木工:TW Space Conversions
砌墙供应商:Forticrete
门窗:Ling Joinery
卫生器具:Potter Perrin
厨房防溅板:Emma Louise Payne
天窗:Velux
摄影师:Megan Taylor
预算:£73,000 (excl. VAT)
完工:2016年
Edit by Designwire