新冶组作品 | 广州钻石 CLUB DIAMOND
追求个性与展现狂野
统统在这里实现
它是年轻的代名词
广州首家95后高端电音粉俱乐部
CLUB DIAMOND
广州市天河区花城大道89号珠江西路花城汇中区西门
89 Huacheng Avenue, Tianhe District, Guangzhou City, Guangdong Province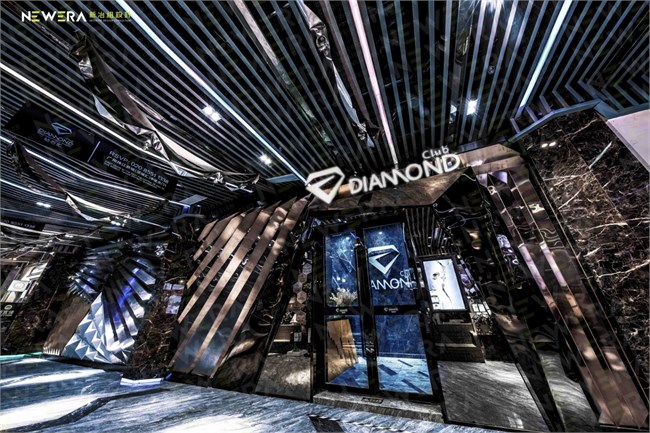 广州的自由包容,形成了一种独有的国际化且多维度的娱乐氛围。如何在现有的娱乐生态中突破创新,是新冶一贯以来的设计理念。本案中,新冶意图打造一个以钻石元素为延伸的自由而时尚的娱乐空间,把钻石高冷、时尚、璀璨、恒久的特性融入大众娱乐中,推出首个"钻石"娱乐空间的概念。
The freedom and inclusiveness of Guangzhou has formed a unique international and multi-dimensional entertainment atmosphere. How to break through and innovate in the existing entertainment ecology is the consistent design concept of NEWERA. Specific to this case, NEWERA intends to create a free and fashionable entertainment space with diamond elements as an extension. It integrates the characteristics of diamond with high cold, fashion, brightness and permanence into the public entertainment and introduces the first concept of "diamond" entertainment space.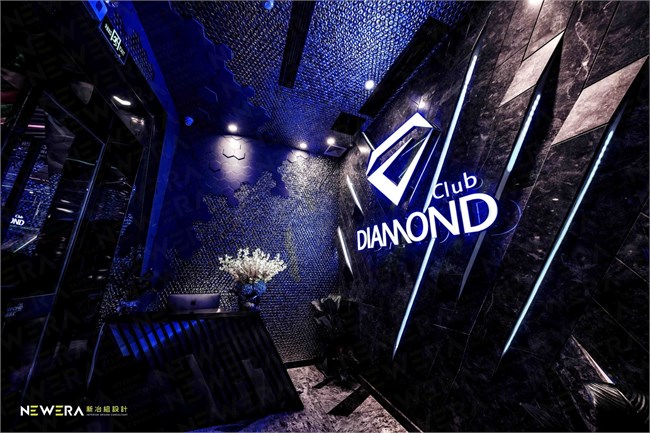 本案的最大特点是用大量的冷光和线条把钻石稀缺、高贵的形象和大众娱乐联系到一起,营造整体自由跨界的氛围。以钻石为主形象,钻石"光芒"为线条,把DIAMOND 的墙壁和天花连成一体,多面形墙壁的边缘用昂贵材质包裹,让人们能感受到置身在"钻石"的奢华当中。
The biggest characteristic of this case is to use a lot of cold light and line to connect the scarce and elegant image of diamond with popular entertainment, build the atmosphere that whole freedom crosses the boundary. With the diamond as the main image and the diamond "ray" as the line, it connects the Diamond wall and the ceiling into a whole, and wraps the edges of the polyhedral wall with expensive material, so that people can feel themselves in the luxury of "diamond".

另一方面,为了防止过多的线条所导致的视觉紊乱,只运用了两种材料以削弱视觉上的凌乱之感。充分体现本案设计师对用户体验的重视。
On the other hand, in order to prevent the visual disorder caused by excessive lines, it only uses two materials to weaken the visual sense of disorder, which fully reflects the designer's emphasis on user experience.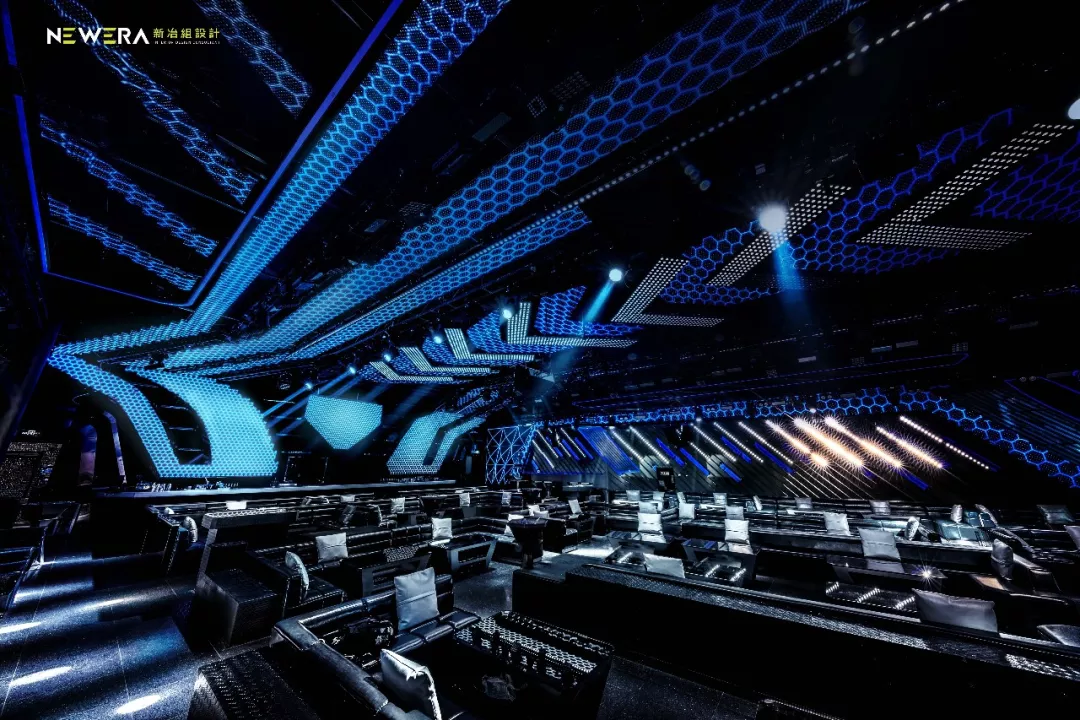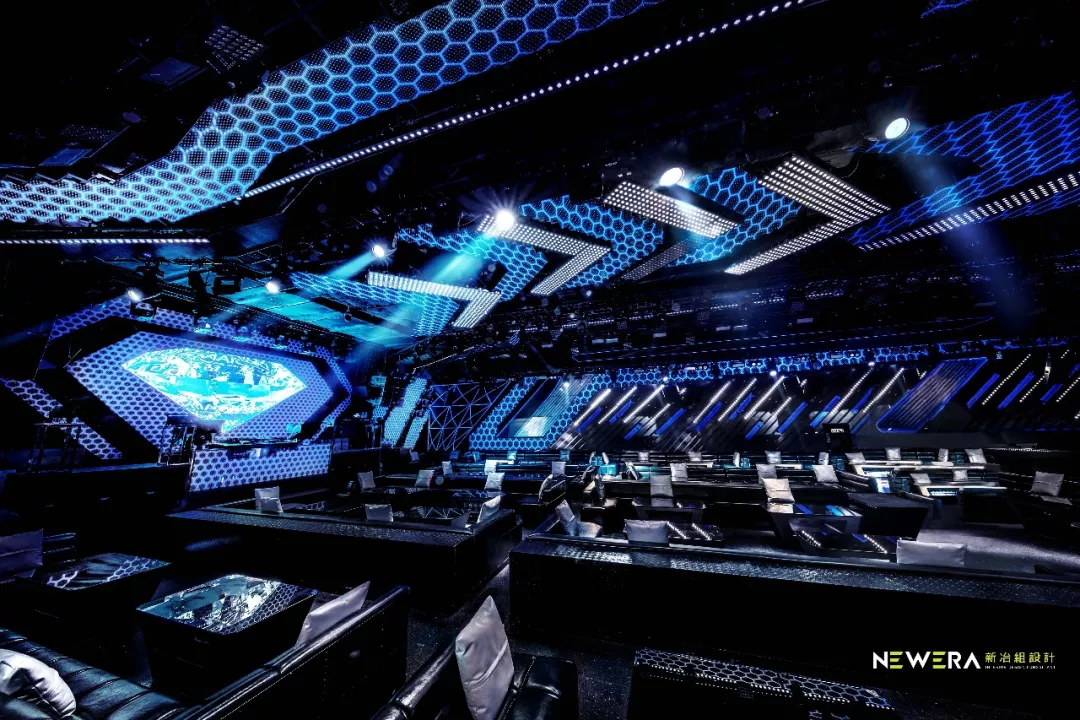 设计师用灯光和速度标识引导整个案子的动线,灯光选用的是和钻石相匹配的冷色调,体现出空间的利落感,再加上天花的"速度"以及"拐弯"标识,营造出速度和未来的年轻感。在小的元素中注入主题是本案特色,不同空间会用不同的"碎钻"元素天花来区隔,不仅呼应主题,并且赋予空间中几何概念以生命力,电子与钻石碰撞出别样的光芒。
The designer guides the entire case with lights and speed signs. What lamplight chooses is the cool color that matches with diamond, which reflects the agile feeling of space. In addition, the "speed" and "turning" signs of ceiling create a sense of youth and speed in the future. Injecting themes into small elements is a feature of the case. Different space can use different "broken diamond" element ceiling to distinguish. This not only echoes the theme, but also gives vitality to the geometric concept in the space. The electrons collide with the diamond in a different way.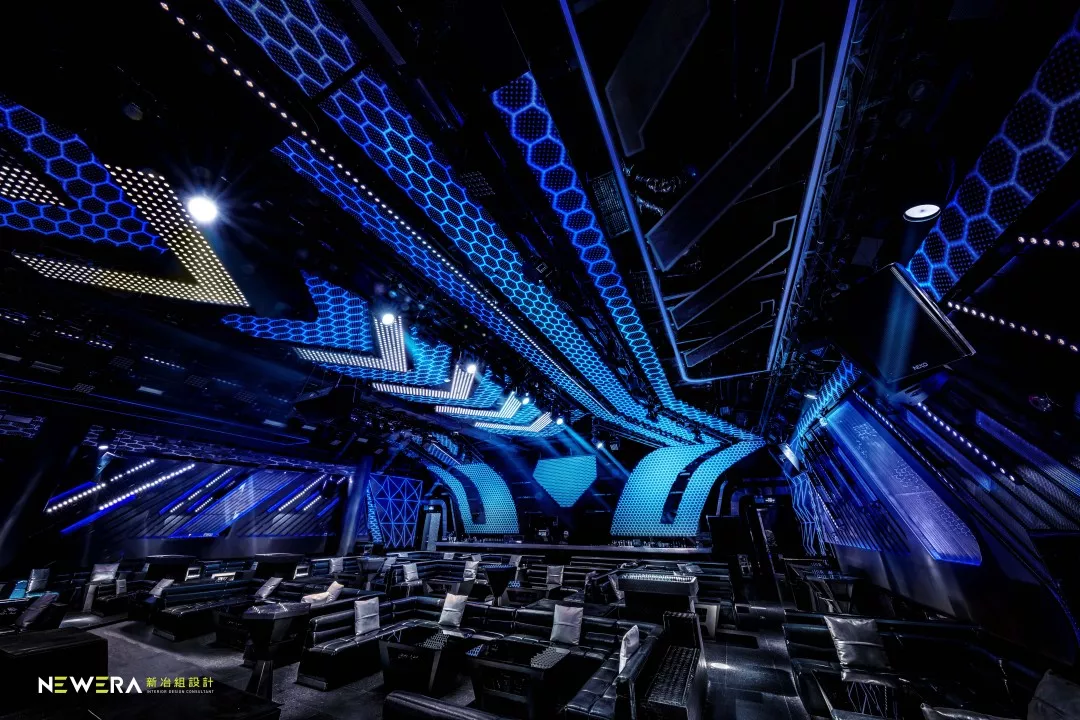 在设计上,用统一用色,缓和过多线条产生的视觉冲击;不同空间尽量减小相互之间的干扰,让动线功能更加安全流畅,为用户打造一个舒适轻松的空间。在DIAMOND中,设计师重新定义日常的生活,更进一步诠释了娱乐空间的个性与自由、张扬与艺术。
On the design, designer uses unified color, alleviate the visual impact that excessive line produces. In different space, designer tries to reduce the interference between each other, so that the line function more safe and smooth, to create a comfortable and relaxed space for users. In DIAMOND, the designer redefines daily life and further interprets the individuality, freedom, publicity and art of the entertainment space.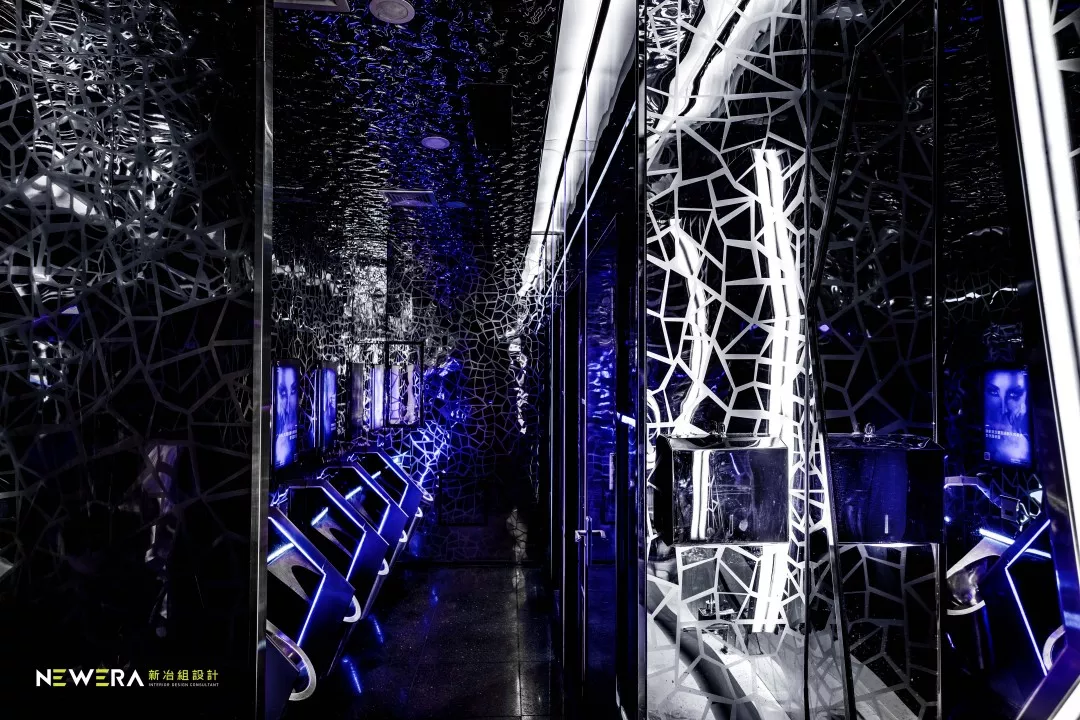 新冶组的设计,不仅突显出案例的地域特征,同时赋予其国际化的新鲜活力,给花都的夜晚披上一层璀璨的时髦,给顾客带来独特新鲜的娱乐体验。
The design of NEWERA not only highlights the regional characteristics of the case, but also endows it with international fresh vitality, which gives the night in Guangzhou a bright fashion and brings unique and fresh entertainment experience to customers.
项目名称:广州 CLUB DIAMOND
设计单位:深圳市新冶组设计顾问有限公司
项目面积:663 ㎡
项目地址:广州市天河区花城大道89号珠江西路花城汇中区西门
Project name:Guangzhou CLUB DIAMOND
Design unit::NEWERA DESIGN
Project area:663㎡
Project address:89 Huacheng Avenue, Tianhe District, Guangzhou City, Guangdong Province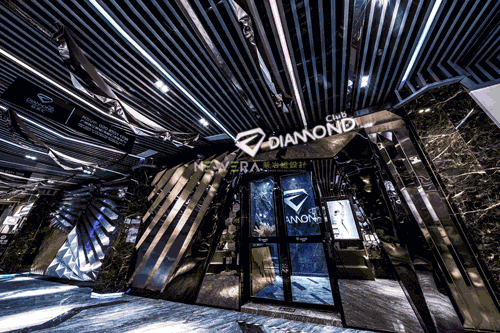 \ 深圳市新冶组设计顾问有限公司
\ 创始人/设计总监