222 E. Broadway,新住宅室内设计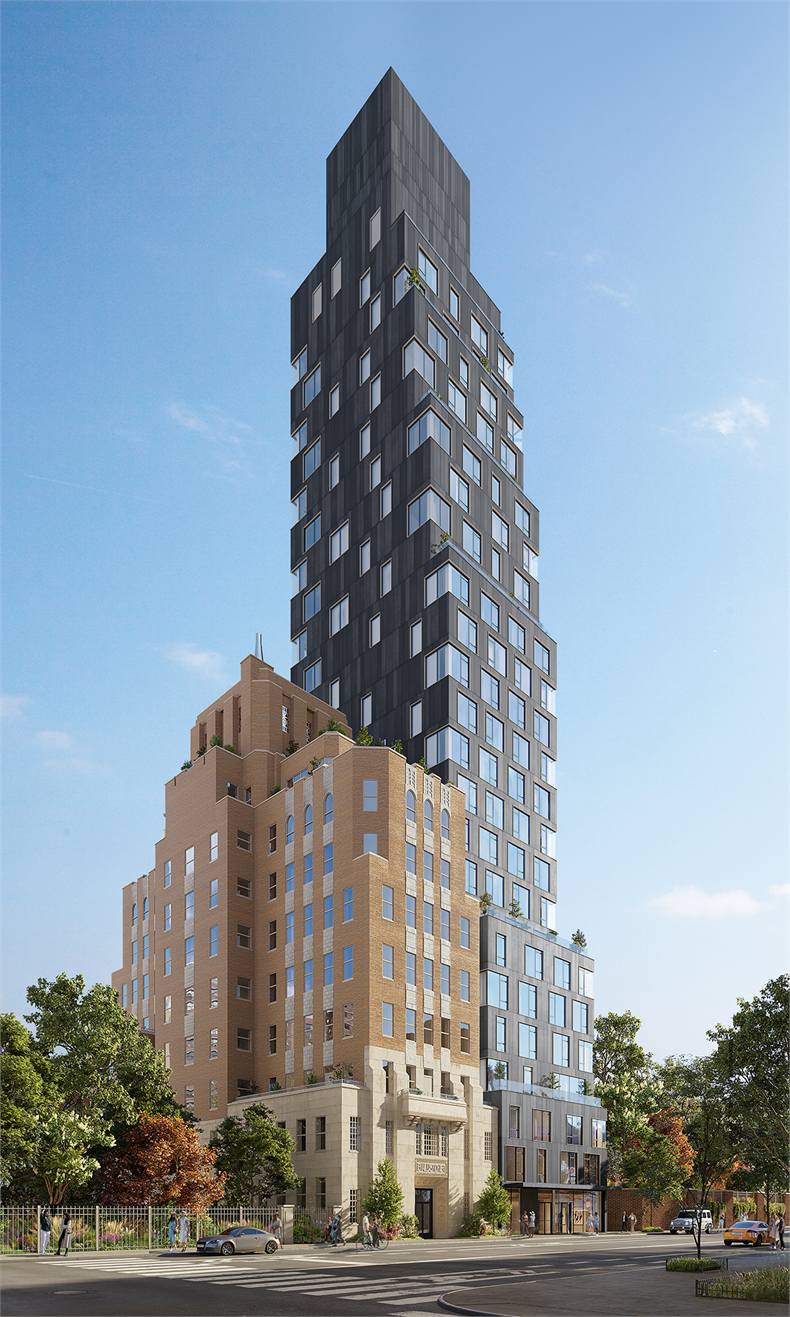 ©️ Binyan Studios
22 E. Broadway位于曼哈顿下东区东百老汇和克林顿街的拐角处,由一栋新建的 28 层豪华塔楼和经过翻新的 11 层地标阁楼建筑组成。 受该街区的启发,SLCE Architects 与纽约的 S4 Architecture 一起设计了 222 E. Broadway,使其与下东区的历史环境无缝融合。 该建筑的外部具有各种规模、开窗和比例,使其有别于其他现代外墙和住宅开发项目。
Located on the corner of East Broadway and Clinton Street on Manhattan's Lower East Side, 222 E. Broadway comprises a new ground up 28-story luxury tower and renovated 11-story landmarked loft building. Inspired by the neighborhood, SLCE Architects, together with the New York-based S4 Architecture, designed 222 E. Broadway to fit seamlessly into its historic surroundings on the Lower East Side. The building's exterior features a variety of scale, fenestration, and proportion that sets it apart from other modern facades and residential developments.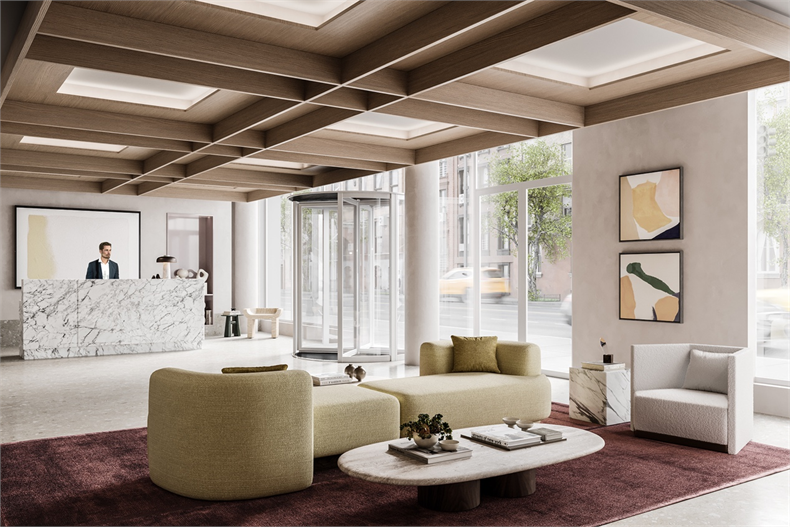 ©️ Binyan Studios
22 E. Broadway 的住宅从单间公寓到四居室住宅应有尽有,内饰经典优雅,低调奢华。 该建筑的明亮塔楼住宅拥有现代而永恒的细节,包括开放式地板布局、7 英寸白橡木硬木地板以及让每个住宅沐浴在自然光中的落地窗。 每间住宅还设有比例优雅的厨房,配有定制凹槽玻璃橱柜、意大利灰石大理石台面和顶级 Miele 电器。 浴室配有精致的细节,例如带有万宝龙梳妆台台面的定制青铜胡桃木梳妆台、定制的 Waterworks 固定装置以及精致的石雕。 除了中城和曼哈顿下城天际线以及布鲁克林和东河的壮丽景色外,部分住宅还设有宽敞的步入式私人露台。
Ranging from studio to four-bedroom residences, 222 E. Broadway offers interiors of classic elegance and understated luxury. The building's luminous Tower homes boast modern yet timeless details including open floor layouts, 7" white oak hardwood floors, and floor-to-ceiling windows that bathe each home in natural light. Each residence also features a graciously proportioned kitchen with custom fluted glass cabinetry, Italian Greystone marble countertops, and top of the line Miele appliances. Baths are accessorized with elevated details such as bespoke bronze walnut vanities with Montblanc vanity countertops, custom Waterworks fixtures, and subtle stonework throughout. In addition to spectacular views of Midtown and the Lower Manhattan skyline, as well as Brooklyn and the East River, select homes feature spacious, walk-out private terraces.
©️ Binyan Studios
阁楼建在地标性装饰艺术 Bialystoker 建筑的骨架内,拥有 10 英尺高的天花板、白橡木人字形地板和令人惊叹的定制饰面。 此外,每套住宅还拥有宽敞的厨房,配有图案丰富的卡拉卡塔柜台和后挡板、温暖的胡桃木和凹槽玻璃上层橱柜以及云杉绿色的内饰,以及 Miele 和 Sub-Zero 电器套件,为空间增添了功能和美观。 主浴室采用优雅的卡拉卡塔大理石、带有香脂绿色珐琅的定制 Waterworks 固定装置以及 Paris Forino 的定制照明装置。
Built within the bones of the landmarked art deco Bialystoker building, 222 E. Broadway's Lofts feature 10-foot ceilings, white oak herringbone floors, and stunning custom finishes. In addition, each residence boasts an expansive kitchen with richly patterned Calacatta counters and backsplashes, warm walnut and fluted glass upper cabinetry with spruce green interiors, and a Miele and Sub-Zero suite of appliances that add both function and beauty to the spaces. Primary baths feature elegant Calacatta marble, custom Waterworks fixtures accented with balsam green enamel, and custom lighting fixtures by Paris Forino.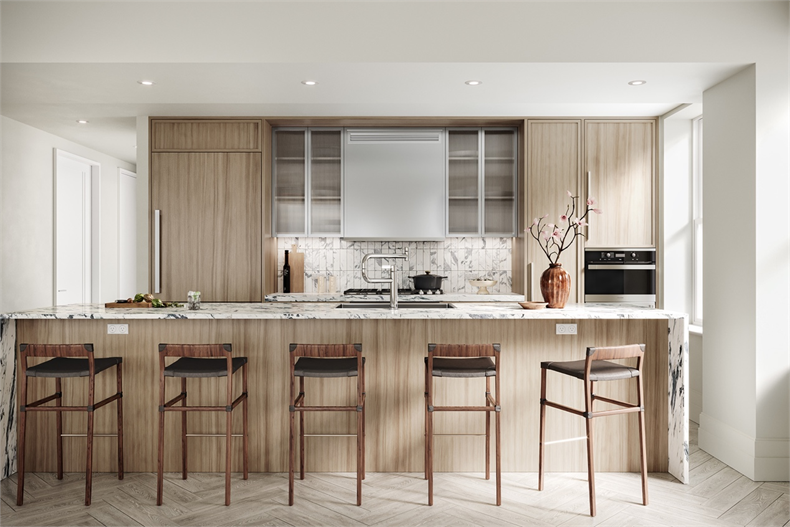 ©️ Binyan Studios
222 E. Broadway 提供终极生活方式体验,将提供 14,000 平方英尺的室内和室外设施,专为休闲和健康而设计。 居民可以使用带小屋的室内游泳池、带儿童游乐场的 6,700 平方英尺私人景观公园、户外娱乐烧烤区和冥想花园。 此外,222 E. Broadway 还设有带瑜伽室的最先进的健身中心、带休息室的放映室以及室内儿童游戏室。 大堂将有门卫/礼宾人员全天 24 小时值守。 222 E. Broadway 的居民还可以使用住家经理、自行车存放处、可存放新鲜食品和鲜花的冷藏室以及可供购买的私人储藏室。
Providing the ultimate lifestyle experience, 222 E. Broadway will offer 14,000 square feet of indoor and outdoor amenities designed for leisure and wellness. Residents will enjoy access to an indoor swimming pool with cabanas, 6,700-square-foot private landscaped park with children's playground, barbecuing areas for outdoor entertaining, and meditation garden. In addition, 222 E. Broadway has a state-of-the-art fitness center with yoga studio, screening room with lounge, and indoor children's playroom. The lobby will be attended 24 hours a day by a doorman/concierge. Residents of 222 E. Broadway will also have access to a live-in resident manager, bicycle storage, cold storage with room for fresh food and flower deliveries, and private storage available for purchase.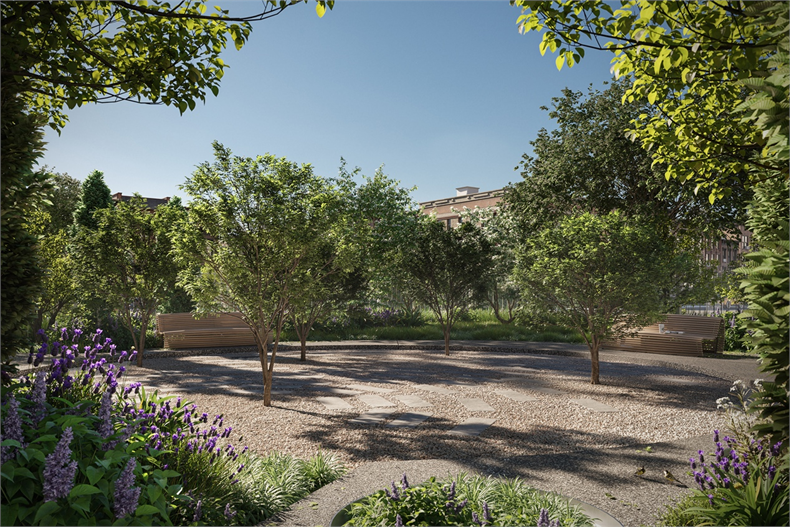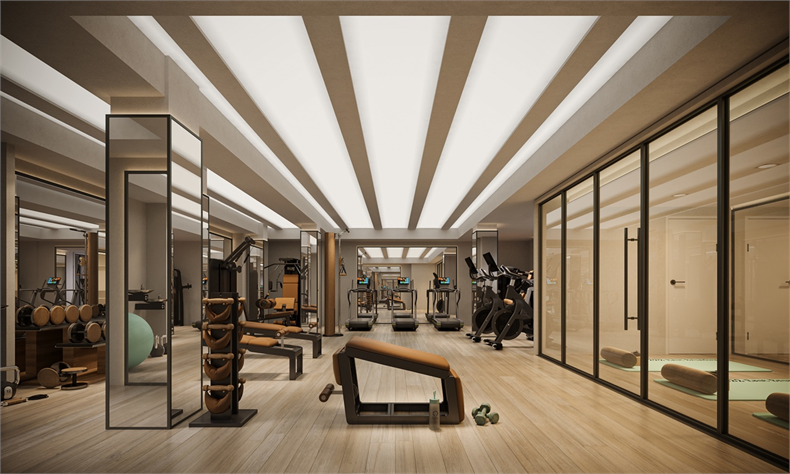 ©️ Binyan Studios
222 E. Broadway 位于下东区的中心地带,周围环绕着曼哈顿一些最令人向往的场所和标志性文化目的地。 凭借纽约市丰富的历史和生活方式,包括该市一些最好的餐饮、购物和文化机构,下东区已迅速成为曼哈顿最著名的居住目的地之一。
Located in the heart of the Lower East Side, 222 E. Broadway is surrounded by some of the most coveted establishments and iconic cultural destinations in Manhattan. With its wealth of New York City history and lifestyle offerings, including some of the city's finest dining, shopping, and cultural institutions, the Lower East Side has swiftly become one of Manhattan's most prominent living destinations.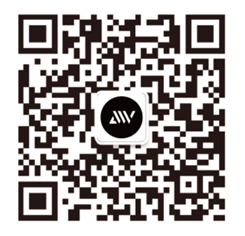 设计腕儿官方微信
010-88600030