厦门滨海体育会展中心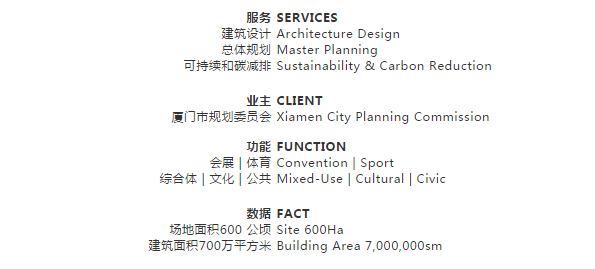 Adrian Smith + Gordon Gill建筑设计事务所(AS+GG)& 中国建筑设计研究院有限公司(CADG)有幸联合参加了厦门市"一场两馆、新会展中心"建筑方案设计及片区概念性城市设计竞赛。设计入选最终入围三方案 。
Adrian Smith + Gordon Gill Architecture (AS+GG), partnered with China Architecture Design & Research Group (CADG), was honored to participate in Xiamen "ONE STADIUM, TWO PAVILION, NEW CONVENTION CENTER" Architectural Design and Conceptual Urban Design Competition. The design was selected to be one of three final shortlisted schemes.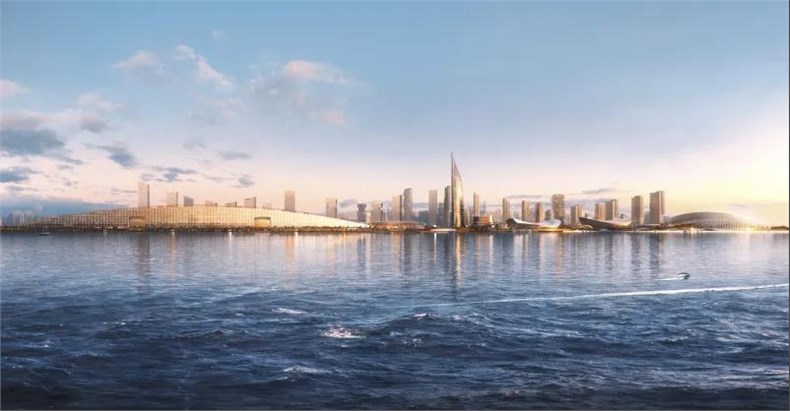 海滨天际线 Oceanfront Skyline
厦门,以自然风光,文化艺术和旅游业而闻名。厦门"一场两馆、会展中心"设计竞赛AS+GG方案旨在:
打造厦门成为全球一流会展和体育赛事目的地

为新生城市中心创造标志性的形象

创造生态花园和谐连接海,天,人

拓展旅游新景点、多元化经济创新与创业
Recognizing Xiamen for its natural beauty, cultural arts, and tourism industry, AS+GG's competition design for the Xiamen Sports Stadium and Convention Center Competition visions to:
Position Xiamen at the forefront of global exhibition & sporting events

Create landmark identity to anchor growth of new urban districts

Connect people, land & sea in an ecological garden setting

Expand new tourism attractions & Driving innovation and entrepreneurship across diverse economic sectors.






整体鸟瞰 Overal Aerial View
海滨特色总体规划
Urban Design for Oceanfront
总体规划对600公顷土地进行了700万平方米的功能开发,旨在最大程度地利用滨海地区的价值,创造难忘的滨海体验。重新规划滨海公园大道,南侧沿海设置体育场馆和海滨公园,北侧毗邻便利物流高架设置会展中心,居中设置交通枢纽和娱乐区,东绕湖泊公园设置运动员村,北置综合创业园区。创造生态、多元化社区,打造滨海标志性天际线。
The master plan addresses 600 hectares of land with 7,000,000 sm of functional development, organized to maximize the value of the oceanfront location and to elevate the visitor and athlete experience. Realign Binhai Park Avenue to create an oceanfront sports centers and park at south. Locate the convention center north close to the water at the future bridge interchange. Centrally place an entertainment and transit hub and a world-class Athlete's Village around a lake. North of Dongjie Road, there is a mixed-use entrepreneurial district. Sustainable mixed-use sports city is sculptured as a new skyline feature for Xiamen's oceanfront.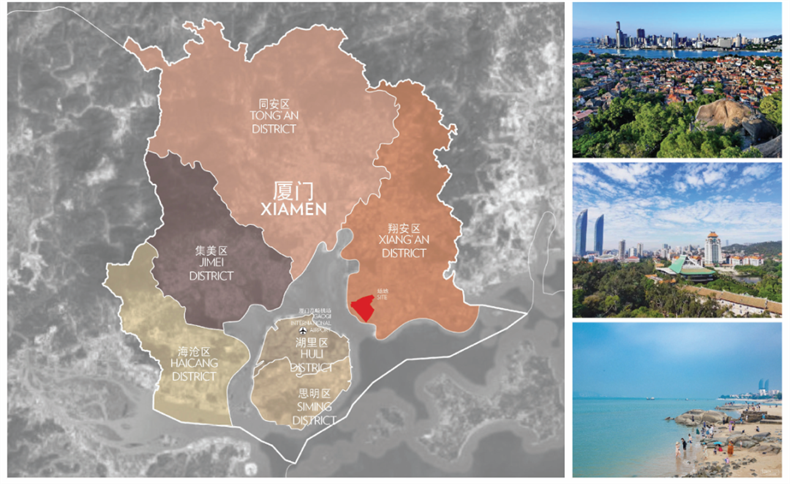 厦门区位分析 Xiamen Location Anlysis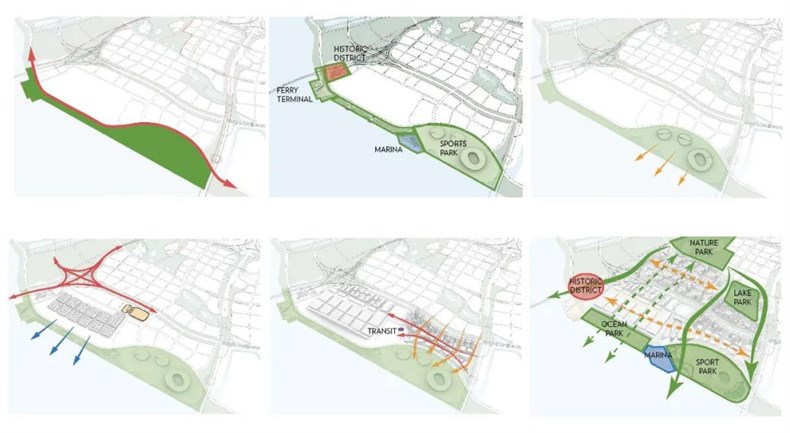 总体规划生成 Master Plan Design Process
总平面图 Master Plan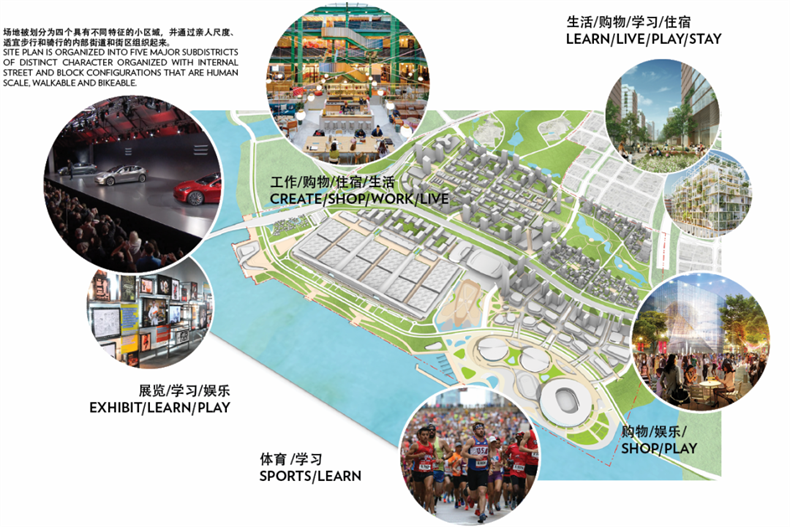 区域特色 District Character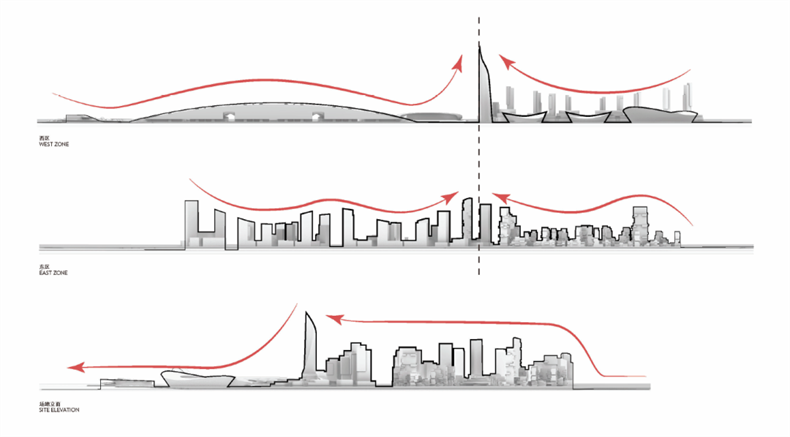 城市形态 City Form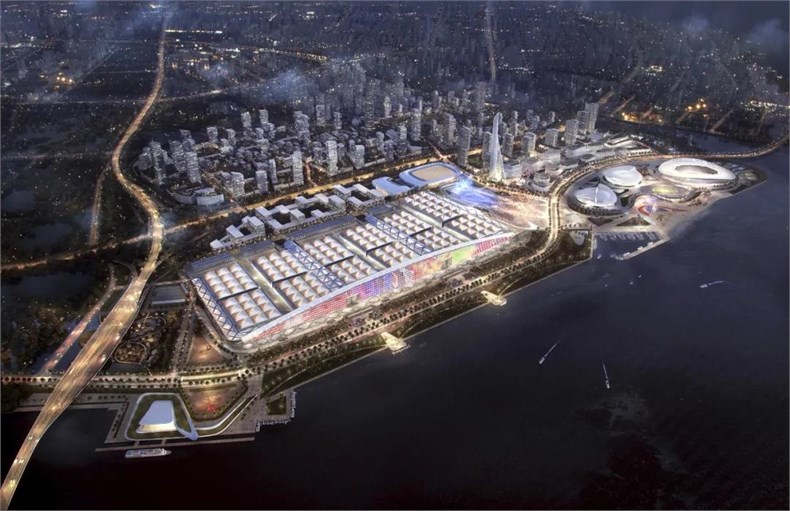 总体鸟瞰(夜景) Overal Aerial View(Night view)
区域设计以步行,非机动车及公共交通为指导,同时也对未来按需及无人驾驶电动车技术做出回应,在各个层级尺度方面展现了创新性及数字连接性。
A pedestrian and cycling oriented, public transit served district that is responsive to future on demand and autonomous electric vehicle technologies. A district that showcases innovation and digital connectivity at all levels and scales.

交通分析 Transportation Anlysis
海岸会展城
Convention Center on the Coast
愿景是建立遥望历史古城的"一座海岸会展中心"。强调优化海滨体验,提供向民众开放的高效的展览中心和非展时综合目的地。
The vision is "a convention center located on the coast", overlooking the historic city. The design maximizes the coast experience, creates a highly efficient conventional center and a destination for public with the comprehensive commercial program even when events are not happening.

会展酒店办公综合体(夜景)
Convention Complex (night view)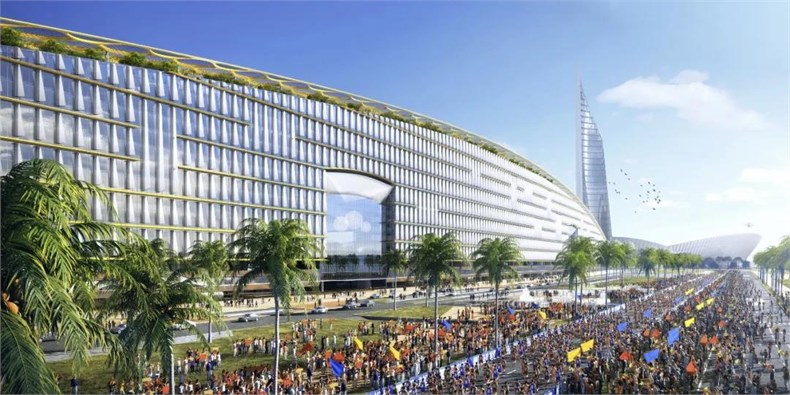 会展酒店办公综合体 Convention Complex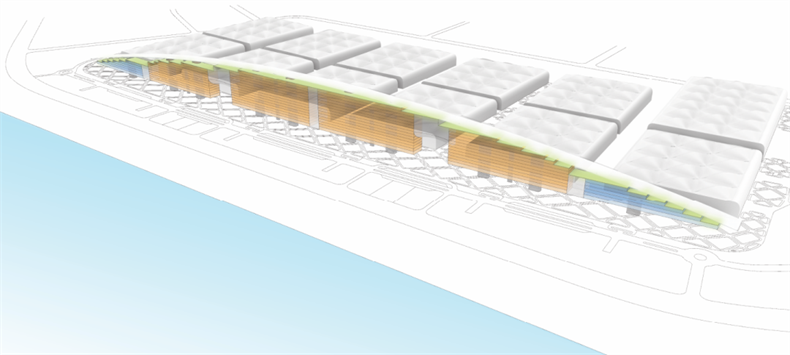 会展酒店办公综合体功能分析 Convention Complex Program
面海而起,会展酒店/办公综合体策略性的位于海滨公园和会展展厅之间,极大丰富了沿海体验,为会议和展览提供了高效住宿和商务服务;并以其独特的高度,体量和立面为沿海天际线创造了新标志。酒店底层挑空对滨海公园大道和公园开放,为会议展览的大量游客及当地居民提供服务。展厅和酒店之间布置了一条花园式商业街。公共屋顶空中花园可欣赏无与伦比的美丽海景。
The experiences along the coastal park are enriched by the placement of the hotel and office complex in the strategic location between the coastal park and the exhibition halls with great efficient accommodations serving the complex. Its height, shape and expression further enhance the overall oceanfront skyline with a new identity. The hotel is elevated to open to Binhai Park Avenue and parks to serve the large group of visitors arriving to the exhibition, conference centers and local residents with its amenities. A garden retail street is placed in between the exhibition halls and the hotels. Hotel roof offers unmatched elevated views from its public sky garden.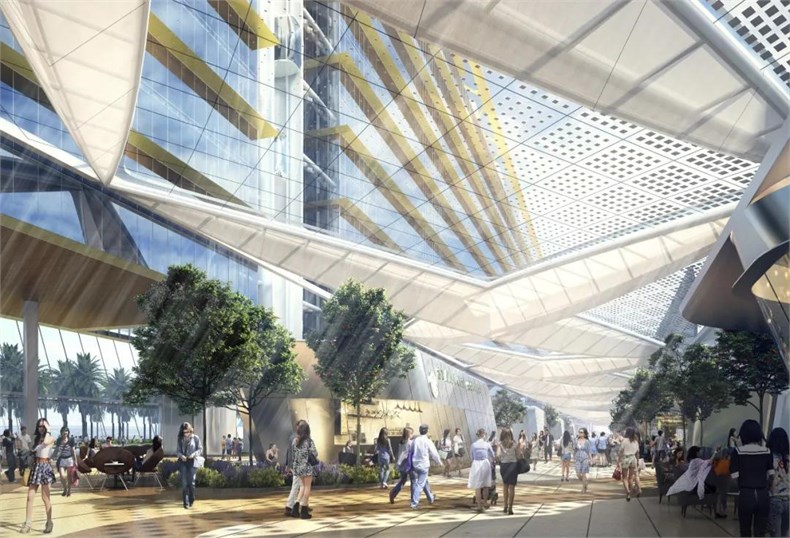 花园式商业街 Garden Retail Street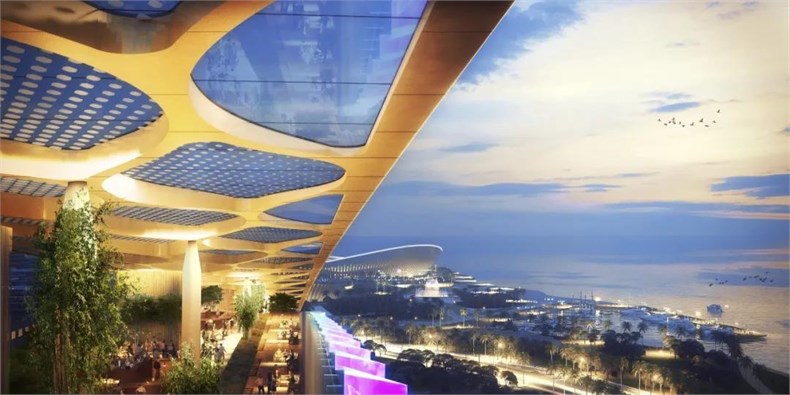 屋顶空中花园 Rooftop Sky Garden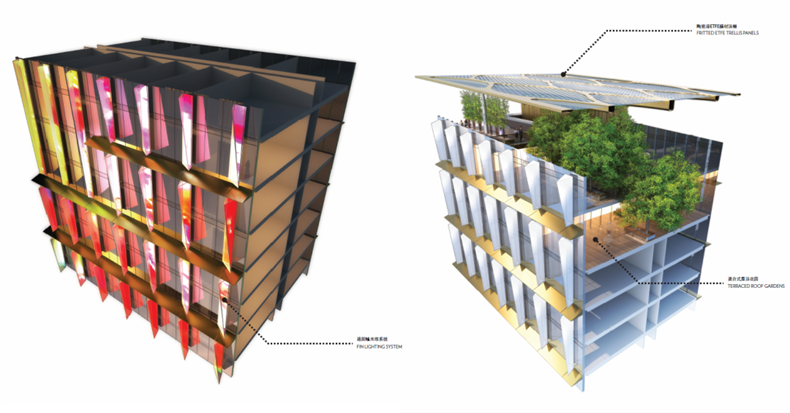 综合体立面及屋顶分析 Facade & Roof Analysis
酒店沿海立面结合节能遮阳和展示灯光,为厦门展开了一幅奇妙的展示城市活力的画布。
The hotel coastal façade integrates shading fins and lighting and creates an instant im­pact on the city skyline as an urban scale canvas for cultural celebrations or specific events.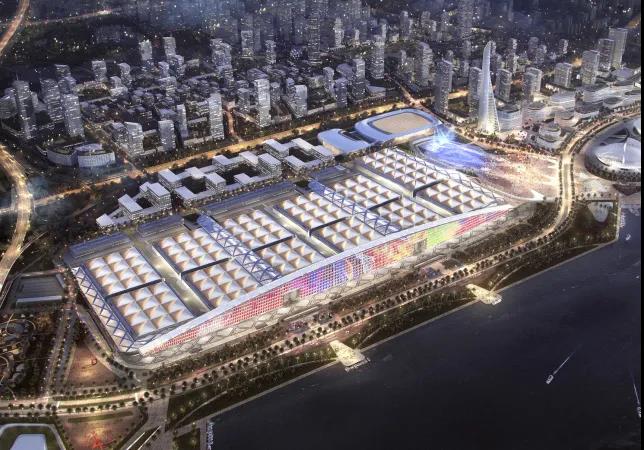 会展城鸟瞰(夜景)

Convention Center Aerial View (night view)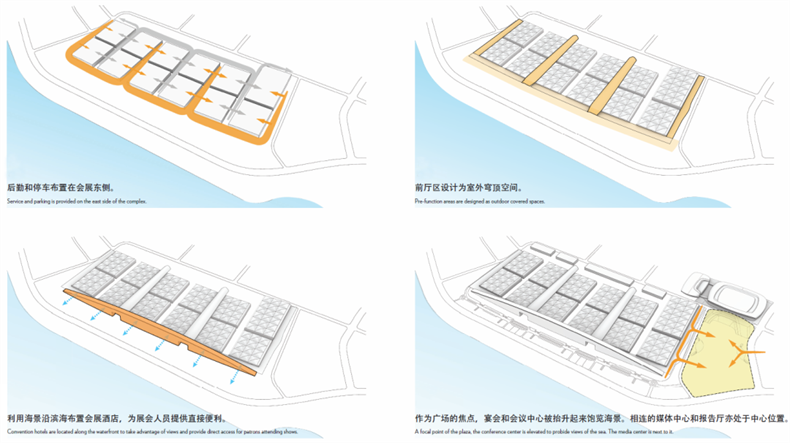 会展城设计生成
Convention Center Design Process
会展中心,充分考虑人流及物流流线,背海设置后勤物流,沿海设置前厅和商业及酒店,为全民提供展时和非展时的全天候体验。展厅便于独立和组合展出使用。结合结构设计屋顶天窗控制日照和通风,结合多媒体作为展示面。
The exhibition center is designed to maximize pedestrian and logistic circulation by locating the service and loading off the shore and placing the exhibition pre-function, retail and hotel along the coast with the year-round experience. The exhibition halls can be used independently or combined for needs of different event. The roof is integrated with skylight to control and daylight and ventilation with integration of advertisement possibilities.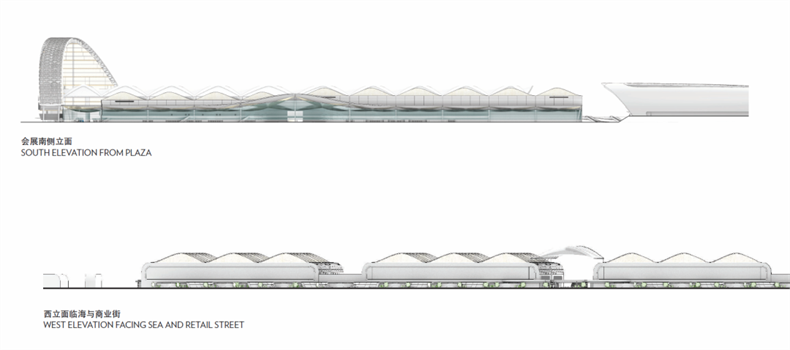 展厅立面 Exhibition Hall Elevation

展厅分析 Exhibition Hall Analysis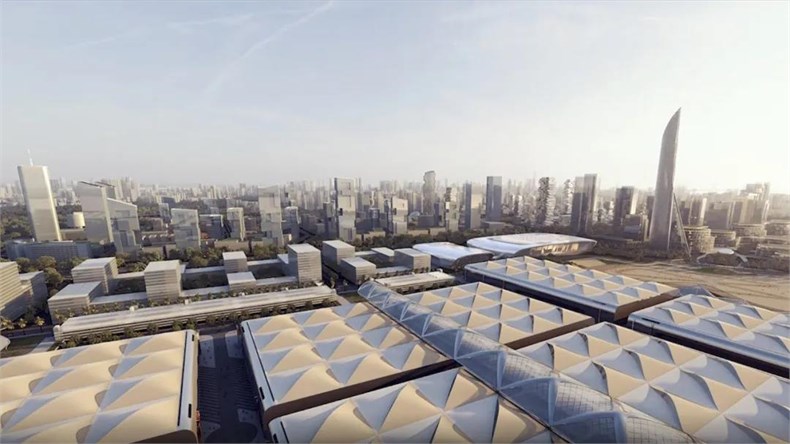 会展城回望城市
View From Convention Center to City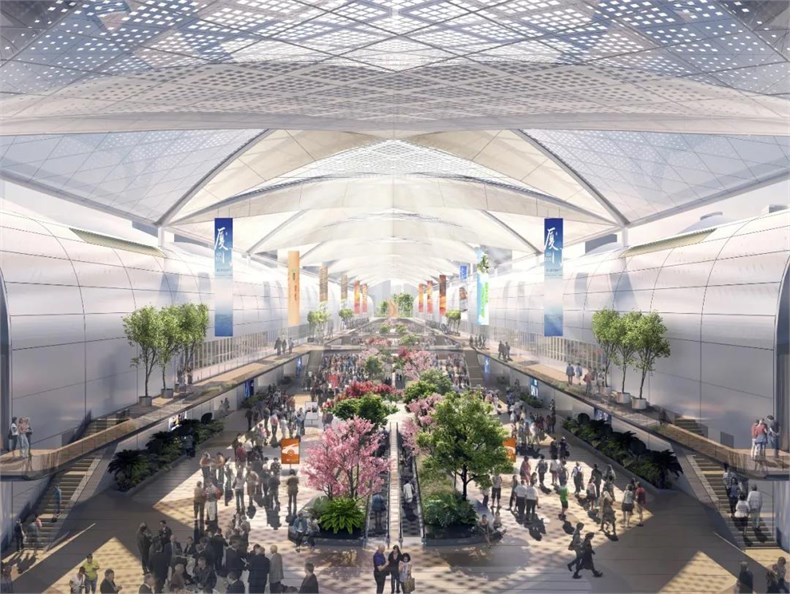 会展交通空间 Convention Circulation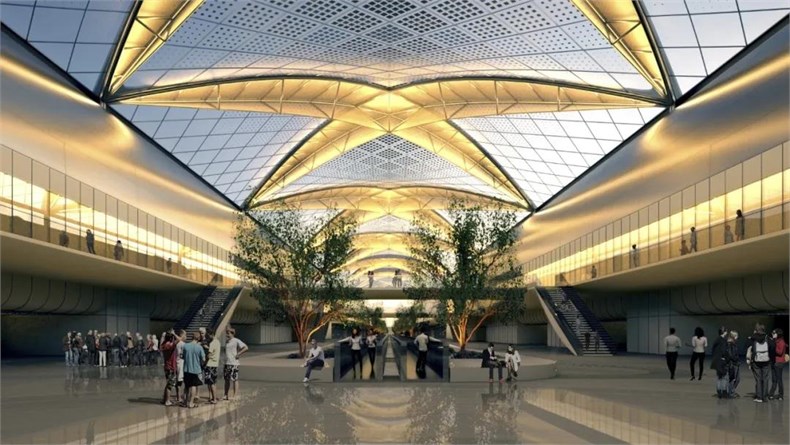 会展交通空间(夜景)
Convention Circulation (night view)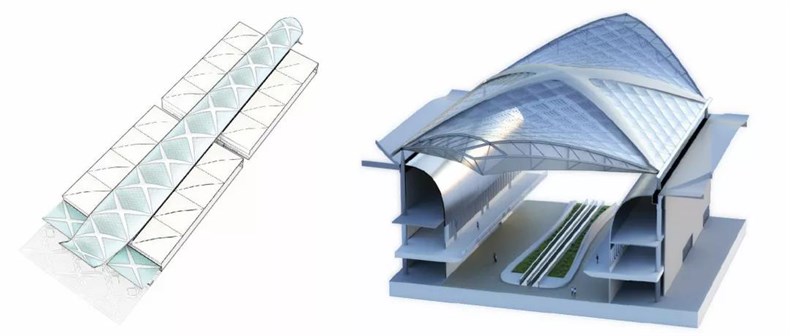 会展交通空间分析 Convention Circulation Analysis
前厅是充满自然光,绿植和活力的公共活动空间。屋顶采用透明ETFE,渐变釉点提供遮阳减少直接辐射,形成斑斓的光效。包裹半透明织物的桁架,在白天投射处迷人的光影,在夜间,成为点亮并丰富公共区域的灯笼。
The Pre-function space is the public spine full of natural light, landscape, and vibrant public activities. The roofs are cladded with transparent ETFE with gradient frit to reduce direct radiation, providing shade and a dappled light effect. The trusses covered with translucent fabric provide a rich shade pattern during the day and become lanterns to enrich the public realm at night.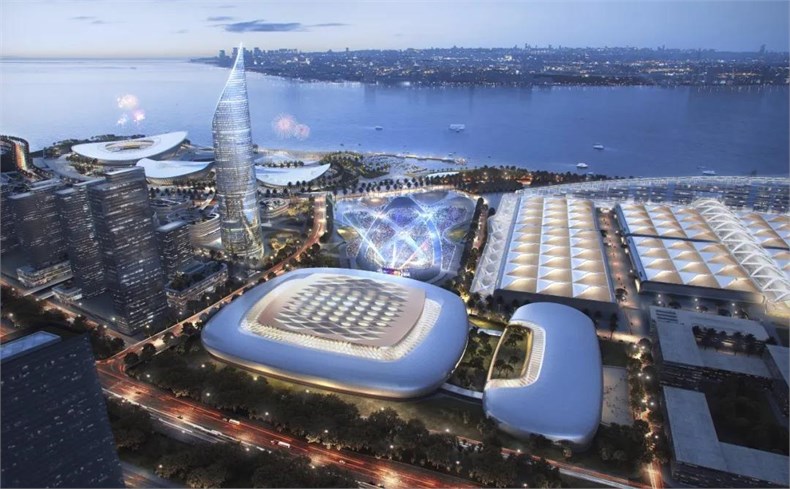 会议中心及广场 Conference Center & Plaza

活力公共中心
New Public Center
会议中心和10万平方米的室外展场策略性的布置在展览综合体、会议中心、商业娱乐区和游艇码头中央。是进行室外展览、区域活动庆典的多功能城市尺度平台。大型开放空间,视线直通海边体育中心。隐藏式喷泉和开放景观丰富了展览和城市广场的体验。广场直接连接地铁,交通便利,便于管理大量人流。
The 100,000 square meter outdoor exhibition hall is strategically placed in between the exhibition complex, the Conference center, the Entertainment district, and the Marina. It is envisioned as a multi-use urban scaled platform to serve as an open public amenity, exhibition zone or event venue. The large open space with sweeping view to the sea and sport park allows for a variety of events. The concealed water features enrich the experiences for exhibition and public activity. The subway station opens directly to the plaza allowing for a dynamic arrival with a defined zone to manage large crowds at large events.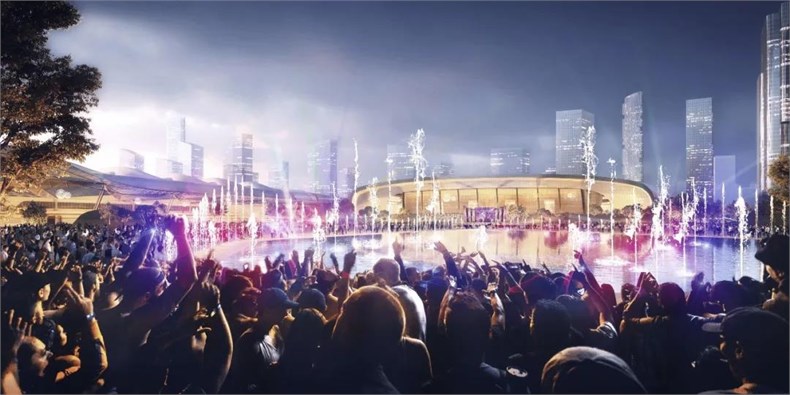 会议中心及广场 Conference Center & Plaza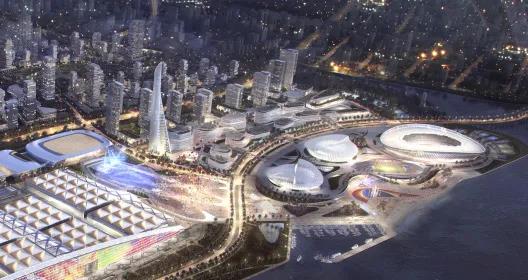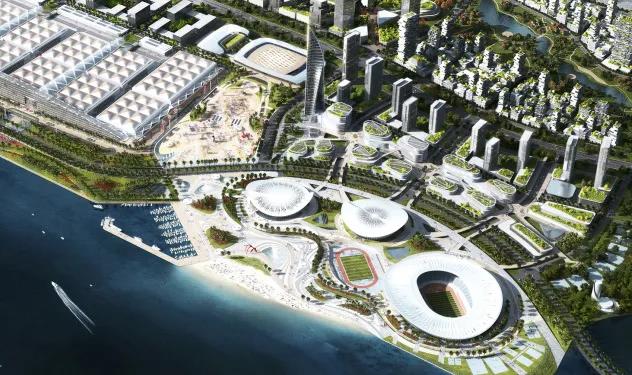 会议中心、广场及体育公园
Conference Center, Plaza & Sports Park
白鹭体育公园
Sports Park
中国建筑设计研究院主导设计的体育公园,基地采用高7米的立体绿坡形式,将城市空间自然蔓延至大海。灵动的场地如海浪般起伏,其间围合出漫步公园、儿童戏水乐园、沙滩、热身场、喷泉广场等多样活动场所,为厦门打造出充满活力的滨海绿洲。
Designed by CADRI, the base of the sport park adopts a 7-meter-high undulating green slope to spread the urban space naturally to the sea. This "city to coast" undulating slope is planned to provide the city a place of various activities such as walking parks, water parks for kids, beaches, warm-up places, fountain squares, etc., creating a vigorous coastline for Xiamen.
体育公园 Sports Park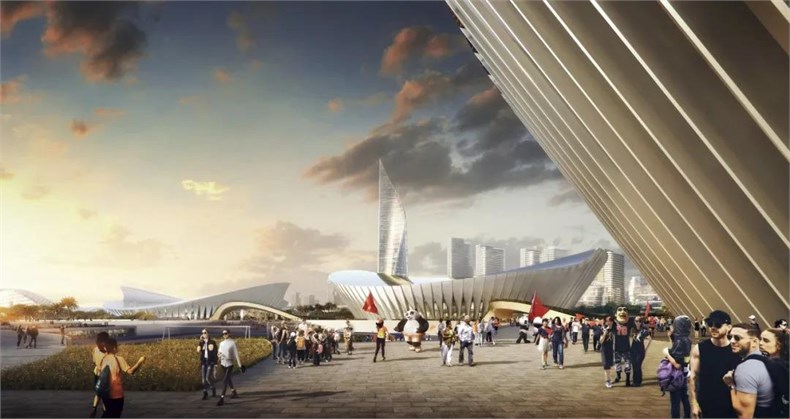 体育公园街景 Sports Park Street View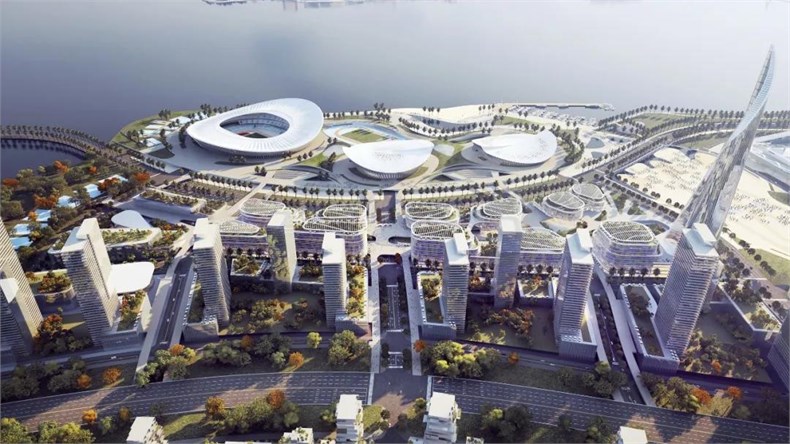 体育公园鸟瞰 Sports Park Aerial View
三个场馆形态饱满,态势飞扬,犹如栖息绿洲之上的三只白鹭,亦如迎风张起的白帆,为厦门打造独一无二的海上地标。体育中心以及其毗邻的海上运动设施,可以满足全部的夏季奥运会、残奥会、全运会、大运会等国际国内赛事需求,赛后更可开展演唱会、水上乐园,全民健身等各类活动,与东侧的活力商区一起为厦门市民提供最佳的多彩休闲场所。
The three venues have a dynamic shape inspired by three egrets perched on an oasis, as well sails in the wind, creating a unique coastal landmark for Xiamen. The sports center and its adjacent marine sports facilities can meet the needs of international and domestic events such as the Summer Olympics, Paralympics and the National Games. After the games; concerts, water parks, and national fitness activities can be held within the venues. Together with the entertainment & business district on the east side, the sports center provides Xiamen residents with the best colorful leisure places.
体育公园沿海夜景 Sports Park Ocean Front View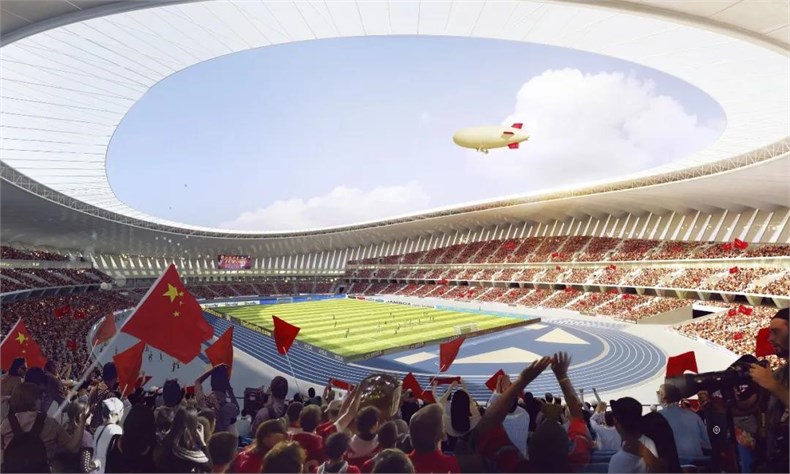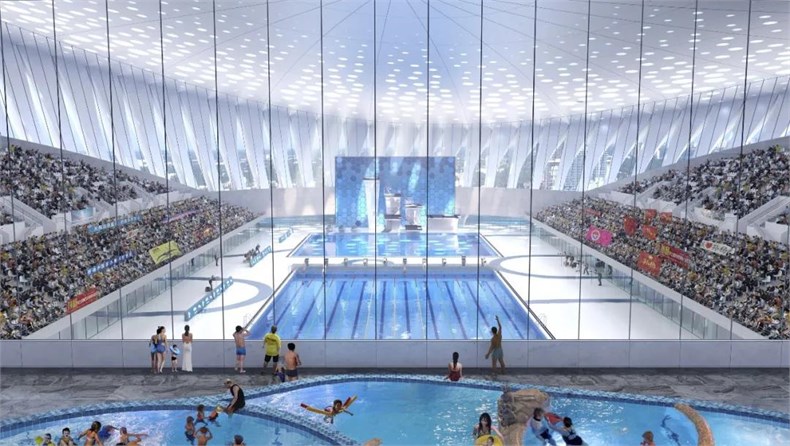 场馆内效果 Venue Interior View
综合社区:
运动员村、商业娱乐、产业区
Comprehensive Districts:
Entertainment, Athlete Village & Entrepreneurial
行人天桥和便利的地铁出入把活力娱乐区和体育公园紧密联系。一系列屋顶花园眺望体育馆和海景。办公,酒店,服务式公寓临近滨海东路布置。
A vibrant entertainment hub is linked to Center and Sports Park with elevated bridges and convenient subway access. The buildings' rooftop terraces overlook the sports park and water. Office, hotel and serviced apartments are located adjacent to East Binhai Avenue.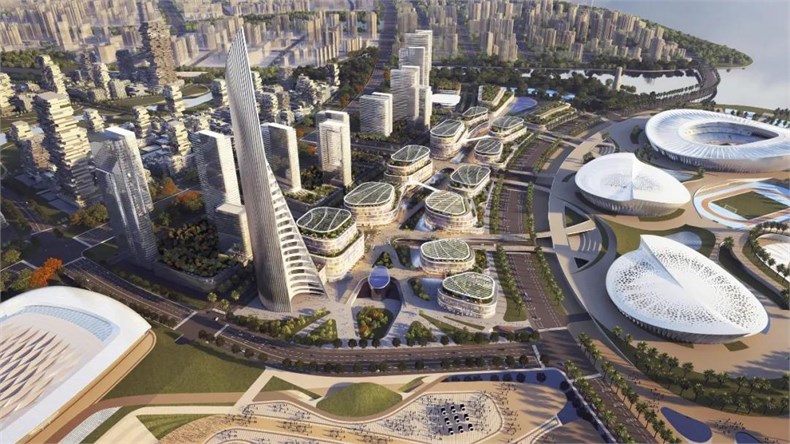 活力娱乐区鸟瞰 Entertainment Hub Aerial View
世界级运动员村设置在体育园步行范围内。按村落布局,中层和高层群建筑围绕社交空间。中央公园,湖泊和休闲设施赋予区域特征。
A world-class Athlete Village is provided in close walking proximity to the Sports Complex. Organized as a village, it is arranged in clusters of mid- and high-rise buildings organized around social spaces with ground level amenities. A central park with interconnected lakes and recreational facilities give this area unique identity.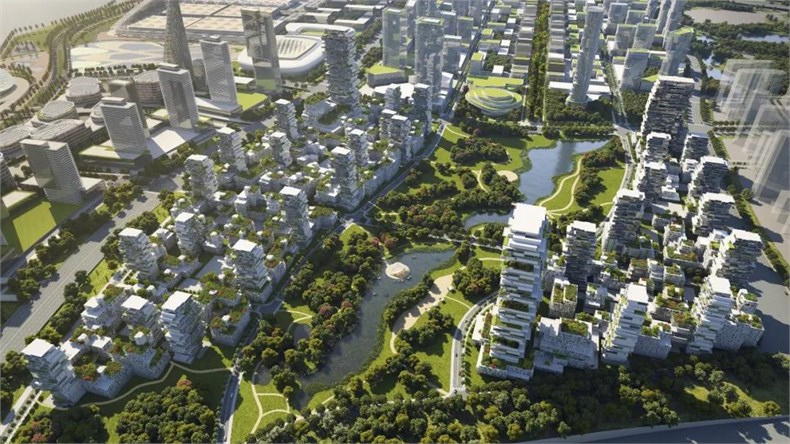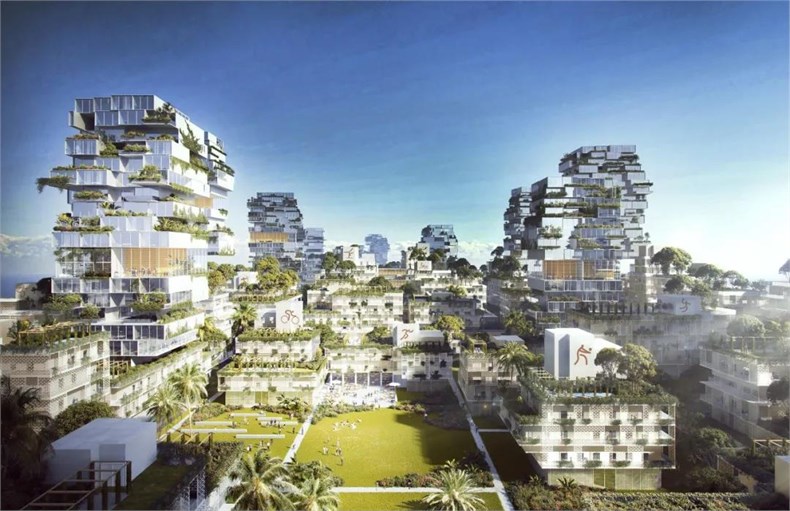 运动员村鸟瞰 Athlete Village Aerial View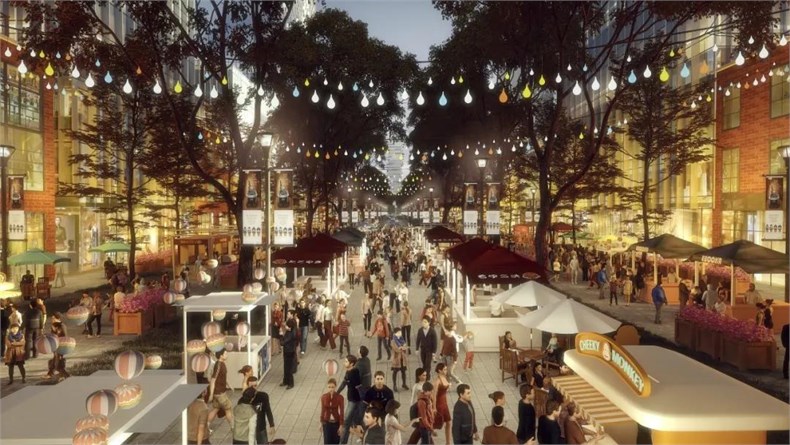 中央商业街街景
Pedestrian-oriented Street Street View
综合功能的居住、工作产业区设置在东侧。一条遍布创意办公,商业,画廊的中央步行街为中轴。复合密度居住花园街区和学校带来生活活力,提供了新创业机遇。
A mixed-use, live work district east of the Convention Center is anchored by a pedestrian-oriented street lined with creative offices, shops, galleries, and boutique hotels. Mixed density residential garden communities with schools and parks bring this district to life and provide live/work options to drive creativity and entrepreneurial success.
整体日照及风环境分析
Master Plan Solar & Wind Analysis
可持续的设计
Sustainability
250公顷的自然滨海绿地为基地提供了40%的绿化覆盖率,支持生物多样性,提供休闲空间,改善雨水管理。节能设计策略如自然采光,自然通风及设有热能储藏功能的高效能区域制冷厂将极大减少总能源需求。利用一系列经济有效的雨水管理技术如渗透,滞留及储存以重新利用,90%的降水将在基地内部解决。100%的卫生间冲水将由冷凝水及降水解决,由此饮用水的使用将降低70%以上。会展中心及体育场区域将普遍使用创新的真空废物收集系统。
250 Hectares of green space including natural parkland and coastal parkland provides 40% of overall site coverage supporting natural biodiversity, recreational use and rainwater management. Energy efficient design featuring natural daylight, natural ventilation and an efficient district cooling plant with thermal energy storage will significantly reduce overall energy demands.90% of rainwater will be managed on site using a combination of cost-effective technologies including infiltration, detention and storage for reuse. Potable water use will be reduced by more than 70%, with 100% condensate and rainwater being used for toilet flushing. An innovative automated vacuum waste collection system will be used throughout the convention center and sports districts.

智慧城市 Smart City
面对未来气候变化的环境挑战,该区域将展现出色的适应性,应用低碳建造及运营技术减少温室气体的排放。
The district will be resilient to the environmental effects of climate change and will showcase low carbon technologies in construction and operation to reduce overall greenhouse gas emissions.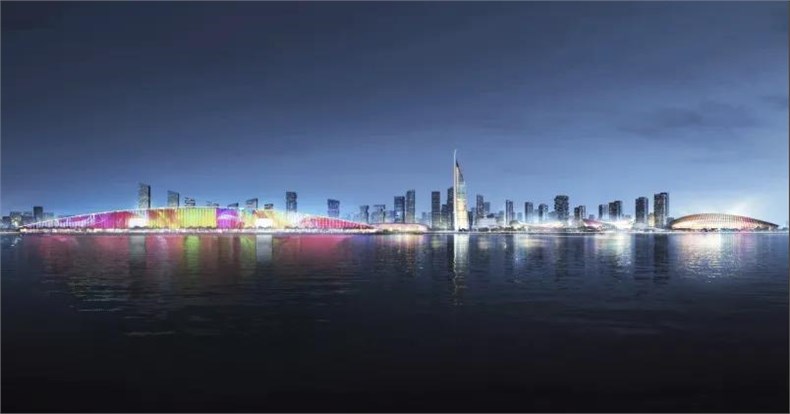 海滨天际线(夜景) Oceanfront Skyline (night view)
全部图像属于
Adrian Smith + Gordon Gill建筑设计事务所
All images by Adrian Smith + Gordon Gill Architecture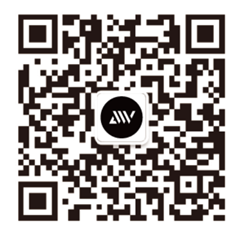 设计腕儿官方微信
010-88600030