San D PRESS RELEASE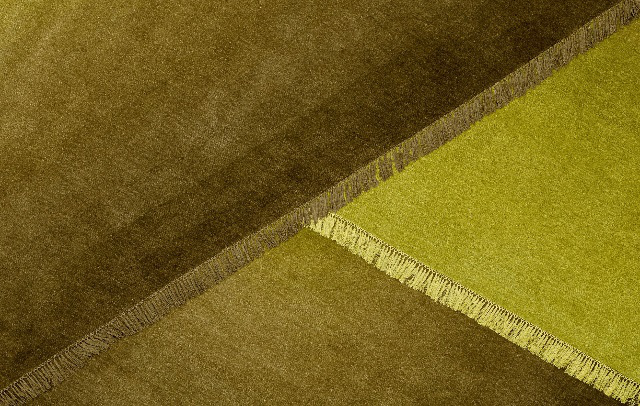 San D is a new rug design by Henny van Nistelrooy (StudioHVN) for Milanese luxury carpet brand Illulian. This new edition to Illulian's Limited Edition collection, originally planned to launch during 2020 Salone del Mobile, StudioHVN now present to the public.
San D为Henny van Nistelrooy (Studio HVN)为米兰奢侈地毯品牌Illulian设计的全新地毯。本次Illulian限量版系列的新品,原计划于2020年米兰国际家具展览会进行发布,现由StudioHVN正式面向大众展示。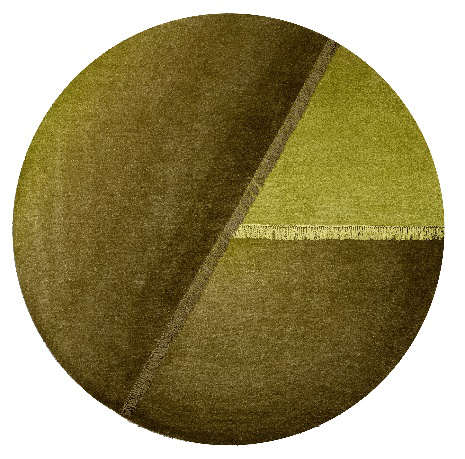 The concept of San D comes from the Chinese description for Three Dimensional. Where "San" means three, referring to the seemingly three layers of carpet overlapping each other. And "D" represents dimension, emphasised by the gradient on the surface of the carpets creating an illusion of depth. When D is pronounced Di it also refers for the Chinese word for floor: Dimian and carpet: Ditan.
San D的概念来源于中文中对三维的解释。其中"San"意义为3,意指看似相互重叠的三层地毯。"D"代表维度,通过地毯表面的色彩渐变来强调达到三维的立体效果,创造出一种深度的视觉错觉。当"D"读作"Di"时,它在汉语中也表示"地板"和"地毯"。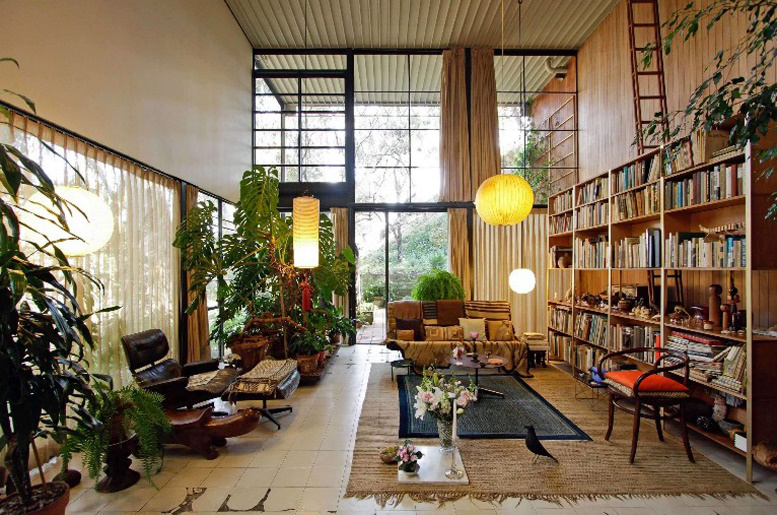 Inspired by the stacked carpets in the Charles and Ray Eames house. Dark blue carpets are stacked over a large base of light brown striped carpets. Folded as already simple, the effect is very ideal collocation means, not only can satisfy the demand of a variety of decorative styles can also be home to bring a new decorative experience. Also applicable to a variety of spatial layout, can be based on the Change the way of stacking.
Photo:Eames Foundation
灵感来自Charles and Ray Eames 住宅中的叠放地毯。深蓝色的地毯叠放于大基底的浅棕色条纹地毯之上。叠放作为既简单,效果又非常理想的搭配方式,不但可以满足多种装饰风格的需求还可以为家居带来一种新的装饰体验。同时还适用于多种空间布局,可以因地制宜改变叠放方式。
图片来源:Eames Foundation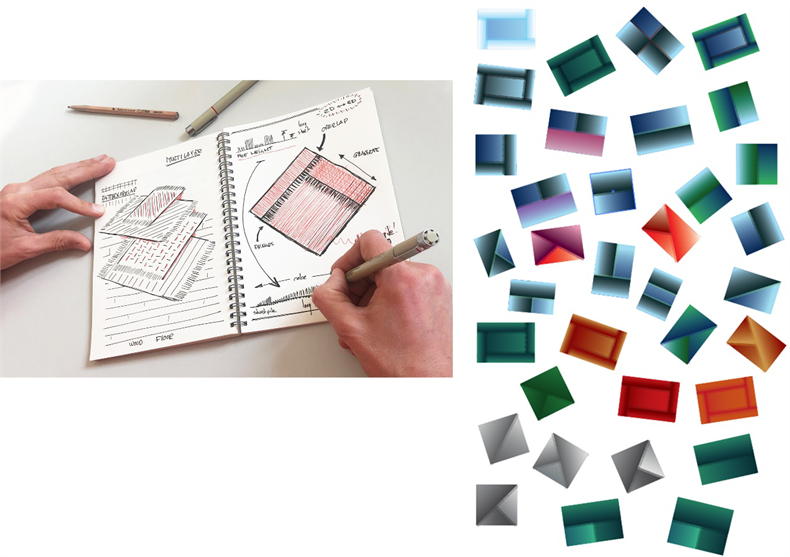 From hand painting to digital development, in the plane through the three-dimensional of two-dimensional paintings Interpretation and presentation, explore 3D effects, different compositions and details.
Through this kind of analytical picture, you can understand the whole product every link Nuanced block surface sense, thus comparing various possibilities. To help our for planning, capturing concepts, and the presentation and communication of drawings.
从手绘到数字发展,在平面中通过对二维画作的三维诠释与呈现,探索3D 效果、不同的构图及细节。
通过这种分析性的画面,可以了解整个产品每个环节细致入微的块面感,从而比较各种可能性。来帮助我们进行方案推敲、捕捉概念、以及图纸的表达和沟通。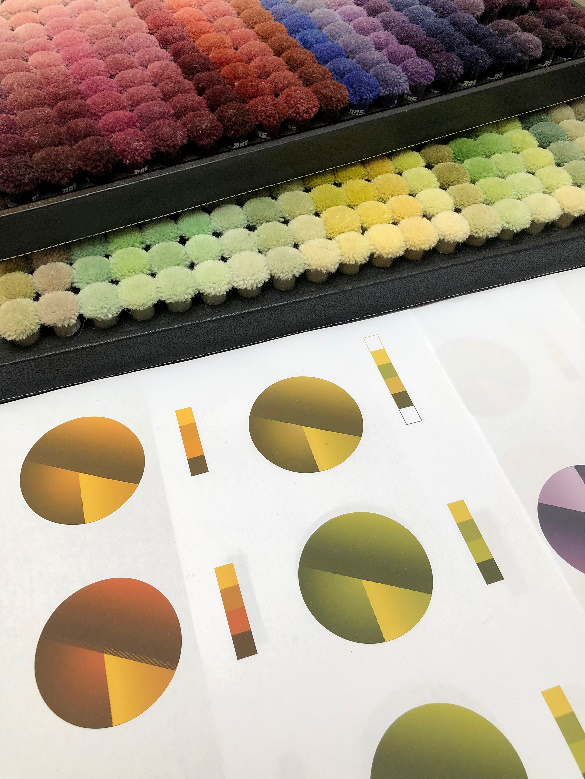 The idea comes from overlapping rugs in interior decoration where it is used as a tool to play with patterns and color on a floor or to simply create a larger rug surface.
该设计的灵感来自于室内装饰中地毯的叠加摆放,此叠放形式常被用于空间地面上作为颜色和图案拼接的工具,或者仅仅是为了创造一个更大的地毯,以创造出令人惊艳的效果。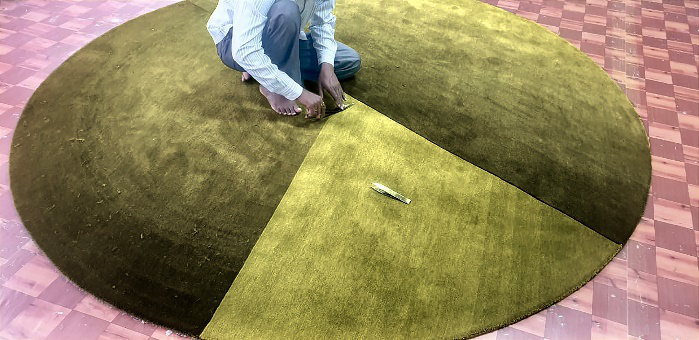 The design plays with this idea by superimposing multiple layers of carpet on top of each other. The effect is emphasised through a subtle play in color. Color tones fade from light to dark and are placed in relation to the graphic image of the rug.
该设计巧妙的运用了此想法,将多层地毯融合叠加,通过微妙的颜色渐变达到三维的立体效果。色调变换由亮至暗,并行成图像融合于地毯之中。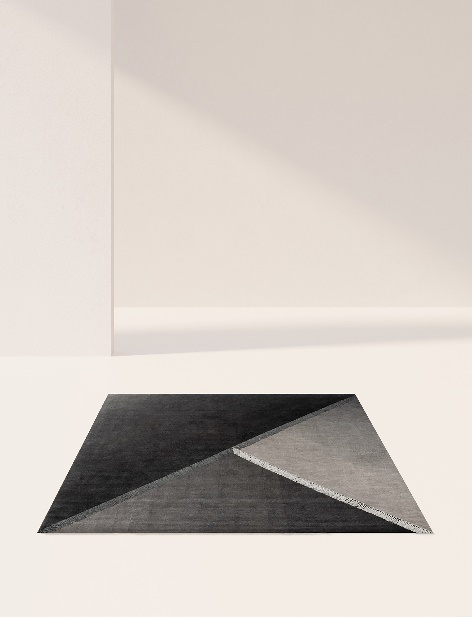 The design detail that complements the rugs are the placement of the fringes. Normally only used on the outside edges of a carpet as way to finish them. Here the fringes are placed inside the outer edge of the carpet, overlapping the hand knotted piles.
大框架简洁清晰,小细节细微至隐,精巧的细节设计则可见于对边穗的处理上。通常情况下边穗是作为地毯外边的收边方式,在Henny van Nistelrooy(StudioHVN)的设计中边穗则被用于地毯的内轮廓处,重叠在打结绒线之上,以衬托出地毯层层交错的概念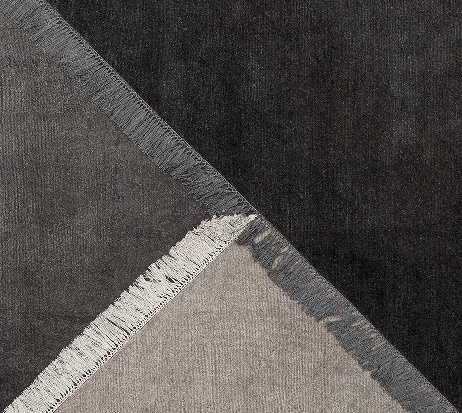 The series is made up of three different shapes: circle, square and rectangle.
该系列由三种不同的形状组成:圆形、正方形和矩形.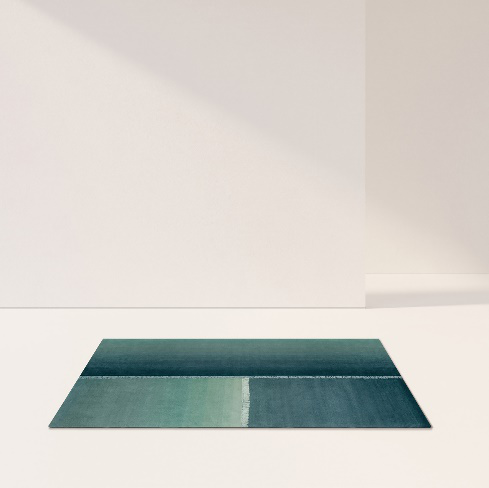 Fabric: Himalayan wool, natural silk, cocoon silk mixture.
制作面料:喜马拉雅羊毛、天然丝、蚕茧丝的混合物。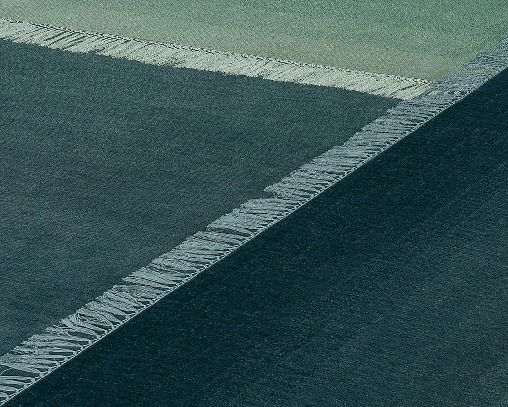 The San D collection are fully hand knotted rugs made by skilled craftsmen in Nepal. From transforming the raw Himalayan highland wool in to yarn, the dying process up to each knot of the carpet. The carpets are true hand made master pieces.
San D系列是由经验丰富的尼泊尔手工匠人通过传统工艺进行手工制作而成。从把喜马拉雅高原羊毛制成毛线,从染色过程再到地毯上的每一个结,都是手工制作的杰作。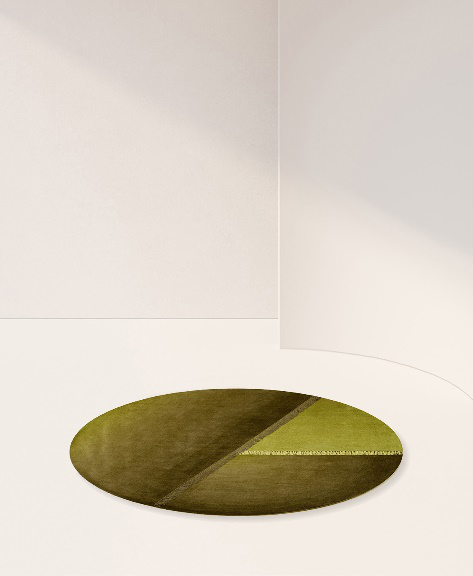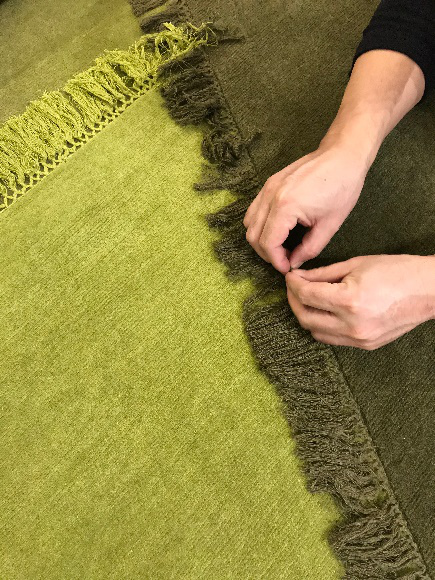 Illulian said the reason Henny van Nistelrooy was selected to design for their Limited Edition, is because they were immediately hit by theirs simplicity but at the same time elegance and sophistication in Studio HVN's work. In our opinion in Studio HVN's work is clear the materials melt together with a careful attention to detail. Moreover at Illulian we created Limited Edition collection in order to have the opportunity to experiment new and different visions about what rug may represent in its most playful expression. And Studio HVN perfectly interpreted this spirit.
At the same time his studio joins Illulians roster of leading designers including Cristina Celestino, Fabio Novembre, Karim Rashid, Luca Nichetto, amongst others.
ILLULIAN表示,Henny van Nistelrooy 被选为Illulian 限量版系列地毯的设计师,
是因为当发现StudioHVN的作品后就在第一时间被它的简洁且兼具优雅与精致所吸引。在我们的观念中,StudioHVN的作品是清晰的,是对材料与细节精心把控的融合。此外,在Illulian中,我们通过限量版系列创造机会去试验新的且与众不同的地毯趣味化呈现。而StudioHVN完美的契合了这个灵魂价值。
同时他的工作室也加入了ILLULIAN的主要设计师名单,其中包括:其中包括Cristina Celestino, Fabio Novembre, Karim Rashid, Luca Nichetto等。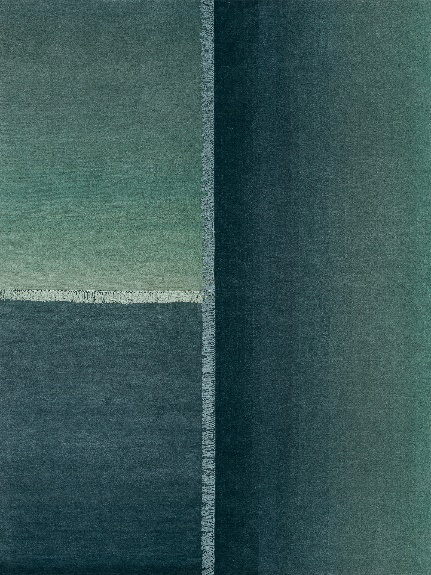 About StudioHVN:
关于StudioHVN:
Beijing based Studio HVN is a design practice offering service in spatial to product design. Founded by Dutch designer Henny van Nisterlooy and TAN's founder Zhang Qi.
The studio's design methodology is to research local culture and connect through contemporary design to life. We believe in making a positive contribution to people's work, leisure and living spaces through a design approach that respond to client requirements with good ideas, functionality, refinement and an inspiring contemporary style.
Every Studio HVN project is the result of a concept tested to its limits and resolved with elegance, efficiency and skill.
罗德岛建筑设计咨询 StudioHVN 罗德岛建筑设计咨询有限公司, 由荷兰籍设计师Henny van Nistelrooy 及毯言织造创始人张启共同创立。
建立以来持续为国内外知名品牌以及社会各界客户提供一流的室内设计、产品设计等服务。致力于将本土文化与现代设计相融合, 并为人们贡献积极影响。每一个由HVN 工作室所设计的项目都是以优雅、效率和技艺所成就的极致概念设计的成果。
About ILLULIAN:
关于 ILLULIAN:
Illulian is a historic and prestigious brand, internationally renowned in the field of design and custom handmade rugs, has never stopped evolving in its over 60 years of activity through a process of uninterrupted growth, participating in great projects and collaborating with prestigious figures in the world of architecture, design, and fashion.
Founded in 1959, the company now headed by Shahnaz Illulian and her sons Davis and Bendis Ronchetti, is an exclusive benchmark in the field of antique as well as luxurious contemporary rugs, with collections that, besides being exclusive furnishing proposals, represent true works of art that retain their charm unaltered over time.
Illulian's prestigious showroom is located in Milan's fashion quadrilateral in Via Manzoni. It holds both, the most innovative contemporary proposals that reflect the latest design trends, as well as truly rare antique one-of-a-kind rugs and tapestries. Illulian showroom also accommodates refined contemporary style furniture, prestigious fabrics, and unique design objects, carefully crafted down to the smallest details.
Illulian 成立于1959 年,是奢侈配饰领域享誉国际的历史品牌,在其60 年的活动中建立了一条不断发展的道路。其产品具有极高的艺术价值,并随着时间的推移,持续保持这一特有的魅力。 自成立以来,llulian 家族的三代人将创新、传统和激情相结合,推出了一种独特的方式来呈现由喜马拉雅羊毛和丝绸制成的尼泊尔古法手工打结地毯。从客户到建筑师,从酒店到大型家具公司,任何人都可以在其设计地毯、宫殿地毯、限量版地毯、游艇地毯、儿童地毯和古代地毯,六大系列中找到适合每个空间的完美地毯。 同时在定制化的时代,Illulian 也建立开通了定制服务。其设计师团队可根据客户的需求去调整Illulian 系列本身的设计或是提供专属设计,以提供符合专属于甲方需求的完美地毯。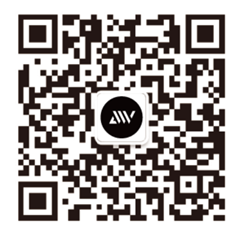 设计腕儿官方微信
010-88600030