对话希腊博物馆设计师让•皮埃尔•海姆(Jean-Pierre HEIM)
让•皮埃尔•海姆(Jean-Pierre HEIM)受到多方的高度评价,是一位富有远见的建筑师,在纽约、巴黎、米克诺斯以及现在的上海,多年的国际建筑室内设计经验让他卓岳不群。海姆先生获得了巴黎波尔多国立美术学院建筑专业学位,同时还进入伊利诺伊大学进修建筑研究专业。
Jean-Pierre HEIM is a highly regarded visionary architect with an international architectural and interior design practice in New York, Paris,Mykonos and now Shanghai. Mr HEIM has a degree in architecture from the Ecole des Beaux-Arts in Paris and also attended the University of Illinois for specialized architectural studies.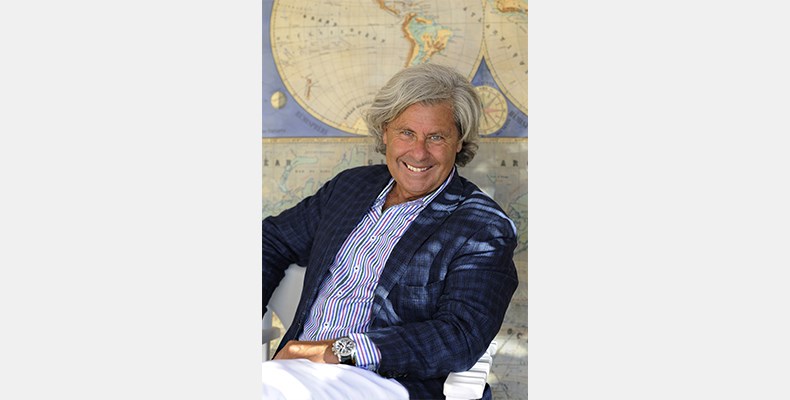 让•皮埃尔•海姆联合设计公司(JPH)成立于1980年,拥有丰富的设计经验,包括私宅、办公室内空间、零售店、餐厅、酒店和展示空间。公司客户大到国际商业集团,小到私人客户。一些知名的客户包括:法国梵克雅宝、法国服装品牌Revillon、意大利灯具品牌Baccarat、法国时尚定制品牌Christian Lacroix、法国高级时装品牌Lanvin、法国博艺府家、法国度假旅游连锁集团Club Med。专家级剧院改造项目包括:法兰克福奥芬巴赫国会音乐厅、卢克索德累斯顿宫、柏林巴贝斯堡电影工厂入口。目前海姆先生正在开发一种全新概念,在一些南方的气候性国家很盛行,叫户外餐厅和家庭影院多媒体全景体验中心。最近,海姆先生在上海投身于公司分公司的发展;在北京,他正参与北京游艇俱乐部的设计工作,在这之前,刚刚结束了上海游艇俱乐部设计。他还完成了位于上海市和崇明县的HYH精品餐厅品牌的设计。在圣马丁岛和圣多明各岛,海姆先生在开发热带度假村和酒店的设计任务。
Founded in 1980, Jean-Pierre HEIM and Associates (JPH) has developed a rich portfolio of private residences, office interiors, retail stores, restaurants, hotels and showrooms. JPH clientele includes international businesses as well as private individuals. A few notable clients are Van Cleef & Arpels, Revillon, Baccarat, Christian Lacroix, Lanvin, Puiforcat and Club Med. Expert theater renovation such The Capitol Music Theater in Frankfurt Offenbach, the Luxor Palace in Dresden , and the entrance Studio of Babelsberg Postdam /Berlin, he is presently developing a new concept called Cinepanorama of outdoor restaurant, lounge cinemas many others southern climate countries .He is now developing concept and develop his Brand HEIMdesign in China, Shanghai. In Beijing he is presently working on the design of the Beijing Yacht club and Just completed the Shanghai Yacht club.He has developed the brand of restaurant and boutique HYH in Shanghai and Chongming . In St Marteen and Santo Domingo he is working on tropical resort and hotels.
希腊博物馆设计方案

海姆先生是一位富有创造力的设计师,对形态、色彩、材料和环境洞察力极强。海姆先生个人以及他的作品出现在一系列的书籍、报纸和建筑杂志中。同时,法国电视台、美国CNN电视台播放他参与世界贸易中心重建设竞标的新闻。

Mr. HEIM is an innovative and highly creative designer with a good eye for form, color, materials and context. He has been published in a number of books. Mr. HEIM's work has also been published in noteworthy newspapers and architectural magazines. He has received national television coverage in France on TF1 and CNN for his participation in The World Trade Center reconstruction competition. CCTV (China Beat) . TV5 Greek National TV.
DW:您最新设计了希腊博物馆的项目还在提案阶段,能否向我们介绍下是什么机缘使您接受了这个项目的设计?
Mr Jean-Pierre HEIM, as we know, your latest design project " Delos Museum in Greece" is going through design proposal.Can you tell us what brought you to devote yourself to involve in this project?
JPH:这样的一座博物馆对希腊来说是有必要的,因为它代表着希腊最重要的具有神学和地质考古研究价值的遗址之一,"太阳神阿波罗和他的孪生姐妹阿尔忒弥斯的土地。"对希腊来说,这里被看做是一块圣地,代表着希腊文明的诞生。
到目前为止,在希腊只有20%类似这样的考古价值的遗址被发现,每年地质学者们都在不断地发现新的宝藏。为了改善整体空间的舒适性以及考古基础设施的需要,博物馆急需改造和扩建,所以我在博物馆现存位置的基础上构想出了新的设计方案。
这座博物馆在希腊将成为最现代化的考古价值的博物馆,所有最新的科技如一种新型的电子应用程序通过以扫描博物馆既有的收藏品为前提的方式收集资料,或者图像处理视觉化最不寻常的古提洛岛的复制品,或者在古提洛岛遗址上观看带3D电影和讲述的I-MAX影院。
Such a Museum is a necessity for Greece because it represents one of the most important Mythological archeological site in Greece the" Land of Appolo and his twin sister Artemis".For Greece it is considered of a being a holy sanctuary the birth of the Greek civilization.

Just 20 % of the archeological site has been discovered and every year the archeologists are discovering new treasures,. The Museum is at urge for renovation and extension in order to provide new facilities and comfort for the space and the archeological I have conceived a new Museum design on the existing location of the old Museum.
This Museum will be the most modern archeological museum in Greece , all new technologies such a tel application to receive information about of all pieces in the museum by scanning them on the premises or visualized the most extraordinary Model a replica of the Old Delos or looking at an Imax Theater with 3 d movies and lectures on the old Delos Site .

DW:能否向我们介绍下这个项目的各个功能空间,您希望通过这个博物馆传达怎样的设计理念及态度?

Would you mind presenting its each functional areas to us? What kind of design philosophy and attitude you tend to convey through this museum?
JPH:基克拉迪群岛和博物馆都是希腊神学的象征。在希腊,基克拉迪群岛又名巨石岛,创造了包含米克诺斯岛(位于地中海的爱琴海海域)的提洛群岛。巨石岛因向岛上扔巨大的石头而得名。岛上的花岗岩和其他的石头是能量的真实象征。南北方向线性排列的等边三角形很好的保护博物馆的入口免遭受来自东北方向的强烈寒流。
The Cyclades and archeological Museum is also an allegory to the Mythology of Greece.In the Greek mythology the Cyclopes also name the Giants, created the Delos archipelagos of Mykonos (located in the Aegean see in the Mediterranean sea ) by throwing giant stone on the Island.This granite stone and rocks are the true symbols of energy. The equilateral triangle will be lined up with a North South axe, which will protect the entrance museum from the Melthem North East strong and cold wind.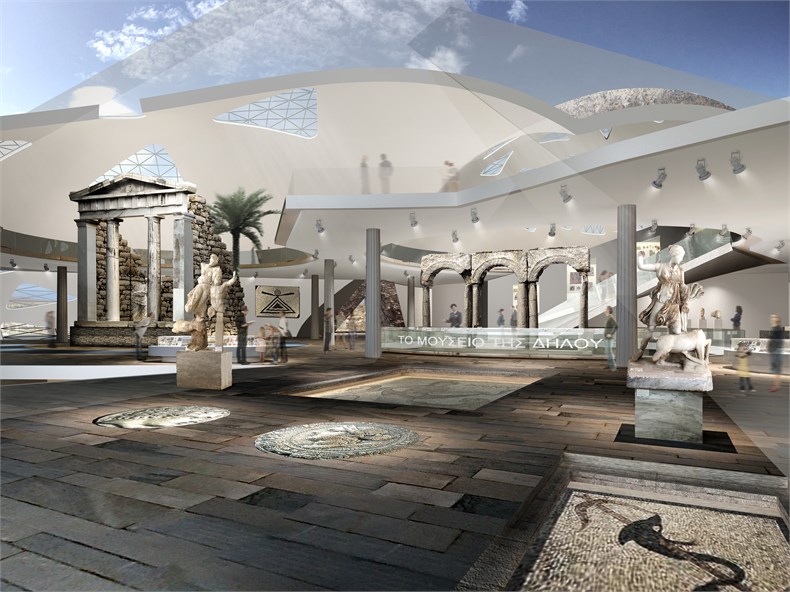 DW:在您的设计中都很注重文化的注入,那在您看来如何在古老的建筑上去实现未来的设计理念?在希腊博物馆中您是如何诠释古希腊文化的?
As far as I know, you highlight integrating culture into every piece of your project.I am asking how do you figure out to come true futuristic design philosophy based on old architecture?How do you interpret Hellenic Culture In the project "DELOS MUSEUM "?
JPH:确实是对一座博物馆未来的憧憬。博物馆的建筑:
最大长度达到100米的500平方的宜居空间划分成三个空间,他们之中高一些空间的高度可达20米,其中的3-5米位于地面层。地面层至关重要,因为它是随时间和灭亡一起埋葬的古提洛岛现存地面的写照,遗址目前仅仅只有10%被发现。
It is indeed a futuristic vision of a Museum. The MUSEUM ARCHITECTURE:

5000 Sqm of livable space with a maximum length of 100 meters that will be divided in three volumes.The higher will have a height of 20 meters on which 3 to 5 meters will be under the ground level.The ground level is very important because it is the reflexion of the existing ground of ancient Delos buried with time and destruction, as only 10 percent of the site has been yet discover.
博物馆设计:

一个主入口
一个出口
一个用于考古学家发现的古文物运输入口,还有包括一家本地的餐厅和咖啡厅、商店、博物馆遗址考古学家、保安、当地员工。
The Museum design
- One main Museum entrance.
- One exit.
- One Delivery entrance for antiques discovery of archeologists, with a local restaurant and a cafe, stores, and museum archeological staff archeologist, guard, and local staff members.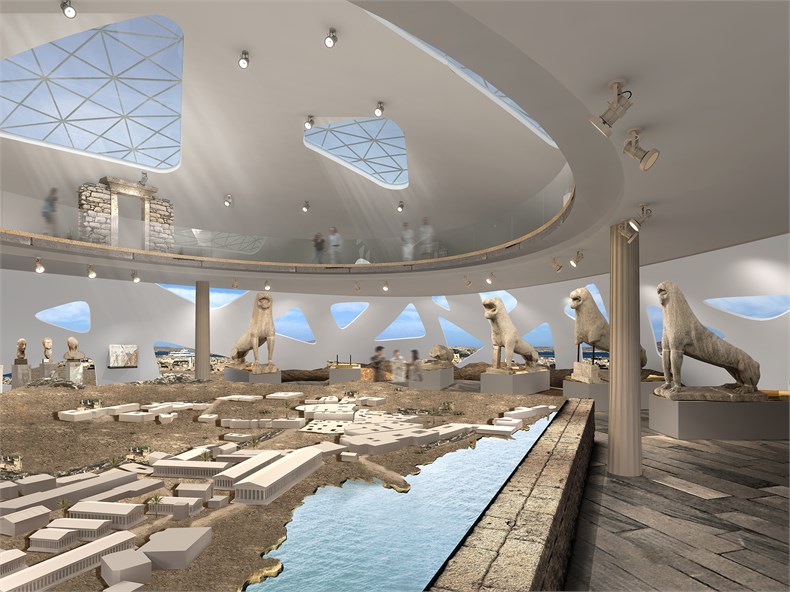 设计主概念是通过位于一座蓄水池上方的水泥板桥进出纯提洛岛文化博物馆,蓄水池的作用是收集冬季的雨水来灌溉地面。

The main concept is to access and exit the Museum Sole-Delos with three long concrete slabs bridges over a reservoir that will collect mostly rainy water during the winter and drainage in the ground.
博物馆的建筑结构用钢筋混凝土机构的穹窿建造,因为博物馆所在地位于高密度地震带,另外一个原因是我们地处史诗般的基克拉迪群岛中心。博物馆的文物发现将会受到严密保护。
The construction of the Museum will be built with a reinforce concrete vault as the location of the Museum is in a very high density seismic location as we are in the epic enter of the Cycladic Island. Museum discovery will have to be strongly protected.

钢筋混凝土穹窿形的天花同样能很好地保护博物馆里的物品免受热浪侵袭,同时适合的层高还能满足古希腊一种自然的占星穹顶的要求。

The concrete vault ceiling will also protected the content of the Museum from heat and will be high enough to have a sense of a natural astrological vault so important in the Ancient Greece.
数学家、星象学家、历史学家、哲学家一致认为高层高的空间是博物馆天花和穹顶的一个重要标准。

Mathematicians, astrologers, historians, philosophers will all agreed that the high volume is the important criteria of the Museum ceiling and vaul.
岩石和石头方面,以及博物馆建筑:
根据建构主义理论中一项具有机代表的原则,纯提洛岛文化博物馆的中心区域用螺旋式的阶梯从低楼层到高楼层。踏步逐渐扩大,二楼通过一个大型的斜坡联通,这样让游客更容易上到二楼。展示区和橱窗展示可以分散人流。
The stone-Rock aspect and the architecture:
Based on an organically symbolic aspect of constructivism the epicenter of the Sole-Delos Museum will the spiral stair coming from the lower floor to the upper floor.Gradually the steps will enlarge and the second floor will be accessible with a large ramp, to make it easier for tourist walking to the second floor.Show case and window displays will distract the tourist.
建筑材料运用:
水泥穹顶用石头覆盖,然后用当地的植被"吃掉"建筑结构,这样就能很好地和环境融为一体。巨大的玻璃三角形开口位于穹顶高一些的位置,用来采光。提洛岛和南太平洋岛上的复活节岛上的光线应该是世界上最强的光线了。小一点的开口位于人眼的高度,为了让博物馆内部构造随时可见,还可以观看考古活动。
The ARCHITECTURAL MATERIALS:
The concrete vault will be covered with stone and local vegetal will eat up the structure and blend in the environment.Large glass triangular opening will be located on the higher part of the vault to capture the light. Light in Delos is supposed to be the strongest light of the World with Easter Island in the South Pacific.Smaller size opening will be at eye level In order to be visible at any time from the inside of the Museum, looking at the site archeological contest.
博物馆地面用粗糙大理石铺设,当地的考古遗址任何现存的脚印原地不动的保留下来,出于保护遗址的一致性和对考古历史的尊重。
The floor stone is in rough marble, and any existing foot print of local archeological remains will be kept at original location to preserve site harmony and archeological historical respect.
现代设计元素:
为了让博物馆成为一座充满生机的现代博物馆,所有博物馆瞬间的展示根据情况还原或者重组,这样就有可能数字化和用3D图像重建场景,投影到幕上为了更好地反映过去的真实性。
THE CONTEMPORARY DESIGN ELEMENTS:
In order to be an active contemporary museum all displays of monument recovered or replace in context will have the possibility of being digitalized and re-constructed in 3 D image and projected on a screen in order to reflect the reality of the past.
博物馆的灯光效果通过一场灯光秀表现。

Light effect through out the Museum will be allowed through a light show.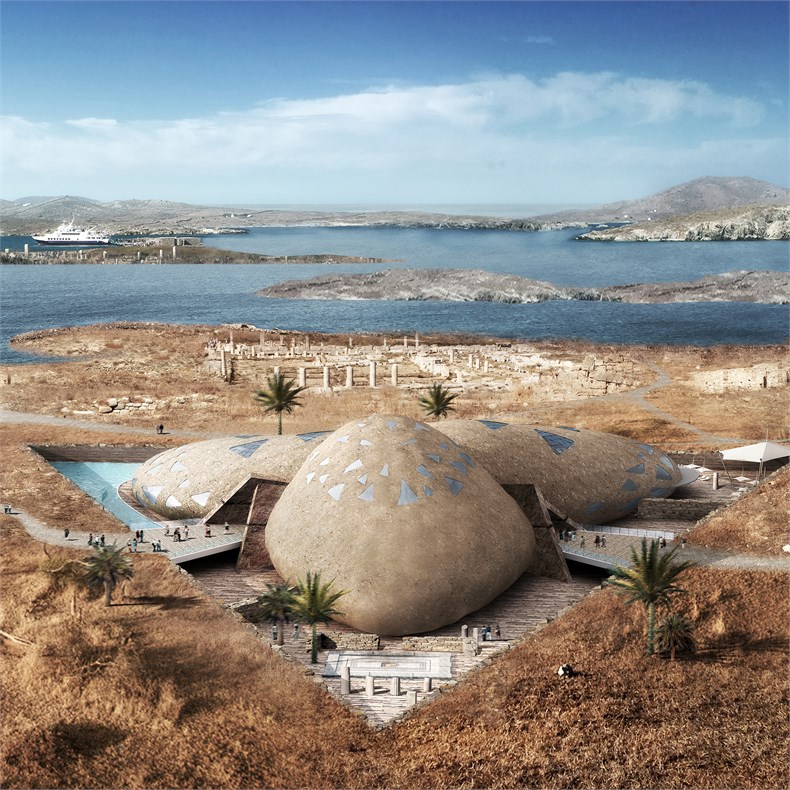 北翼
一家餐厅
一间咖啡店
一家精品手工珠宝和书店一体化的商店将开设于西北边,位于露天平台的入口眺望博物馆。
一场舞台秀伴随着建筑元素的推出将象征着重建圣殿的面世。
The NORTH WING

-A restaurant.
-A coffee shop.
-A boutique , craftsman jewelry, bookstore store will be located on the north west side opening on a large patio overlooking the museum.
-A " mise en scene " will act as representation of a reconstruction temple with architectural elements.
东翼
能容纳250人的夹层竞技场位于博物馆的东侧,17米高。一场投影的互动剧场电影全景演出,整体的遗址穹顶再造表演,以及提洛岛历史影片放映都将会呈现在观众面前。
The EAST WING
A mezzanine -amphitheater with 250 seats will be located in the east side. The height of the theater will be 17 m high.An interactive theater cine-panorama with projection on screen and the total vault to re-created a global site environment..Performance , and historical film of Delos will be presented to group and audience.
南翼
阿波罗主前厅将会揭开一个巨大的重建遗址模型的神秘面纱,为了更好地观赏它本来的面貌。本来应该位于博物馆里的狮子画廊将被安置在超大3D模型的前面用来看护博物馆。
The SOUTH WING

The Apollo main atrium will unveiled a reconstructed huge site model in order to view the way it was. The Lion gallery facing the way it should be the inside of the museum will be located in front of the huge 3D model and to guard the Museum.
南门
一座桥通过蓄水池连接博物馆。一个三角形的大门欢迎所有游客的到来,门前摆放着一张非常现代玻璃制的登记台,上面还有考古文物发现的展品。主入口的两个阿波罗和阿尔忒弥斯新圣殿铸造的两个脚印会被作为入口石板路的勋章。
The SOUTH ENTRANCE

A bridge will cross the tank reservoir to the Museum. The Triangular Delta door will welcome all the Tourist in front a very contemporary registration desk in glass with show cases of antique discoveries . The main entrance with two footprint of old coins of the owners of the new sanctuary Apollo and Artemis, will be posted as medallion on the entrance pavement .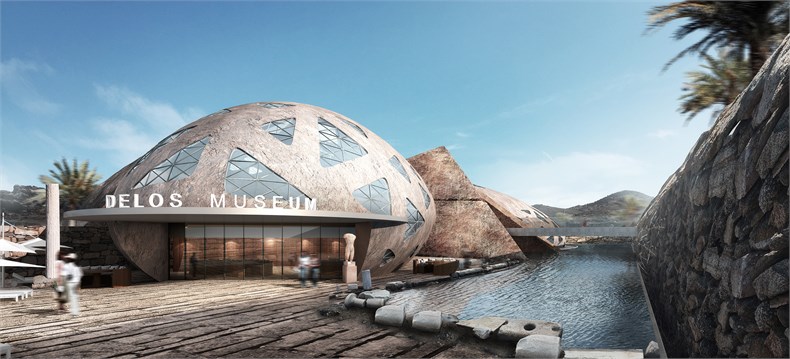 DW:您在中国已经有很多年的设计经验,能否谈谈这些年您在中国做设计的感受?您的设计最关注的元素是什么?
What element is it you pay your most attention to upon design?You've harvested immense design experience in China,can you brief us about your feeling to be a designer in these years in China?
JPH:我有某一种对自身品牌的深度思考。作为一名艺术冒险家、旅行者,我是充满幻想的。我确实会说几门语言,但是遗憾的是不会说中文…(英语,经验丰富可以让我融入从家到办公室、餐厅等的环境中。早年我就喜欢考古学、古迹和希腊,这些一直都是我的灵感来源。从巴黎的波尔多国立美术学院的建筑专业、伊利诺伊大学建筑研究专业毕业后,作为一名摄影师游历全世界为《国家地理》杂志和联合国教科文组织服务。Jean-Pierre HEIM and Associates (JPH)现在成为了一家国际性的公司,首先在美国成立,而后在欧洲和中国都有办事处。

I have somehow a reflection of my own brand. visionary, as an artist adventurer, traveler, I do speak several languages but not yet Chinese… (English, I create universe into environments from home,to offices or restaurant.Since an early age I have been interested in archeology, antiquity and Greece, and these have been a source of his inspiration. After graduating in architecture from the Ecole des Beaux-Arts in Paris and the University of Illinois for specialized architectural studies, I have travelled extensively around the world as a photographer for the magazine Geograpzine and the UNESCO. Jean-Pierre HEIM and Associates (JPH) was founded now internationally my firm is in in the US, and then Europe and China.

而今,在上海我和我的设计事务所的团队一起工作,我现在在研究HEIM设计品牌的某种概念,在创意和美学中寻求新的挑战和机遇。现在也已实现。在北京,我目前正忙于节能型浮动俱乐部餐厅的设计,以及能在海上和河里航行的电动船。同时,我刚刚完成了上海的游艇俱乐部项目。我和我的建筑师女儿Carolyn HEIM发布了一本新书,名为《建筑设计中的象征主义》(原名:Symbolism in architecture design)。这本书带领读者开始一段国际设计的旅程,通过展示世界范围内的优秀作品来分享个人对于HEIM设计创意领域的洞察,同时还会分享由HEIM的女儿Carolyn运营的HEIM设计风格的室内设计。除了我的建筑作品,同时我也是一名法国外贸顾问,也是"法国最佳"建筑美术师,2015年9月在纽约时代广场举行的最大最成功的一次法国贸易展。
Now in Shanghai where I work with my design studio I am now now developing a concept of HEIM design brand, in search of new challenges Into creativity and estheticism . has also become. In Beijing, I am now presently working on the design of the dining floating club with energy saving and electrical boats which will be able to sail on seas and rivers. And I has also just completed the Shanghai Yacht club.. I have with my daughter Carolyn HEIM architect release a new book, "Symbolism in architecture design." The book takes readers on a tour of international design and offers a personal insight into the creative world of Heim showing beautiful work across the world as well as interior design of Heim style run by Heim's daughter, Carolyn. In addition to my architectural work, I am also also a French foreign trade advisor and the architectural scenographer of "Best of France," the biggest successful French trade show held in New York City's Time Square in September 2015.
家大的有形的合作伙伴一Carolyn HEIM: A Large Bodied Partner
Carolyn Heim是一位富有天赋而且具有鲜明个性的女性,一直致力于HEIM设计品牌的成功发展。她从法国巴黎的l'École Spéciale建筑学院建筑系硕士毕业后,就读于l' École des国际艺术设计学院设计基础学校。先后游历了法国、希腊、美国和中国。通过她的国际设计经历,获得了对现代的生态建筑和可持续性发展有了一个更深度的理解。Carolyn是HEIMStyle巴黎的联合创始人,在这里她专注于优良设计以及对包括珊瑚滩俱乐部、上海游艇俱乐部和希腊米克诺斯岛别墅等许多重要项目中的色彩和配饰的杰出认知。Carolyn对珠宝设计的热爱让她建立了自己的珠宝品牌。在工作中,她特别关注细节和真实性。
A talented and beautiful woman with a sparkling personality, Carolyn Heim contributes to the success of the Heim Design brand. She graduated with a Master's degree in architecture from l'École Spéciale d'Architecture in Paris, France and attended l' École des Arts Decoratifs preliminary school of design. She has travelled extensively in France, Greece, the United States and China. Through her international experience, she has acquired a deep understanding of contemporary Eco architecture and sustainability. Carolyn is co-founder of HEIMStyle Paris, where she has added her touch in design excellence and exceptional perception for coloring and accessories to many noteworthy JPH projects including the Coral Beach Club, the Shanghai Yacht Club and villas in Mykonos Island in Greece. Her other passion is for jewelry design which has resulted in her creating her own brand. Her work is characterized by a very special attention to detail and realism.